You are here
WFP uses blockchain technology to fight hunger among refugees
By Camille Dupire - Dec 19,2017 - Last updated at Dec 20,2017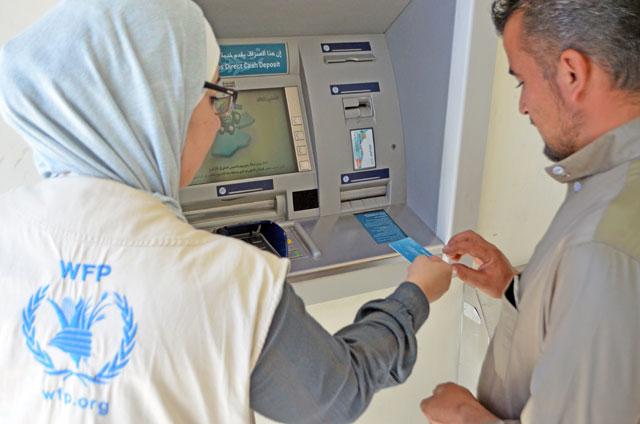 A member of the WFP team assists a Syrian refugee in using the blockchain method in Azraq refugee camp recently (Photo courtesy of World Food Programme)
AMMAN — Over 10,000 people in Azraq refugee camps are now able to pay for their food by means of entitlements recorded on a blockchain-based computing platform, and the system is expected to reach all 100,000 refugees currently living in camps in Jordan by January 2018, according to Houman Haddad, Jordan's regional cash based advisor at the World Food Programme (WFP) and founder of the "Building Blocks" project.
In an "innovative move" to change the way non-governmental organisations deliver aid to people in need, the WFP has begun experimenting the blockchain technology in its programmes of food delivery in Jordan.
Developed as part of the "Building Blocks" project, Blockchain Jordan aims to make cash-based transfers faster, cheaper and more secure to improve the efficiency of aid delivery while diminishing its cost.
"I have a keen interest in technology and, while reading about blockchain, its relevance to our work [in the camp] became inescapable," Haddad recalled, noting that the main requirement for the system to work — a device with connectivity at the point of sale i.e. the supermarket, was available at all retailers in Jordan, including the camps.
Blockchain, which is a technique mainly used by banks for international cash transfers, is a way of organising data through a collection of information shared among many people and places. By recording transactions in a secure manner that can not be hacked, the system helps speed up transactions while lowering the chance of fraud or data mismanagement, according to a WFP statement, which noted that it therefore allows any two parties to transact directly, removing the need for third-party intermediaries like banks.
"Blockchain has many advantages both for the beneficiaries and WFP: for us, there are opportunities for increased accountability, reduction of risks, improved efficiency, and lowered costs in the delivery of aid. And, for beneficiaries, the access to their food related benefits are much faster," the project founder stated, stressing that any costs savings generated by the programme will be re-distributed to beneficiaries
"Blockchain technology allows us to step up the fight against hunger," said WFP's director of innovation and change management, Robert Opp, adding "through blockchain, we aim to cut payment costs, better protect beneficiary data, control financial risks and respond more rapidly in the wake of emergencies."
Over $1.4 million have been transferred in food vouchers to 10,500 Syrian refugees living in Jordan since May, according to Haddad, who added that "we need to bring the project from the current capacity to around 1 million transactions per day."
The pilot project, which is scheduled to be scaled up to help reach all 500,000 beneficiaries in Jordan through 2018, might later be expanded to other countries in the region and beyond, Haddad told The Jordan Times in an e-mail.
Building Blocks Jordan uses biometric registration data developed by the UNHCR to identify individuals through biometric technology. Refugees can thereby purchase food items from supermarkets of the camp by using a scan of their eye instead of cash, vouchers or e-cards.
"Cashiers are not equipped with cash registers anymore, but with iris scanners, which identify the customer and settle their entitlement payments," said Haddad, adding that "nothing has changed for the beneficiaries".
According to the project manager, a large drop in collateral payments to financial services firms has been recorded since the launch of the project, which also increased privacy for the beneficiaries and fastened reconciliation of accounts.
"Blockchain is the backbone of WFP Jordan's choice vision, where beneficiaries can choose to redeem their entitlements at a supermarket, withdraw cash at an ATM, or pay using mobile money," he explained.
The agency now operates its own payment network instead of waiting for periodic reports from payments firms, Haddad continued, stressing that the project was rather cheap to implement, supported by a $100,000 grant from the WFP's startup incubator.
A recent survey conducted by the World Economic Forum and Deloitte found that the blockchain (or distributed ledger technology) has the potential to "drive simplicity and efficiency by establishing new financial services infrastructure and processes", citing it as "the foundation of next generation financial services infrastructure".
Titled "Over the horizon: Blockchain and the future of financial infrastructure", the research looked into the implications of this new technology on various sectors and the necessities surrounding its implementation.
Highlighting the various benefits of the new system, the report however stressed the need for a strong collaboration between the various actors involved, a concern echoed by Haddad who said: "While the system has demonstrated a number of benefits for WFP so far, we hope to be able to engage other humanitarian actors to work around a neutral blockchain platform to increase the efficiency and the accountability of the aid and assistance we collectively deliver."
Since the beginning of the crisis seven years ago, more than half a million Syrians have been provided with food assistance from the WFP, according to the agency website.
Related Articles
Oct 06,2016
AMMAN — The World Food Programme (WFP), in partnership with UNHCR, has introduced an iris scan payment system in the Zaatari Refugee Camp, t
Jul 16,2018
AMMAN — The ICT Association of Jordan ([email protected]), in cooperation with the Internet Society in the Arab World, has conducted three workshops on
Feb 17,2016
AMMAN — The UN World Food Programme (WFP) in Jordan has launched an iris scan payment system allowing Syrian refugees living in camps to pur
Newsletter
Get top stories and blog posts emailed to you each day.