You are here
What we have done for refugees is enough — PM
By JT - Jan 30,2016 - Last updated at Jan 30,2016
Prime Minister Abdullah Ensour tours Azraq Refugee Camp in the northeast of the Kingdom on Saturday (Petra photo)
AMMAN — Prime Minister Abdullah Ensour on Saturday said that it is impossible for the national economy to cope with the sharp increase in population by three million as a result of the refugee influx.
The premier's remarks to journalists came following a visit he made to the Azraq Refugee Camp ahead of the London refugee donors' conference next week, the Jordan News Agency, Petra, reported.
Azraq camp, some 100km east of Amman and 20km west of the town of Azraq in Zarqa Governorate, is currently home to 29,992 Syrian refugees, according to the UNHCR's latest available figures. It is the second such makeshift city after the Zaatari camp, where around 80,000 refugees take shelter. The rest of the 1.265 million Syrians live in host communities, constituting in all 13.2 per cent of the overall population of around 9.5 million, according to the results of the national census announced Saturday.
"His Majesty King Abdullah will make it very clear during the conference that the Syria crisis is no longer a refugee concern only but a security burden, an issue of sleeper cells, illicit drugs trafficking, terror and radicalism," Ensour said.
"It is true that supporting the Syrian refugees is our duty but we are doing this on behalf of the world, especially Europe."
Ensour said that the Syrian refugees would have headed to Europe if Jordan had closed its borders and provided them with no decent living, Petra said.
"We are not begging the world for help but we are carrying out our moral and humanitarian duties," Ensour said, adding: "Jordan's response to the crisis of the Syrian refugees has been marked with generosity, responsibility, wisdom, sound planning and management, if compared to that of other hosting countries."
Referring the national consensus results, Ensour said Syrians in Jordan are "our guests and brothers. However, the Kingdom is not an oil-rich country but a rather a state of a modest economy not exceeding in size JD40 billion and is incapable of absorbing the sharp increase of population".
Jordan has never changed its open-border policy when it come to the Syrian refugees, Ensour stressed, adding that the world is required to support the economy of the refugee-burdened Kingdom to create job opportunities for Jordanians and refugees as well. "If this happens, then we can keep our borders open and, if not, then how can Jordan, in light of its troubled budget, be able to serve them [refugees]?"
"We want the world to shoulder its responsibilities and, if it chooses not to, we will say that what we have done is enough."
On the Syrians now living across the Jordanian-Syrian border, Ensour said that they are offered heated shelters, food and medication by Jordan.
"Why has this number been the world's focus at the time Jordan has received and is still receiving refugees?" Ensour said, adding, "The problem with this group of Syrians is that they have come from Syria's Raqqa and Qameshli in the northeast and not from the regions bordering Jordan. We have the right to ensure that there is no security threat from this group because it came from this place [a Daesh stronghold]."
Ensour also said Jordan has ambitions that the London conference would see a change in the world's way of handling of the Syrian crisis, from a matter of emergency and relief assistance to an approach entailing development goals concerning the economies of host countries.
Related Articles
Jan 28,2016
AMMAN — Prime Minister Abdullah Ensour, accompanied by several ministers, is scheduled to visit the Azraq Refugee Camp on Saturday, a govern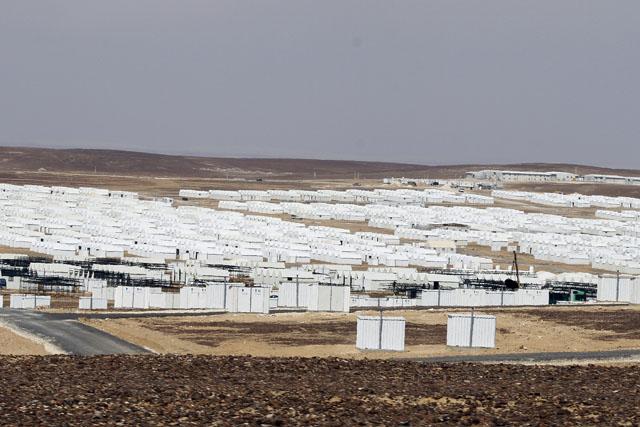 Apr 28,2014
The first group of Syrians has already arrived at the Azraq Refugee Camp, which will be officially opened on Wednesday, with a capacity of hosting up to 130,000 refugees.
Jul 11,2015
AMMAN — Minister of Interior Salameh Hammad on Saturday called for more coordination and cooperation among all state agencies to ultimately