You are here
Women in senior public sector positions highlight challenges, achievements
By Laila Azzeh - Apr 11,2016 - Last updated at Apr 11,2016
Senior officials and diplomats attend a ceremony in Amman on Monday to celebrate women's achievements under a programme to empower them in the public sector (Photo courtesy of Ministry of Public Sector Development)
AMMAN — Although cartography has been deemed a "male-dominated" profession, Niveen Hassan's dedication to her job has inspired her employers to hire more women.
Fifteen years ago, she landed a job as a cartographic designer at the Royal Jordanian Geographic Centre (RJGC).
"I remember I was the first and only woman engineer to serve in my post, but after years of long hours of work and dedication, the centre decided to employ more women in my division," Hassan said on Monday.
In 2005, she was chosen among 15 people from the region to receive a scholarship in astronautics from Italy and then came back to serve at the RJGC.
"When I came back, I was entrusted with taking part in drawing up strategic policies at the centre and heading a project that entails authoring a book of maps in Jordan," the cartographer added.
After taking part in a project implemented by the Public Sector Development Ministry to empower women employees, Hassan was promoted to director of the RJGC planning department, becoming the first woman to serve in this post in the centre's history.
"The programme has added a lot to my personality, leading skills and emotional intelligence…," she noted.
Hassan was among seven women from across Jordan who took the podium on Monday to highlight the achievements made, challenges faced and skills gained under the project.
"Working in the field in a rural area was definitely a challenge. It took people a while to get used to me handling things and taking the lead," said Asmaa Halaiqa, who was also part of the women empowerment scheme.
Halaiqa now serves as head of the Petra Development and Tourism Region Authority's awareness and social activities' division.
The programme, which is also implemented in cooperation with USAID, USAID-Takamol Gender Programme and the Jordanian National Commission for Women, seeks to nurture women's leadership and management skills in a way that allows them to excel in managerial and supervisory jobs in the public sector.
During a ceremony to celebrate women's achievements under the programme, Public Sector Development Minister Kleef Al Khawaldeh said the project comes in line with Royal directives to increase women's participation in policy and decision-making processes.
"In order to achieve this and ensure women's success, we initiated the programme to equip women with the necessary skills they need to boost their chances of obtaining senior jobs," he noted.
Initiated in 2015, the several-year project targets women in the central, northern and southern regions.
"With the end of this year, we are planning to conduct a study to gauge the success of the programme and its ability to increase women's access to leading and supervisory jobs," said the minister.
US Ambassador to Jordan Alice G. Wells noted that official figures indicate that women make up almost half of public sector personnel, yet hold less than 7 per cent of senior positions.
"…Supporting gender equality does not just mean supporting women; it means upholding equal opportunities for men and women alike, and men have an instrumental role in achieving such equality," Wells added.
In Jordan, said the diplomat, "women have emerged as leaders and visionaries, not only at all levels of government but also in business, media and civil society, across all sectors".
She noted that the government has "taken up the challenge of closing the gender equality gap by 2030 and by increasing the number of women in leadership positions and the representation of women in the judicial system by 20 per cent".
Citing a number of women who have left their marks in several fields, Wells highlighted that the Kingdom has achieved equality in education.
"And yet, only 14 per cent of Jordanian women are active in the formal workplace," she said.
For Mashael Khasawneh, one of the beneficiaries of the empowerment programme, "productive women today are breeders of tomorrow's productive generations".
Related Articles
Dec 21,2014
Private sector institutions should further implement policies that boost gender equality and diversity in the workplace, according to field experts.
Feb 25,2015
The Jordan Competitiveness Programme will launch a series of activities in the next few months to help create jobs, boost renewable energy adoption and foster entrepreneurship.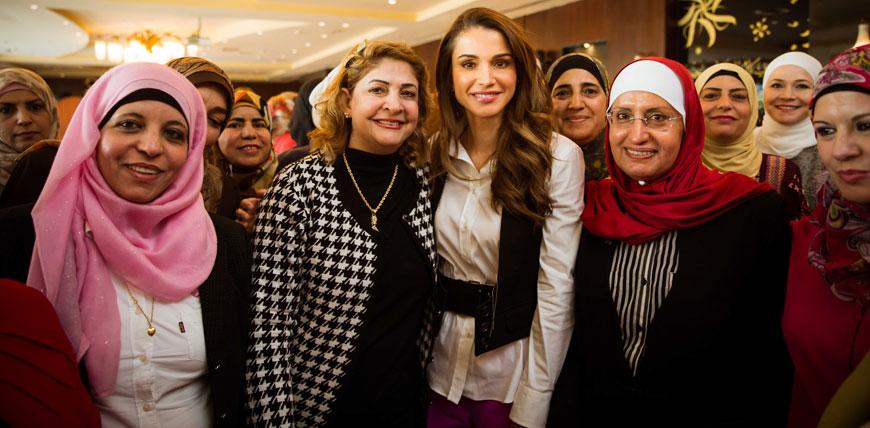 Mar 08,2016
AMMAN — On the occasion of International Women's Day, Her Majesty Queen Rania met on Tuesday with more than 100 influential Jordanian women
Newsletter
Get top stories and blog posts emailed to you each day.