You are here
Women shelter planned to open in March — Lattouf
Inmates will have 'free mobility', opportunity to learn a trade that supports their independence
By Rana Husseini - Oct 29,2017 - Last updated at Oct 29,2017
AMMAN — Minister of Social Development (MoS) Hala Lattouf on Sunday said the shelter for women whose lives are in danger due to reasons related to "family honour" will open in March.
The government in August allocated JD1 million to start housing women whose lives are in danger instead of placing them in the women's correctional and rehabilitation facilities for indefinite periods without any laid charges.
"We are in the final stages of locating the suitable building and we are aiming for the month of March to have a full operating centre," Lattouf told The Jordan Times.
The minister said that a MoS committee has started meeting with female inmates to determine their cases.
"We will adopt special classifications and admission criteria to admit female inmates as well as the women referred by various local organisations that help abused women and children," Lattouf added.
The official stressed that the ministry wants to open the shelter as soon as possible because "we want to ensure that Jordanian women whose lives are in danger receive the proper protection and services they deserve".
Director of the juvenile and social defence at the MoS, Jalal Gharib, said there are currently around "70 women who are in prison for administrative detention".
"The number of these women could increase or decrease and our teams are meeting with them on a regular basis. We plan to admit them to the centre gradually," Gharib told The Jordan Times.
The ministry official added that work is now ongoing to train "MoS employees and experts to run the house".
"We want to ensure that all is set when the shelter opens, including ensuring a well-trained staff and safe location," Gharib added.
He noted that the ministry is also working on the by-law governing sheltering facilities, along with the civil society, including Mizan Law Group (MLG), "so that when the shelter opens, the rules under which it will operate will be in place".
Executive director of MLG, lawyer Eva Abu Halaweh, who is working closely with the MoS on the shelter project, said: "The ministry is very serious about this project and we are excited to be part of it."
"We have drafted a work plan with the MoS that tackles all the steps that we need to adopt from the moment we meet with inmates until the shelter opens its doors in March," Abu Halaweh told The Jordan Times.
The activist added that she was also meeting with the women at the correctional facility to determine "their needs and to try to solve their detention problems even before the shelter opens".
"We are working closely with the administrative governor on solving cases until the shelter opens. The good thing is that once the shelter is open, women in similar cases will no longer be admitted to correctional and rehabilitation facilities as a form of protection," she added.
Both Abu Halaweh and Gharib stressed that female inmates who will be admitted to the shelter "will have the freedom of mobility and will be there temporarily until they are empowered financially and trained on a profession so that they can depend on themselves".
Currently, any woman whose life is in danger for reasons related to so-called family honour, and whose case is known to the authorities, is placed at the women's correctional facility by the administrative governor in what is termed as "protective custody".
Many of these women spend indefinite periods in the centre, sometimes exceeding 10 years, without any charges levelled against them. The women cannot leave the facility without the administrative governor's permission, according to activists.
Most of the women in the facilities are inmates held on cases such as rape, adultery, incest and for going missing from home, according to officials.
On some occasions, women were reported to have been killed once they are bailed by family members even after they had signed a guarantee not to inflict harm on them.
Around 20 women are murdered annually for reasons related to cleansing "family honour" in Jordan.
Related Articles
Aug 24,2017
AMMAN — Minister of Social Development Hala Lattouf on Thursday said that JD1 million has been allocated by the government to open a shelter
Nov 29,2017
AMMAN — Ministry of Social Development (MoS) officials on Tuesday said a building has been located to house women whose lives are in danger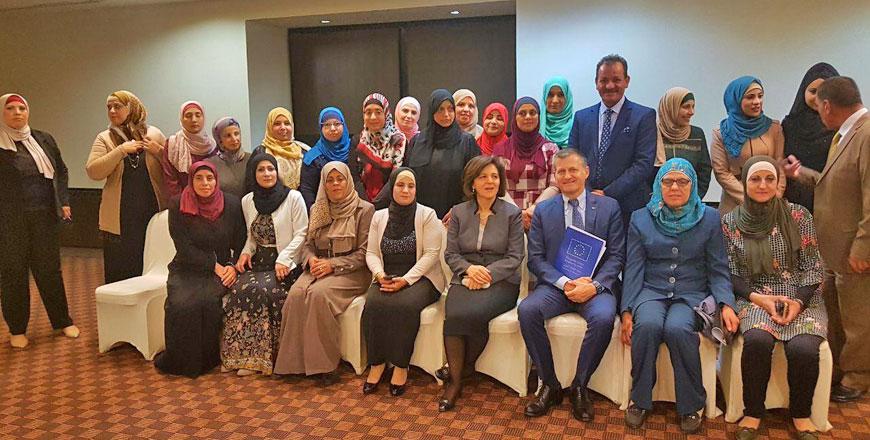 May 06,2018
AMMAN — Minister of Social Development Hala Lattouf on Sunday said women who are being imprisoned for their own safety for reasons related t
Newsletter
Get top stories and blog posts emailed to you each day.