You are here
Women unemployment increases to 33% in Q1
Number of men workers around 6 times that of women — JSF
By JT - Jul 12,2017 - Last updated at Jul 12,2017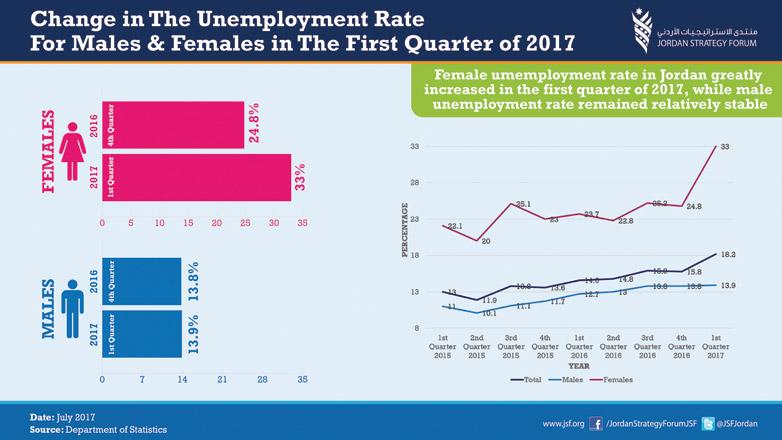 AMMAN — Women unemployment accounts for most of the total unemployment rate increase, which stood at 18.2 per cent in the first quarter (Q1) of 2017, a report by the Department of Statistics (DoS) showed, as quoted by a Jordan Strategy Forum (JSF) statement.
Recently issued, the DoS' unemployment report for the first quarter this year indicated that the total unemployment rate increased in the first three months of this year, compared to the 15.8 per cent in the last quarter of 2016, a statement by JSF said.
When focusing on the gender aspect, the report gave a clear indication that women unemployment rate accounted for most of the increase, as it rose by 8.2 points to reach 33 per cent in the January-March span, as opposed to a 0.1 point increase in men unemployment rate, which reached 13.9 per cent.
Women unemployment rates in Jordan are considered rather staggering as it ranks 16th amongst 217 countries, the statement said.
In 2016, only 13.2 per cent of women were economically active (seeking work, whether employed or unemployed) in Jordan, compared with 58.7 per cent of men.
Unemployment is calculated as the percentage of the unemployed out of the total economically active population, the statement noted, highlighting that Jordan's labour market favours men. Estimations indicated that the number of men workers is around 6 times the number of women workers, despite 49.26 per cent of the 2016 Jordanian population being female.
Many explanations can account for the increase in the latest women unemployment statistics. Causes include the new methodology and questionnaire for the labour force survey, high presence of women in the informal economy, regional instability and the increase of refugees in Jordan, according to the forum.
The DoS started using a new labour force survey based on international recommendations from the International Labour Organisation (ILO). They include additional questions, excluding unpaid workers from the "employed persons" definition, and increasing the sample size to 16,000 households from 13,000.
Although these reasons do play a role in explaining the increase in unemployment rates, they are not sufficient to explain the 8.2 points increase in women unemployment, compared to the 0.1 point increase in male unemployment in the same quarter, the statement stressed.
Women in the Jordanian labour market face a number of obstacles that do not encourage Jordanian women to join the formal workforce due to a number of weaknesses, which results in a higher presence of women in the informal sector.
Jordan's National Employment strategy for 2011-2020 mentions gender wage gap as a central issue of national concern. Administrative barriers to home-based employment as well as limited opportunities for on-the-job and vocational training tailoured for women set obstacles for women wanting to participate in the labour market.
Additional factors act as a barrier or contribute to the effectiveness of barriers to women for formal employment including, among others, stereotyping, high taxation, regulation/registration procedures, familial obligations, and lack of reliable and cost-effective public transportation, the statement said.
Consequently, some women seek work in the informal sector in order to pay for the bare minimum of living standards or to supplement the household's requirements.
Another factor, though less significant, the statement said, is the Syrian crisis and its spillover effects on neighbouring countries such as Jordan. With a population of 9.5 million, the Kingdom hosts roughly 1.26 million Syrian refugees, in addition to other groups of refugees.
Increased supply of labour, partly as a result of the refugee inflow, has played a role in the fading work opportunities. All of this combined may have pushed out Jordanians from both formal and informal work, leading to higher unemployment rate for women as they compete with both Jordanian men and either gender of refugees, the statement concluded.
Related Articles
Apr 22,2015
Unemployment in Jordan stood at 12.9 per cent in the first quarter of 2015, reaching 11 per cent among men and 22.1 per cent among women.
Nov 01,2014
Unemployment in Jordan stood at 11.4 per cent in the third quarter of 2014, reaching 9.2 per cent among men and 22 per cent among women.
Mar 07,2015
The unemployment rate in 2014 stood at 11.9 per cent, going down by 0.7 per cent compared with 2013, when it was 12.6 per cent, Labour Minister Nidal Katamine said Saturday.
Newsletter
Get top stories and blog posts emailed to you each day.