You are here
Women's rights and disability activist Aya Aghabi passes away
By Johanna Montanari - Aug 20,2019 - Last updated at Aug 20,2019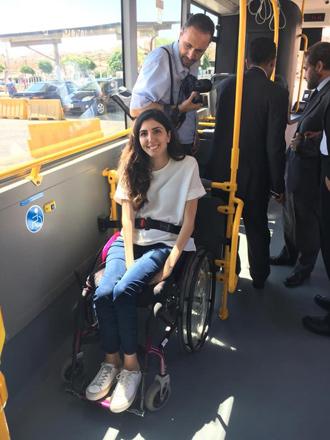 Activist Aya Aghabi is seen on the first wheelchair-accessible GAM bus in this recent photo (Photo courtesy of Accessible Jordan)
AMMAN — Aya Aghabi, a 28-year-old Jordanian woman known for her activism for women's rights and people with disabilities, passed away on Monday.
After a car accident in summer of 2009, Aghabi suffered a spinal cord injury and, as a result, a physical disability. Since then, she had to use a wheelchair.
After returning from studying in the US, Aghabi wanted to see the same support for people with disabilities in the Kingdom.
"I realised that, whether they have a mobility impairment, a baby to push around in a stroller, or simply moving difficulties, people tend to cancel their plans because they know they won't be able to access their destination because of stairs or the lack of ramps and elevators," Aghabi said in an interview with The Jordan Times in 2017.
In September 2017, she founded the "Accessible Jordan" initiative and website, which includes a guide to all places accessible around Amman and other tourist destinations in Jordan that have ramps or elevators for easy access.
It is not just beneficial for people with disabilities, but also those with mobility constraints including the elderly and caretakers, or parents with strollers.
The website lists all accessibility-friendly spots across the Kingdom under the categories "Food & Drinks", "Art & Culture", "Tourist Attractions". It also provides consultations on how to make spaces more accessible, according to the initiative's website.
Aghabi was active in pushing the GAM public transport to become more accessible as well. She was the first to use the GAM bus with a ramp, according to a tweet by the organisation on Monday.
In March this year, she held a talk, when the Ministry of Public Works and Housing and Higher Council for the Rights of Persons with Disabilities in Jordan launched "The National Plan for Rectifying Existing Buildings and Public Facilities 2019-2029".
Jordanians took to social media to express their deep sorrow and condolences over Aghabi's death.
Her relative Zayna Al Hamarneh posted on Facebook: "You have left a legacy behind that no one will ever be able to forget. You worked so hard to make the world a better place and Jordan more accessible..."
Newsletter
Get top stories and blog posts emailed to you each day.