You are here
Women's vocational training centre celebrates first group of graduates
By JT - Mar 18,2019 - Last updated at Mar 18,2019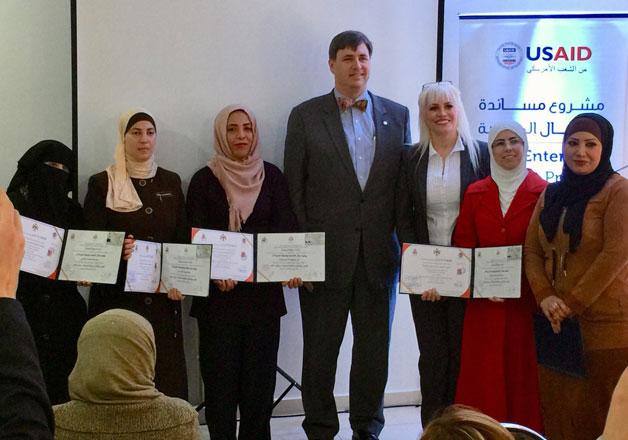 USAID Deputy Mission Director Ralph Koehring (centre) stands with the first group of graduates from Al Nashmeyah Arms for Maintenance Centre on Monday (Photo courtesy of USAID)
AMMAN — The Al Nashmeyah Arms for Maintenance Centre on Monday held a graduation ceremony to celebrate the first group of women to complete an advanced level vocational training course certified by the Centre for Accreditation and Quality Assurance (CAQA).
The ceremony was held under the patronage of Minister of Labour Samir Murad, and with support from the United States Agency for International Development (USAID).
According to a statement sent from USAID, the centre is owned and run by businesswoman Khawla Sheikh who is the only woman in Jordan to be certified as a plumbing and heating, ventilation, and air conditioning trainer. It is the first centre in Jordan to offer vocational training for women in plumbing and maintenance services certified by the CAQA. The centre was also able to achieve international accreditation from City and Guilds.
During the ceremony, USAID Deputy Mission Director Ralph Koehring said, "Supporting women to establish and sustain businesses in new, non-traditional sectors can increase women's income through self-employment. This can also enhance employment opportunities for other women and move Jordan toward its 2025 goal of 27 per cent female participation in the workforce."
Attending on behalf of the minister of Labour, Eman Okour, head of the Women's Economic Empowerment Department at the Ministry of Labour, highlighted the importance of supporting women to enter new sectors. "Women are integral to Jordan's economic development and have a vital role in helping to create more employment opportunities in all sectors. When women are encouraged to work and participate in the economy, all Jordanians benefit," Okour said.
The project has also established a women in non-traditional sectors task force, which will develop a model for an institutional umbrella for women working in non-traditional sectors, the statement said, adding that they plan to launch a marketing and awareness campaign in the coming months to elevate the visibility of women in non-traditional sectors.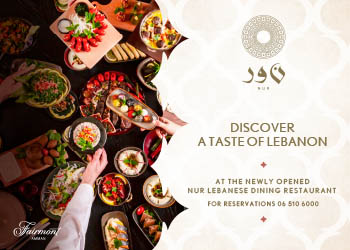 Newsletter
Get top stories and blog posts emailed to you each day.