You are here
Working children in urban environments earn JD3-JD5 per day — report
By Hana Namrouqa - Jun 09,2014 - Last updated at Jun 09,2014
AMMAN — Child labourers in urban environments earn between JD3 and JD5 per day and are mainly found working on the street, in shops and in restaurants, according to a report released on Monday.
The Report on Child Labour in the Urban Informal Sector in Amman, Mafraq and Irbid indicated that children in the three governorates work in a range of professions, but are most frequently present in the service industry, where they are employed as shop cleaners or assistants.
Older children are also found in more hazardous environments, including metal working/welding and heavy manual labour, such as lifting, according to the report.
"The majority of child labourers in urban environments are working 6 to 7 days per week, and between 4-8 hours per day… Child labourers' wages form a significant part of [their] families' incomes, with 45 per cent of respondents identifying a child under 18 years old as a main, or joint-main, breadwinner," the report indicated.
The International Labour Organisation (ILO) released the report with the aim of addressing the issue of child labour and the challenges presented by the current economic and social environments in Jordan, particularly in light of the influx of hundreds of thousands of Syrian refugees, who have fled the conflict in their country.
The report identified the main causes of child labour in the three governorates: economic need and attitudes that do not value education and, in some cases, difficulty accessing education.
For Syrians living in Jordan, their displacement due to the ongoing conflict in their country has seen children's labour — and wages — develop as a coping mechanism for families who have lost other forms of livelihood and have used up their savings, according to the report.
"Child labour was found by the study to have a positive economic effect for the child's family, whose quality of life is being supported by the contributions that children make to the household income."
The study presented several recommendations to address child labour.
"There needs to be a clearer national definition of 'school dropout' so that data on this issue can be gathered, problem areas identified and programmes developed to tackle this," said the report, which revealed that over 80 per cent of working children surveyed in the urban informal sector were not attending school.
Regarding Syrian child labourers, the report called on concerned authorities to design and develop innovative and creative education programmes for refugees to encourage their return to school.
In addition, the report recommended that cash assistance to working children's families must be maintained, expanded and increased, and awareness-raising activities that inform people about child labour and its hazards should be implemented.
The study also recommended that national-level data on child labour be more regularly and systematically collected, in view of the fact that it appears to be increasing, and not only among Syrian refugees.
"To achieve this, the government of Jordan could include a specific focus on child labour in existing national surveys, in order to keep abreast of changes in this area," the report suggested.
During Monday's launch ceremony, Labour Ministry Secretary General Hamadah Abu Nejmeh noted that the last survey on child labour was conducted in 2008, when the number of working children amounted to 30,000.
"We believe that the number has at least doubled since then, especially with the arrival of the Syrian refugees… the state needs to identify the accurate and true number of child labourers in the Kingdom," Abu Nejmeh said.
The official added that half the number of child labourers seized by authorities every day are Syrians.
According to UNHCR figures, there are more than 600,000 registered Syrian refugees in the Kingdom, 75 per cent of whom are women and children, and 53 per cent are below 18 years old.
Related Articles
Mar 02,2015
Holding a cardboard box stocked with blue and green porcelain turtles, 12-year-old Mahmoud quietly approaches people as they wait for their food orders and asks them if they would like to decorate their cars with his turtles.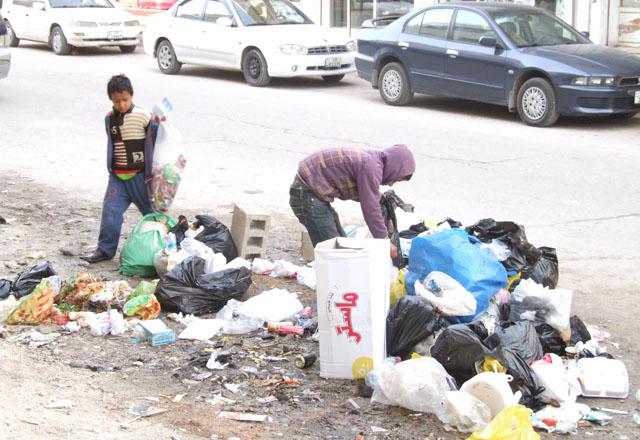 Feb 26,2014
Scrap collection is a new form of child labour that poses physical, psychological and moral hazards to children in the Kingdom, a research paper released on Wednesday warned.
Jun 09,2014
Nearly a quarter of the children employed in the agriculture sector in Mafraq and the Jordan Valley sustained work-related injuries, according to a report released on Monday.