You are here
'World's failure to address refugee crisis in Mideast root cause for desire to emigrate'
By JT - Sep 14,2015 - Last updated at Sep 14,2015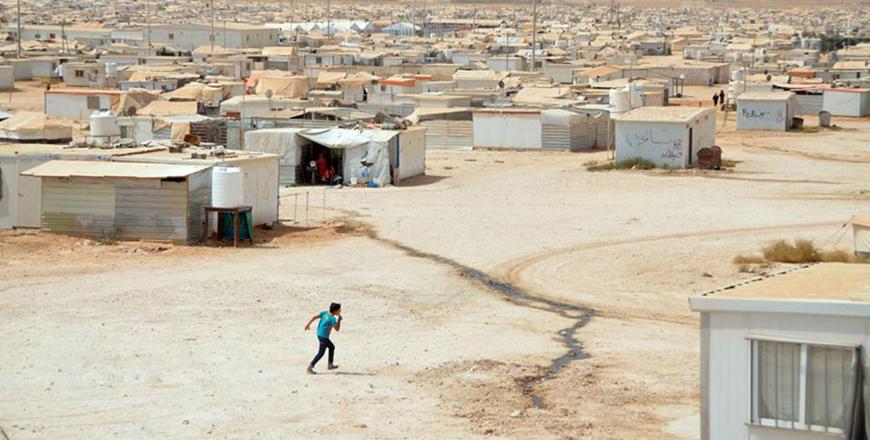 A general view of Zaatari Refugee Camp in northeast Jordan as seen on Sunday (Photo by Muath Freij)
AMMAN — Global endeavours addressing the needs of Syrian refugees entering Europe must be accompanied with efforts to enhance the resilience of refugees and host communities in Syria's neighbouring countries, an international relief official said Sunday.
In a statement e-mailed to The Jordan Times, the director of the Danish Refugee Council (DRF) Middle East and North Africa programme, Peter Klanso, cited the fact that over 4 million Syrians living as refugees in Jordan, Lebanon, Turkey and Iraq are increasingly starting to move to Europe.
"This is not because people want to move, but because the quality of their asylum has deteriorated in the past year and they see no other option," he said, adding that the funding crisis affecting the already fragile host economies is reaching a breaking point.
He cited increasing legal restrictions and limitations on self-support opportunities that are pushing refugees further into destitution, adding that the international community has failed to adequately respond to the Syrian crises in the Middle East region.
Meanwhile, the DRC welcomed the call made at a recent World Bank conference in Marseille, France, to enhance the international response to support Middle East countries hosting Syrian refugees in their development agenda.
"We maintain that a minimum of $4.53 billion is required to continue adequate programming to support refugees and host communities across Turkey, Lebanon, Jordan and Iraq," Klanso said.
During the high-level meeting, consensus was reached amongst the 60 decision-making, finance and development representatives from Egypt, Iraq, Jordan, Lebanon, Tunisia, Turkey and European countries on the urgent need to boost the capacity of countries and communities hosting refugees.
The international community committed to only $1.67 billion (37 per cent) of the total pledged funding needs of $4.53, according to the Regional Refugee & Resilience Plan (3RP) Syria Crisis progress report of 2015.
Eighty-six per cent of Syrian refugees living outside of formal refugee camps in Jordan are living below the Jordanian poverty line and there is a growing need to address the "growing legal restrictions and limitations on self-support opportunities to reduce the risk of more refugees sliding into poverty", the statement said.
Furthermore, there is a need to review donor development cooperation policies and development aid architecture targeting middle-income countries such as Jordan, Lebanon, Turkey and Iraq, as aid policies do not qualify them for large-scale grants such as those by the World Bank to help them deal with the demographic and economic shocks of the crisis, and the growing financial burden of hosting refugees.
"Refugees that our staff encounter on a daily basis are continually raising concerns about not being able to access healthcare, education for their children and an income due to restrictions on entering the local labor market. Europe is increasingly being seen as the only alternative," Klanso said.
The DRC is a humanitarian, non-governmental, nonprofit organisation founded in 1956 that works in more than 30 countries throughout the world. In the Middle East and North Africa region, it provides humanitarian care and assistance for displaced people in Jordan, Iraq, Syria, Turkey, Libya and Lebanon.
Related Articles
Jun 17,2015
AMMAN — Deema Yaseen says her heart jumps every time she sees a child with a new prosthetic limb running and jumping in joy.Yaseen works as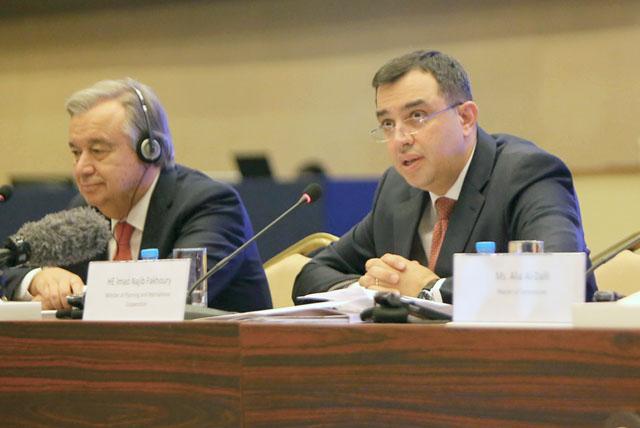 Mar 03,2015
The government has taken the lead in responding to the consequences of the Syrian crisis in order to help the international community coherently and effectively support the Kingdom, Planning Minister Imad Fakhoury said Tuesday.
Sep 08,2015
AMMAN — Sixty decision-making representatives from Egypt, Iraq, Jordan, Lebanon, Tunisia, Turkey and European countries affected by the refu
Newsletter
Get top stories and blog posts emailed to you each day.