You are here
World Humanitarian Day marked with call to support Jordan as refugee host
UN commends Kingdom's 'exemplary' efforts towards refugee crisis
By Dana Al Emam - Aug 21,2017 - Last updated at Aug 21,2017
Photo courtesy of the UN website
AMMAN — On the occasion of the World Humanitarian Day (WHD), the UN reiterates that civilians, including humanitarian workers, must not be targets in regions of conflict.
The occasion is also an opportunity to shed light on what Jordan has provided to those in need, particularly refugees, and to call on the international community to shoulder its responsibilities.
Speaking at a ceremony marking the occasion on Sunday evening, UN Resident and Humanitarian Coordinator in Jordan, Andres Pedersen, said humanitarian workers are not only those handing out assistance, but also doctors, teachers, psychologists, cleaners and security guards who work to guarantee that aid is delivered to those in need.
This year's campaign advocates for the protection of civilians' lives and seeks to prevent their forced displacements, Peterson said, adding that it is also the occasion to highlight the need to protect aid and health workers, whom he said are highly targeted in conflicts.
Pederson described Jordan's efforts towards the refugee crisis as "exemplary", highlighting the Kingdom's long history of opening its doors to those who seek safety.
Meanwhile, he said the UN reiterates the need for the international community to share this burden with Jordan, pledging a more coordinated response among UN agencies to support Jordan's long-term sustainable solutions.
Jordan is not only an advocate for ending conflicts that lead to humanitarian disasters, but also a contributor to spreading peace in areas of tension via its peacekeeping forces, said Leena Al Hadid, director of International Relations and International Organisations at the Ministry of Foreign Affairs and Expatriates.
Speaking as the ceremony's guest of honour, Hadid said that the border guards at the Syrian borders have also taken humanitarian duties in aiding those fleeing the conflict.
"Everybody can be an active promoter of humanitarian work," she said, adding that Jordan has been helping those fleeing conflict out of moral obligation, rather than a legal duty.
But Jordan cannot do this alone, she noted, urging the support of the international community to help the Kingdom do more.
In a recorded message, UN Secretary General Antonio Guterres said the international event is a chance to highlight the plight of civilians suffering from conflicts around the world.
"On this day, we also take a moment to honour the brave health and aid workers who are targeted or obstructed as they set out to help people in need, and we pay tribute to the government employees, members of civil society and representatives of international organisations and agencies who risk their lives to provide humanitarian aid and protection," he added.
The global World Humanitarian Day campaign, led by the UN Office for the Coordination of Humanitarian Affairs, commemorates the bombing of the UN headquarters in Baghdad on August 19, 2003, where 22 people died.
Ramesh Rajasingham, acting regional humanitarian coordinator for the Syrian crisis, said that due to the Syrian conflict alone, some 13 million individuals are in need of humanitarian assistance.
According to Rajasingham, the conflict has resulted in the refuge of nearly 5 million people and the internal displacement of 6 million others, many of which have been displaced more than once. The conflict has also taken the lives of hundreds of thousands, he added.
Jordan has played an important role in hosting refugees — who might have otherwise been killed in the conflict — and in sending cross-border assistance, Rajasingham stated.
The ceremony included the distribution of four humanitarian excellence awards to humanitarian workers for their exemplary commitment under four categories: inclusion of persons with disabilities, working together, innovation and humanitarian action and youth empowerment.
Related Articles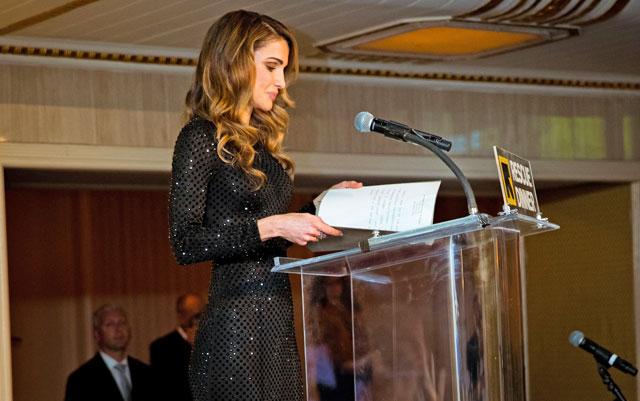 Nov 03,2016
AMMAN — Her Majesty Queen Rania has urged humanitarian workers to think "in bold and innovative ways" in order to instil new hope and dignit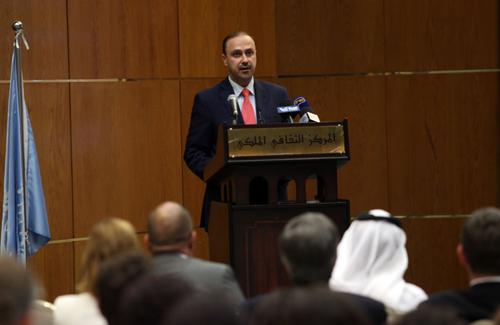 Aug 18,2016
AMMAN — On World Humanitarian Day, the international community must unite behind the sacrifices of humanitarian workers who have risked thei
Apr 19,2016
AMMAN – Jordan National Red Crescent Society Chairman Mohammad Hadid on Tuesday met with a delegation of representatives of the British Red
Newsletter
Get top stories and blog posts emailed to you each day.