You are here
Wounded Gazans keep flocking to King Hussein Medical Centre
By Muath Freij - May 23,2018 - Last updated at May 23,2018
Injured Gazans are treated at the King Hussein Medical Centre in Amman on Saturday morning (Photo by Muath Freij)
AMMAN — The second batch of injured Gazans arrived in Amman on Wednesday morning and were admitted to the King Hussein Medical Centre as part of the Kingdom's support towards Gaza, following directives by His Majesty King Abdullah to provide immediate assistance and bring to Jordan serious cases for treatment.
A total of 22 wounded were admitted to the army-run medical facility, where initial surgeries were performed and a medical plan was designed to follow up on the cases, according to the director general of Royal Medical Services, Major General Muin Al Habashneh.
During a briefing to reporters, he said that wounded Gazans sustained injuries on different parts of the body, all of which were caused by gunfire.
"His Majesty King Abdullah is in direct contact with us to follow up on the situation of the injured people," Habashneh stressed.
Commenting on the role of the Jordanian field hospital operating in Gaza, he said that personnel at the hospital are working around the clock to help Gazans, enhanced by a unique convoy of different medical experts.
Habashneh noted that the Gaza hospital is open day and night receiving cases and can accommodate a great number of cases daily.
"Medical experts who went there also work in the government medical hospitals and try to help as much possible," he added.
Moatasem Nuam, one of the wounded Gazans receiving treatment in the Kingdom, said he took part in the peaceful protests in the Gaza Strip and was "shocked" when he received bullets.
"Jordan is known for its reputable of medical sector and we hope our medical situation gets better," he added.
Seventeen-year-old Mohannad Khaldi said he suffered a great deal of pain following his injury. "There is lack of medical equipment back home and not all medical fields are covered. I want to thank everyone who helped me come here to Amman," he stressed.
Mujahid Abu Shaab, whose leg was amputated following the clashes that flared at Gaza border, said the difficult medical situation sometimes prompted him to buy medicines at his own cost.
"We keep thinking about our situation every time. It is very important to receive medical help abroad. When I went out of Gaza, I was first psychologically healed and, when I arrived in the Jordanian hospitals, I felt very relieved," he
concluded.
Related Articles
Jun 08,2018
AMMAN — Ten injured Gazans who were receiving treatment at the King Hussein Medical Centre left the facility on Thursday after recovering.Ro
Aug 05,2014
His Majesty King Abdullah on Tuesday donated blood for wounded Palestinians in the Gaza Strip.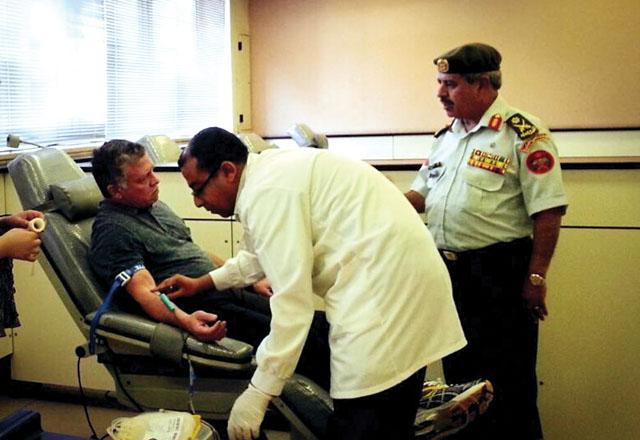 Aug 05,2014
His Majesty King Abdullah on Tuesday donated blood for wounded Palestinians in the Gaza Strip. 
Newsletter
Get top stories and blog posts emailed to you each day.