You are here
Young volunteer receives support to serve his hometown
By Mohammad Ghazal - Apr 08,2014 - Last updated at Apr 08,2014
AMMAN — Out of his love for his hometown, university student Abdullah Bani Hani has helped initiate sporadic voluntary work with several of his friends to make Irbid cleaner and greener, but he believes more work is needed.
Over the past two years, Bani Hani started a campaign called "My Governorate" that entailed engaging in several activities along with 25 of his friends from across Irbid, some 80km north of Amman, to conduct clean-up campaigns, paint pavements, and even visit orphans and the elderly.
But the activities were solely funded by Bani Hani and his friends who contributed JD2 or JD3 each to cover these activities.
"I was always looking for funds from societies and organisations, but it was difficult. My friends and I wanted to expand our activities and benefit more people," Bani Hani, a student at Al Hosun University College in Irbid, told The Jordan Times.
The 20-year-old's desire to make the campaign sustainable was realised after he applied to the Youth Empowerment Windows Initiative, which is part of the Democratic Empowerment Programme "Demoqrati" launched by His Majesty King Abdullah last year.
"I submitted my idea to the initiative, underscoring that I want more people to benefit from the voluntary work conducted as part of the campaign, and then I won," he said.
Bani Hani was one of 97 young Jordanians from across the country who were recently announced as winners of the first round of the initiative, implemented by the King Abdullah II Fund for Development.
"Our initiative won about JD1,500 in grants from the Demoqrati programme. This is very good news for us and we will be able to hold several activities and benefit more people," he noted.
Bani Hani said he and his colleagues will increase the number of clean-up campaigns under the "My Governorate" initiative, conduct maintenance on several pavements and gardens in Irbid, plant trees and conduct seminars on issues of public concern such as university violence.
"We have the support of all public authorities in Irbid to organise our voluntary activities. After we got the grant, the number of volunteers increased to 40, and we are hopeful that we can do a lot to serve our local community."
Demoqrati's four youth empowerment "windows of opportunity" seek to encourage young people to join voluntary initiatives, institutionalise existing youth initiatives, support local community organisations to expand the outreach of their projects, and provide financial and technical support to larger projects to turn them into nationwide initiatives that reach the Kingdom's governorates.
Seeking to enhance the values of democracy, enroot democratic practices in society and push the development process forward, Demoqrati is founded on development-boosting values such as the rule of the law, rejection of violence, acceptance of others, dialogue and accountability.
Related Articles
Feb 19,2014
Frustrated with behaviours of some pedestrians and motorists alike, Subhi Mohammad Subhi, a university student majoring in aviation engineering, will soon start a campaign to encourage them to better respect traffic laws.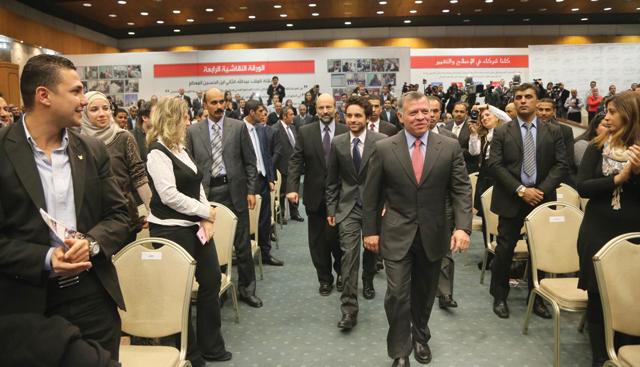 Jan 05,2014
His Majesty King Abdullah on Sunday attended a ceremony to honour the first round of winners of an initiative that seeks to support creative individuals involved in community service.
Mar 15,2015
Irbid Governor Hassan Assaf and Irbid Mayor Hussein Bani Hani on Sunday checked on the progress of the King Abdullah II Park project in Irbid, which is expected to be ready during the next few weeks.
Newsletter
Get top stories and blog posts emailed to you each day.