You are here
'Youth Circles' seek to harness energy of young generation
By Fares Al Abed - Dec 07,2017 - Last updated at Dec 07,2017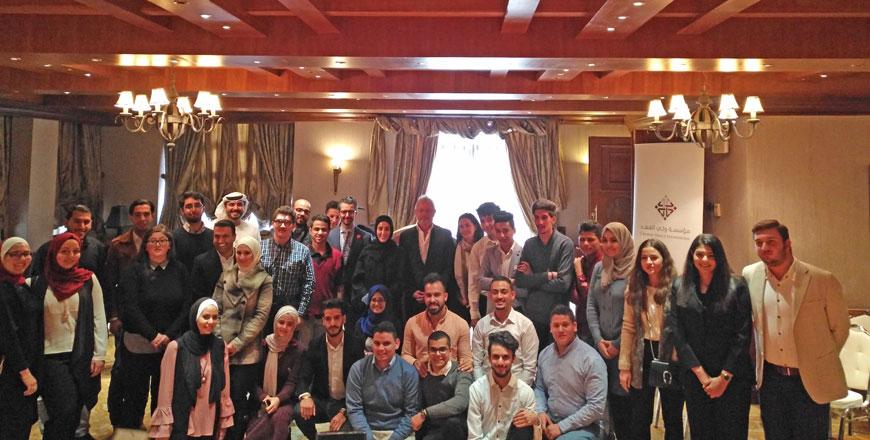 UAE Minister of State for Youth Affairs Shamma Al Mazrui poses for a group photo with participants at a discussion titled 'Youth Circles', organised by the Crown Prince Foundation, in cooperation with the Emirates Youth Council, on Wednesday (Photo by Fares Al Abed)
AMMAN — "In the Arab World, we call the current phase 'the age of youth', and the question is how each one of us is going to harness their energy," said Shamma Al Mazrui, the UAE minister of state for youth affairs on Wednesday.
Her remarks came during a discussion titled "Youth Circles", organised by the Crown Prince Foundation (CPF), in cooperation with the Emirates Youth Council.
Attended by chairman of the Board of Trustees of CPF, Fawwaz Zou'bi, the discussion was moderated by Fuad El Karsheh, a host of local television programme.
With the participation of 30 young people who are beneficiaries of the CPF initiatives, the event discussed "the power of youth".
"Sponsored by Sheikh Mohammed Bin Rashid Al Maktoum, 'Youth Circles' initiative started two years ago, and it aims at 'listening skilfully' to youth, and it is supposed to be 'sustainable', not once in a year or so," Mazrui, who became the youngest minister in the world in 2016, said.
"The Crown Prince has a great vision, and he checks on youth in each sector every week," she added.
The minister said that "Youth Circles" links decision-makers with youth to achieve anything that creates knowledge, exchange of expertise and solutions.
"The idea is that all of us in this circle are different in our personality and life background, but we all agree on solutions that serve us and our country," the minister also said.
She said that 50 "Youth Circles" were held over a period of a year and a half.
"Yesterday we visited the Crown Prince Foundation, and we gladly met with the Crown Prince, and we noticed that all his efforts are focused on youth," she stated.
"We are lucky that our countries believe in us, whether if it was Jordan or the UAE," she said, adding that youth should know how to serve their countries in the best way possible.
For his part, Zou'bi said that the youth constituted the majority of Arab societies, and that they are the ones who are capable of identifying their priorities, issues and solutions.
One of the participants talked about sustainable development, saying that there are "unlimited ways" to achieve this development, adding that every participant has diverse majors, hobbies and interests, and that "from your specialty, you can share your ideas to everyone".
"In Haqiq [a CPF initiative], we switched from volunteering to another field, where we found out that if we want to change something, we have to start from the base: the children of our society," he said.
"We started to think of ways to better raise our children, so when they grow up, we don't have to try to change them again."
He said that they were able to bring change by deciding to get out of the "normal volunteering and move into the sustainable volunteering", where "if you instil values in a child, you will reap the benefits even after a long time".
Another participant said that one of the issues youth volunteers faces is the lack of support, as many parents think that it will affect their studies.
"Volunteering is a priority for us," he stressed.
Related Articles
Dec 06,2017
AMMAN — HRH Crown Prince Hussein on Tuesday met with UAE minister of state for youth affairs and president of Emirates Youth Council, Shamma
Feb 14,2017
AMMAN — The Crown Prince Foundation (CPF) on Tuesday signed a memorandum of understanding with the Emirates Youth Council, the Jordan News A
Mar 17,2016
TUNIS — Tunisia announced Thursday it is launching a campaign to counter religious extremism among its youth after a string of deadly milita
Newsletter
Get top stories and blog posts emailed to you each day.