You are here
Youth from remote governorates called to become climate change ambassadors
By Camille Dupire - Feb 26,2018 - Last updated at Feb 27,2018
AMMAN — Students from Zarqa Private University on Sunday took part in a road show event organised by the West Asia–North Africa (WANA) Institute, a non-profit policy think tank founded and chaired by HRH Prince Hassan, as part of its national climate change innovation competition.
"We are currently going around the Kingdom in the Irbid, Zarqa and Balqa Governorates to spread the word about this contest that we launched two weeks ago," said Reem Alhaddadin, a researcher at WANA, noting that the road show began last week at Irbid's Yarmouk University and is expected to continue through March 15.
As part of its sustainable development programme, WANA called on youth aged between 19 and 25 years old to take part in a contest aimed at shedding light on local environmental issues.
"Through this project, we wanted to move from the Amman loop to reach more students in the Irbid, Zarqa and Balqa Governorates. These areas suffer from a lot of environmental issues such as water, sewage, waste, among others," explained Lien Santermans, WANA communications manager, noting that "students applying to the contest need to be enrolled in a university located in the governorate and live there as well".
"This will bring new voices and new perspectives to the discussions on climate change, in accordance with His Majesty King Abdullah's vision that calls on youth to come up with innovative ideas for change," Alhaddadin told The Jordan Times at the WANA offices.
A student at the Zarqa University, Basma, said that she attended the event to "be part of the change, to be involved in making decisions that have to do with my local community, my environment in Zarqa".
Out of the 655,624 registered Syrian refugees in Jordan at the end of 2017, some 47,795 Syrian refugees are currently living in Zarqa Governorate, according to a UNHCR report published in February 2018.
"Yesterday at Zarqa University, we had students asking 'why the focus on climate change? Why Zarqa? And why our university?" recalled Alhaddadin, who said that the road show seeks to raise awareness on the wide range of environmental issues in these areas including desertification, water scarcity, poor drainage systems and agricultural challenges, among others.
"Solutions implemented in the capital are not always adapted to remote areas, and there is a need for localised and grassroots based adaptation plans in relation to climate change," she continued, adding that youth from these governorates are invited to submit a video or photo story explaining a concrete innovative solution they designed to respond to a specific environmental problem in their area.
"Once we close the submissions, we will choose 10 youth ambassadors in each of the three governorates, who will be working with the local Community Based Organisations and Civil Society Organisations on policy recommendations to optimise programming," said Santermans, who added that the project will also focus on mainstreaming gender equality in future climate change policies.
The competition is funded by the Dutch embassy and supported by the International Union for Conservation of Nature.
Candidates are invited to send their applications to [email protected] before March 15, a statement by WANA said.
Related Articles
Feb 19,2018
AMMAN — The West Asia–North Africa (WANA) Institute is launching a contest in search for climate change youth ambassadors from Irbid,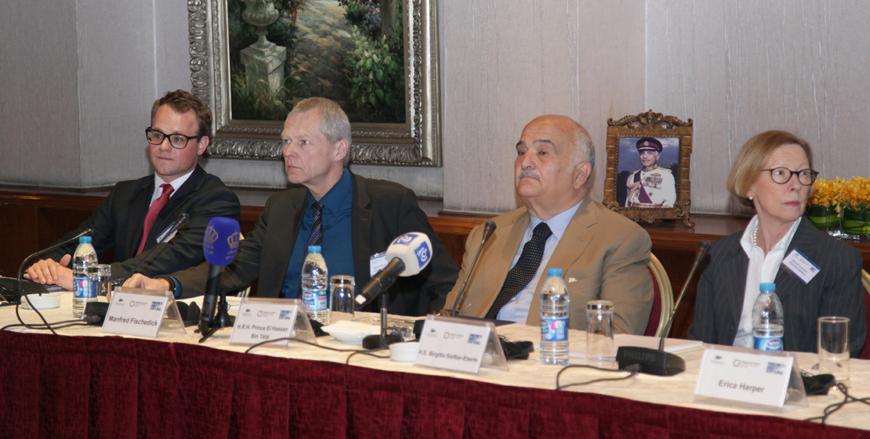 Apr 07,2016
AMMAN — Despite existing interdependencies between energy and water, decision makers, planning institutions and the scientific research comm
Oct 23,2017
AMMAN — "Everyone can be a leader of environmental change, by motivating others and setting an example," stated Dheaya Alrousan, chairman of
Newsletter
Get top stories and blog posts emailed to you each day.