You are here
Zawati reaffirms freeze on renewable energy projects 'temporary'
By JT - Jan 30,2019 - Last updated at Jan 30,2019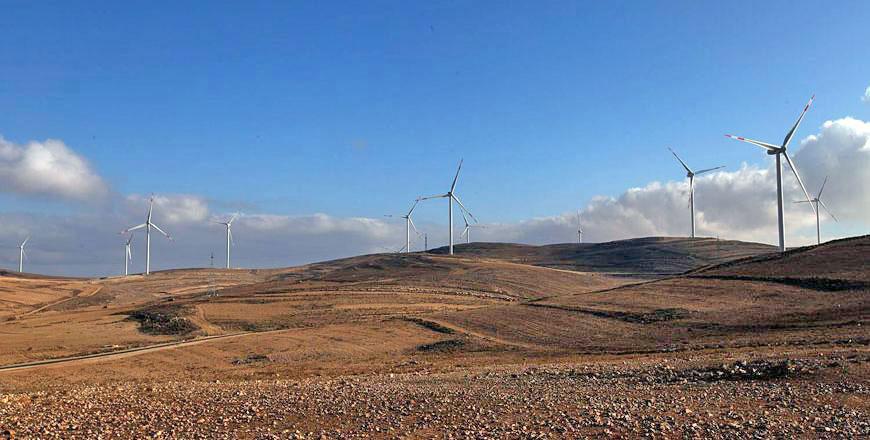 Wind turbines can be seen at the Tafileh Wind Farm, some 180km southwest of Amman, in this undated photo. The Ministry of Energy and Mineral Resources announced a decision on Tuesday to freeze new renewable energy projects pending studies and a national plan (JT file photo)
AMMAN — The government's decision to freeze renewable energy projects is temporary, pending an awaited National Energy Strategy and a National Electric Power Company study, Minister of Energy and Mineral Resources Hala Zawati said on Wednesday.
During the inauguration of a regional workshop on energy held by the University of Jordan, in cooperation with German Agency for International Cooperation, Zawati said that the Cabinet's decision aims at regulating the energy sector and organising projects into a plan that takes into account the electricity grid's capacity, according to a ministry statement.
The ministry's spokesperson, Mashhour Abu Eid, recently said that the Cabinet had decided to freeze all tenders for electricity-generating projects through renewable or traditional resources, temporarily, with two exceptions.
The ministry official also acknowledged that the national grid has experienced "technical challenges" related to its capacity to cope with the increasing production of power via unconventional sources.
Zawati said that state-owned land will be rented for renewable energy investments while Jordan's infrastructure is readied by enhancing the national electricity grid and its interconnections with neighboring Arab countries.
Regarding the two-day workshop that discusses the Middle East North Africa Sustainable Electricity Trajectories (MENA SELECT) project, Zawati stressed its importance to better understand the Kingdom's potential electricity needs until 2050.
The MENA SELECT project focuses on socioeconomic impacts, risks and opportunities, as well as the potential for conflict in assessing energy needs and power production technologies in several countries in the MENA region, according to their website.
Ahmed Salaymeh, chairman of the committee organising the workshop, said that the programme will discuss aspects related to energy challenges in the field of water, energy storage and electricity generation.
Newsletter
Get top stories and blog posts emailed to you each day.