You are here
'Like a grave': Syrians shelter underground in rebel bastion
By AFP - Sep 22,2023 - Last updated at Sep 22,2023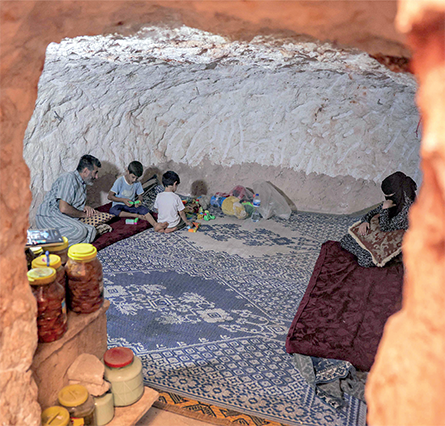 Ahmad Khalil, 53, sits with his family in a cave he carved manually with his children in five years, near his original home in the mostly abandoned village of Kansafra in the rebel-held south of Idlib province, on September 10 (AFP photo)
KANSAFRA, Syria — In a battered village in Syria's last main opposition bastion, one resident has hewn a bomb shelter out of rock to stay on his land and protect his family from attacks.
Kansafra, in the south of Idlib province, often comes under Syrian army fire targeting jihadists who control the area, while Russian warplanes circle above and carry out air strikes in support of ally Damascus.
Many families have fled the village, located less than two kilometres from the front lines.
Now, just a few shops remain open, while heavily damaged buildings line the streets.
But Ahmad Khalil, 53, would not leave.
"People keep telling us to go to a camp for displaced people, but these camps are a thousand times worse," he said.
Khalil carved out the shelter next to his house in 2017.
Winding, narrow steps lead down to a small room with a low, curved roof, illuminated with sunlight from a shaft and a dim lamp.
"I prefer to stay here under the bombs," he said, even though the shelter is "like a grave".
The rebel-held Idlib region in Syria's northwest is home to about three million people, around half of them displaced from other parts of the country during more than a decade of conflict.
Many live in impoverished tented settlements, dependent on international aid.
Extremist group Hayat Tahrir A-Sham, led by Syria's former Al Qaeda affiliate, controls swathes of Idlib, as well as parts of the adjacent provinces of Aleppo, Hama and Latakia.
Fighting has intensified in recent weeks, so Khalil's family has been spending more time underground.
Whenever they hear shelling or warplanes, they run to the shelter.
"There are always aircraft flying over the village and the area, it never stops. The life we lead is worse than death," said Khalil, who has two wives and seven children.
Mostly bereft of furniture, the shelter is covered with basic floor mats. Jars of vine leaves and other fermented vegetables are stored in the cool of the underground cave.
Buying bread means a walk to the nearest shop, at constant risk of attack.
Syria's civil war broke out in 2011 after the government's repression of peaceful demonstrations escalated into a deadly conflict that pulled in foreign powers and global jihadists.
The war has killed more than 500,000 people and battered the country's infrastructure and industry.
With Russian and Iranian support, Damascus has clawed back much of the territory it lost to rebels early in the conflict.
In the family's sombre shelter, two of Khalil's young sons played with toys on the ground.
"My children dream of living like any other children, of going out and playing outside," said the father.
But here, "there are no other children for them to play with... and the entire region is in ruins", he added.
"This is no life."
Related Articles
Sep 10,2018
BEIRUT — Regime and Russian air raids pounded Syria's last major rebel bastion of Idlib on Sunday after an overnight lull, killing at least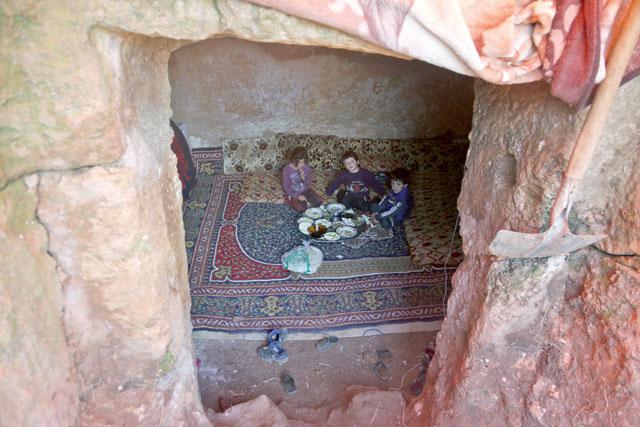 Feb 25,2020
TALTUNAH, Syria — In a field dotted with olive trees in embattled northwestern Syria, Shamseddeen Darra steps down into the gloomy undergrou
Mar 05,2020
IDLIB, Syria — In the car park and under the stands of a football field in Idlib city, northwestern Syria, families with nowhere to go after