You are here
Ahead of election, Iran's leader warns of Western 'plot'
By Reuters - Feb 25,2016 - Last updated at Feb 25,2016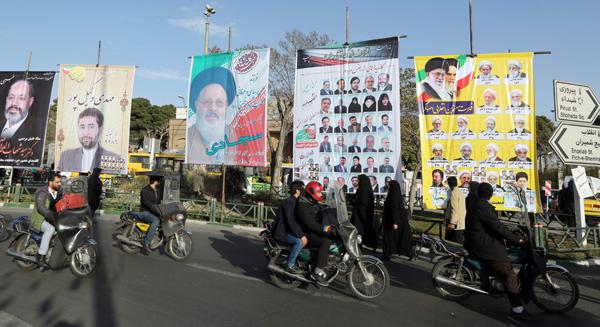 Iranians ride past campaign posters for upcoming parliamentary elections in downtown Tehran, on Tuesday (AFP photo)
TEHRAN — Iran's top leader warned voters on Wednesday the West was plotting to influence elections pitting centrists close to President Hassan Rouhani against conservative hardliners in a contest that could shape the Islamic republic for years to come.
In remarks reflecting an abiding mistrust of Rouhani's rapprochement with the West, Supreme Leader Ayatollah Ali Khamenei said he was confident Iranians would vote in favour of keeping Iran's anti-Western stance on Friday in the first elections since last year's nuclear accord with world powers.
Rouhani's allies, who hope the deal will hasten Iran's opening up to the world after years of sanctions, have come under increasing pressure in the election campaign from hardliners who accuse them of links to Western powers including the United States and Britain.
Those accusations seek to tap into Iranians' wariness of Western motives and memories of a 1953 coup against nationalist prime minister Mohammad Mossadegh that was orchestrated by the United States and Britain and strengthened the Shah's rule.
Rouhani on Wednesday denied accusations from hardliners that the candidates close to him were affiliated with Western powers, calling it an insult to the intelligence of Iranians.
In remarks on his official website, Khamenei was quoted as saying he was certain the United States had concocted a plot after the nuclear deal to "infiltrate" the Islamic republic.
"When I talked about a US infiltration plot, it made some people in the country frustrated," said the Shiite clerical leader, who has final say on all major state policy in Iran.
"They complain [about] why we talk about infiltration all the time... But this is a real plot. Sometimes even the infiltrators don't know they are a part of it," he said.
"One of the enemy's ruses is to portray a false dichotomy between a pro-government and anti-government parliament," Khamenei was quoted as saying by state news agency IRNA.
"The nation does not want a pro- or anti-government parliament, but rather a strong and faithful parliament that is aware of its duties and is not intimidated by the United States," he said.
Supporters of Rouhani, buoyed by Iran's nuclear deal, aim to gain influence in the elections for the 290-seat parliament and the 88-member Assembly of Experts, which will choose the country's next supreme leader.
But potential detente with the West has alarmed hardliners, who have seen a flood of European trade and investment delegations arrive in Tehran to discuss possible deals in the wake of the nuclear agreement.
Since then, hardline security officials have arrested dozens of artists, journalists and businessmen, including Iranians holding joint US or British citizenship, as part of a crackdown on "Western infiltration".
Rouhani had criticised the arrests before, saying some "play with the infiltration word" to pursue their own political goals.
Moves by hardliners to block moderate candidates and portray them as stooges of the West have soured the mood in the final days of campaigning, and Rouhani complained on Wednesday of a public discourse rife with "abuse, accusations and insults".
Addressing political activists, former president Hashemi Rafsanjani, one of Rouhani's most powerful allies, said Rouhani's election in 2013 "was Iranians' first step to bring the country back to a path of moderation".
"I hope people take the second step in Friday's elections," he said.
In an apparent reference to hardliners' accusations that moderates were under Western influence, Rafsanjani said in a statement published on ISNA news agency: "Labelling rivals, in order to turn people's hopes into despair, has no results."
"The Iranians... will prove that they are seeking Iran's political independence and will say no to colonialism, extremism and tyranny."
Opposition figure Mehdi Karoubi, under house arrest since 2009, will cast his vote in elections on Friday, his son Taghi said in a Facebook posting, a move that may provide a boost to reformist candidates close to Rouhani.
It would be the first time Karoubi has voted in an election since his arrest. His son said a mobile ballot box may be taken to his father's house.
Karoubi and fellow reformist Mirhossein Mousavi, both in their 70s, ran for election in June 2009 and became figureheads for Iranians, many of whom protested against a contest they believed was rigged to bring back president Mahmoud Ahmadinejad.
The government denied wrongdoing and said foreign enemies had plotted to overthrow Iran's leaders by stirring up the biggest opposition demonstrations since the 1979 revolution.
Related Articles
Mar 12,2016
DUBAI — Iran's President Hassan Rouhani defended his nuclear deal with world powers and his policy of detente with the West, saying on Satur
May 26,2016
ANKARA — Iran's Supreme Leader Ayatollah Ali Khamenei called for vigilance against what he called a "soft war" mounted by the West and aimed
Apr 09,2015
Failure to finalise a framework agreement between Iran and the six major powers aimed at curbing the country's sensitive nuclear work could profoundly destabilise the Islamic Republic, analysts and politicians say.
Newsletter
Get top stories and blog posts emailed to you each day.