You are here
Air raids hit four hospitals in Syria's Aleppo
By AFP - Jul 25,2016 - Last updated at Jul 25,2016
A Syrian civil defence volunteer carries a wounded child following a reported air strike on the rebel-held neighbourhood of Qatirji in the northern city of Aleppo on Sunday (AFP photo)
BEIRUT — Air raids have hit four makeshift hospitals in Syria's battered Aleppo city, doctors said Sunday, jeopardising medical care for more than 200,000 desperate civilians in rebel-held areas.
The bombardment since Saturday has worsened the plight of residents of besieged eastern neighbourhoods of Syria's second city, where food and medical supplies are becoming increasingly scarce.
The hospitals, as well as a blood bank that was hit, are in Al Shaar neighbourhood, said the Independent Doctor's Association (IDA), a group that supports clinics in Aleppo.
It said a two-day-old baby was killed in the children's hospital when his oxygen supply was cut in a raid early on Sunday.
It was the second strike on the same hospital in about nine hours, the IDA said.
"After the second strike, we had to move him [the baby] downstairs to the bomb shelter, and that's why he died," said Malika, the hospital's head nurse.
"The hospital is severely damaged and it's not the first time," she said, in online conversations with IDA representatives seen by AFP.
Footage posted by the IDA of the strike's aftermath showed agitated doctors carrying a tiny baby in a room lined with incubators, with sandbags piled high outside the entrance.
All four hospitals and the blood bank were out of service on Sunday, the city's opposition-run "health directorate" said in a statement.
It warned that doctors cannot get medicine into the city or transfer the wounded out of Aleppo.
Opposition-controlled areas of Aleppo are regularly hit by air strikes by the regime and its key ally Russia.
According to the World Health Organisation, Syria was the most dangerous place for health workers in 2015, with 135 attacks on health facilities and workers.
An AFP journalist in eastern Aleppo said heavy air strikes resumed after a brief pause.
The Syrian Observatory for Human Rights said at least five civilians including a child were killed in Sunday air raids.
According to the IDA, five hospitals are left operating in eastern Aleppo, devastated by a regime siege since earlier this month.
"Besiegement and the decimation of healthcare constitute war crimes. We demand an immediate end to and accountability for the collective punishment the city faces," the group said.
Marianne Gasser, head of the International Committee of the Red Cross in Syria, said the hospital strikes filled her with "overwhelming despair".
"I think about the people who died, and keep dying, again and again. I think about the patients and their families. I feel for the doctors who want to help but can't anymore," she said.
Syria's conflict erupted in March 2011 with anti-government protests but has since morphed into a complex multi-front war.
At least 280,000 people have been killed and more than half the population have been forced to flee their homes, as world powers are increasingly drawn into the conflict.
Target for talks
Repeated attempts, particularly by the United States and regime ally Russia, at securing a political settlement built on a teetering ceasefire have failed.
Moscow and Washington are nominally co-chairs of international efforts to bring President Bashar Assad's regime to the negotiating table with opposition groups.
The UN has set August as the target date for talks to resume.
On Sunday, Damascus said Syria "is ready to continue the Syrian-Syrian dialogue without any preconditions, in the hopes that this dialogue will lead to a comprehensive solution".
The statement, carried by state news agency SANA and quoting an unidentified foreign ministry official, said Syria would be "ready to coordinate air operations against terrorism as part of the agreement between Russia and the United States".
Moscow has sought to work with Washington on military action against the militants of the Daesh terror group and Al Qaeda affiliate Al Nusra Front.
Sunday saw heavy clashes in the northern town of Manbij, where the Syrian Democratic Forces (SDF) alliance is pressing its campaign against Daesh, the observatory said.
It reported at least five SDF fighters and 18 Daesh militants killed, as well as eight civilians trying to flee Manbij.
The US-led coalition has carried out air strikes against Daesh since September 2014, and Russia began its own bombing campaign in support of Assad's forces a year later.
Last week US Secretary of State John Kerry met his Russian counterpart Sergei Lavrov and Russian President Vladimir Putin in Moscow.
They agreed on "concrete steps" to salvage the failing truce and fight terrorist factions, without announcing details.
Kerry and Lavrov are expected to meet again in Laos this week.
Related Articles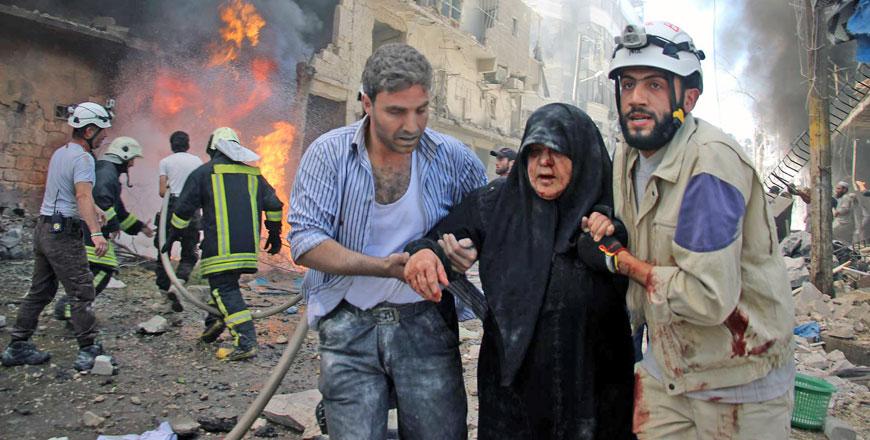 Jun 13,2016
BEIRUT — Air strikes on a market in Syria's Al Qaeda-held city of Idlib killed at least 21 civilians Sunday, as hundreds fled a besieged Dae
Apr 30,2016
DOHA — Doha has requested an "emergency" meeting of Arab League envoys to discuss deadly Syrian regime air raids on the war-ravaged city of
Nov 16,2016
ALEPPO, Syria — Syrian government and Russian warplanes pounded rebel-held parts of northern Syria on Wednesday, including battered second c
Newsletter
Get top stories and blog posts emailed to you each day.