You are here
'Air strikes batter two hospitals in Aleppo countryside'
By Reuters - Nov 14,2016 - Last updated at Nov 14,2016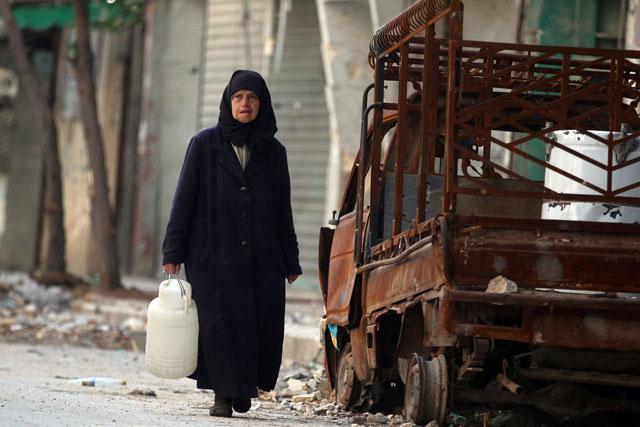 A woman carries a container of water as she walks past a burnt pick-up truck in the rebel held area of Old Aleppo, Syria, on Monday (Reuters photo)
BEIRUT — Air strikes hit two hospitals in rebel-held territory west of the embattled Syrian city of Aleppo on Monday, and a number of patients and medics were wounded, a monitor and doctor said.
Western countries and human rights activists have accused the air forces of the Damascus government and its Russian ally of repeatedly targeting hospitals, bread lines and other civilian infrastructure in territory controlled by the rebels.
Both Moscow and Damascus have denied doing so and say their air campaign is directed against military targets belonging to the rebels, who they describe as terrorists.
The Syrian Observatory for Human Rights, a Britain-based war monitor, said warplanes pounded the town of Atareb overnight and into Monday, knocking the hospital out of service.
There were five air strikes on the hospital that destroyed operations and waiting rooms and damaged ambulances in what was the fourth aerial attack on the facility this year, according to the observatory.
It was the sole hospital in Atareb and at least 60,000 people live in the town and surrounding area, it said.
The strikes injured many patients, said Osama Abo Ezz, a general surgeon and Aleppo coordinator for the Syrian American Medical Society (SAMS), which partially supports the hospital. "They were at the hospital for check-ups," he said.
Warplanes also hit and disabled Ansar hospital in Kafrnaha, 15km from Atareb, marking the third air strike on that facility in the past month, the observatory said.
There were no initial reports of deaths in either attack.
Adham Sahloul, a SAMS advocacy officer, said there have been seven attacks on hospitals in rural districts of Aleppo and Idlib provinces since Friday.
While Syrian and Russian authorities have denied any deliberate targeting of hospitals, Moscow's deputy foreign minister accused rebels recently of using civilians and "so-called hospitals" as human shields and setting up medical facilities in cities without correctly marking them.
Rebels, supported by Turkey, the US and Gulf monarchies, are fighting to oust President Bashar Assad, whose military, backed by Russia's air force, has used jet and helicopter strikes extensively in the five-and-a-half-year war.
On Monday, insurgents clashed in a town near the Turkish border as inter-rebel tensions spilled over, playing to Assad's advantage with the government tightening its grip on the rebel-held eastern half of Aleppo.
The conflict has killed hundreds of thousands of people, left half the country's pre-war population homeless, dragged in global powers and given space to Islamist militant groups to consolidate their organisations and plan attacks abroad.
Related Articles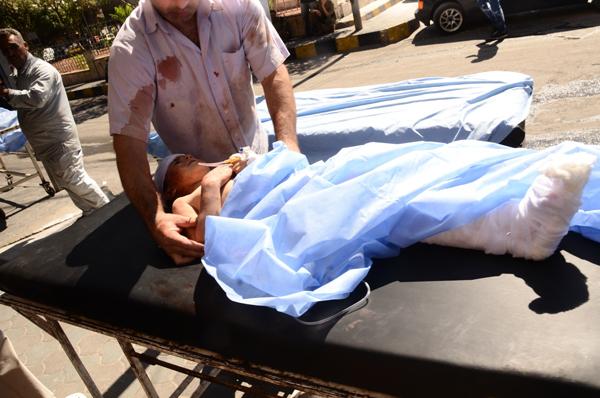 Sep 28,2016
ALEPPO, Syria — The United States threatened on Wednesday to suspend its engagement with Russia over the conflict in Syria following escalat
Dec 24,2016
BEIRUT — An explosion rocked eastern Aleppo Saturday as some residents were returning to their homes after the government assumed full contr
Oct 17,2016
ALEPPO — Russia on Monday announced an eight-hour "humanitarian" ceasefire in Aleppo later this week, as the EU warned that the Syrian regim
Newsletter
Get top stories and blog posts emailed to you each day.