You are here
Air strikes kill 15 civilians in south Syria rebel holdout — monitor
By AFP - Jul 18,2018 - Last updated at Jul 18,2018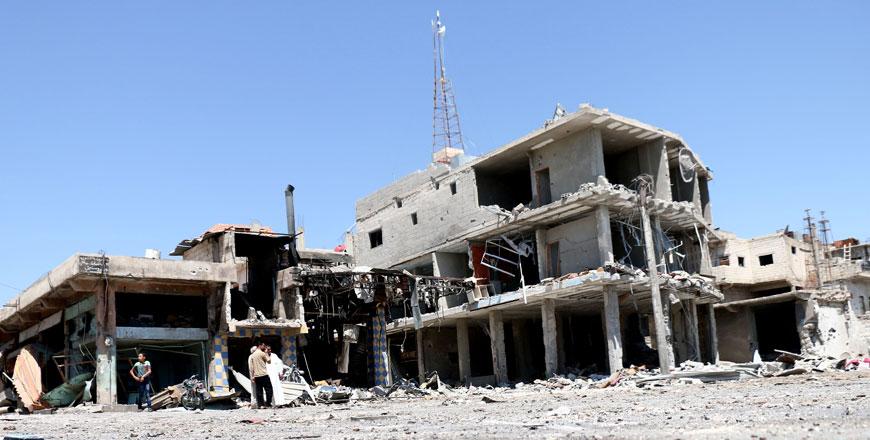 Residents inspect buildings damaged by air strikes in the rebel-held town of Nawa, about 30 kilometres north of Daraa in southern Syria, on Wednesday. More than a dozen civilians were killed when unidentified air strikes hit the town of Nawa during the night (AFP photo)
BEIRUT — Air strikes have killed 15 civilians in a rebel-held pocket of southern Syria as regime ally Russia presses talks for Damascus to retake the area, a monitor said on Wednesday.
The deadly strikes late Tuesday night hit Nawa, the last town under rebel control in the southern province of Daraa, the Syrian Observatory for Human Rights said.
Updating an earlier toll, the Britain-based monitor said 15 civilians had been killed in the strikes, nearly half of them women.
The observatory could not determine whether the strikes on the town in Daraa's west were carried out by the regime or its Russian ally.
The regime has in less than a month retaken more than 90 per cent of Daraa province, which borders Jordan and was the cradle of Syria's ill-fated 2011 uprising.
After regime forces launched a ferocious offensive on June 19, Russia pressured rebels to hand over eastern parts of the province in early July, and the provincial capital last week.
Other towns in the west of the province have also joined the deal, but opposition fighters in Nawa — where tens of thousands of people live — have resisted.
"Negotiations were ongoing Wednesday towards Nawa joining the reconciliation deal" with the regime for the wider province, observatory head Rami Abdel Rahman said.
A ceasefire deal announced earlier this month between the regime and rebels in Daraa province did not include militants.
On Wednesday, Russian air strikes and regime barrel bombs targeted hills outside Nawa held by the Hayat Tahrir Al Sham group, led by Syria's former Al Qaeda affiliate.
Later in the day, a car bomb hit an area outside the town, killing 14 pro-regime fighters.
Heavy air strikes also pounded a southwestern corner of the province controlled by the Daesh militant group.
After retaking most of Daraa, regime forces on Sunday opened a new front in the neighbouring province of Quneitra, adjacent to the Israeli-occupied Golan Heights.
Earlier on Tuesday, 15 civilians were killed in strikes in both provinces, including 14 in Ain Al Tina village on the administrative border with Quneitra.
Syria's conflict has killed more than 350,000 people since it started in 2011 with a brutal crackdown on anti-government protests.
The observatory relies on sources inside Syria for its information, and says it determines who carried out strikes based on aircraft and munitions used, locations and flight patterns.
Related Articles
Nov 09,2014
Syrian rebels and Al Qaeda seized the southern town of Nawa Sunday from troops loyal to President Bashar Al Assad after months of intense fighting, the Syrian Observatory for Human Rights said.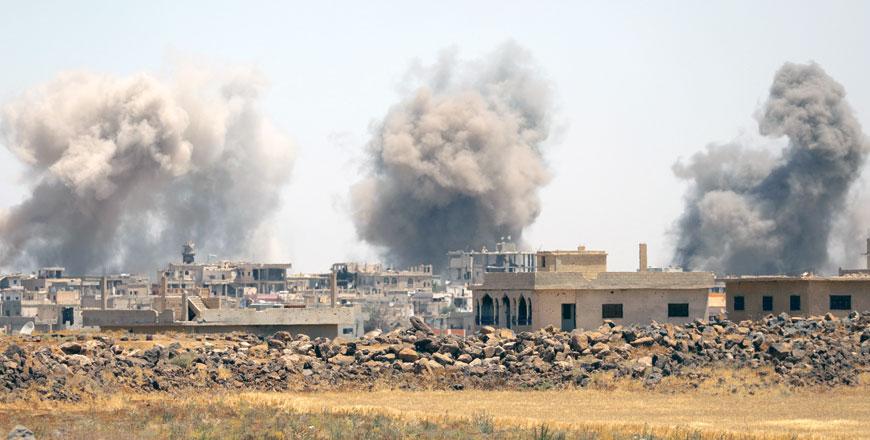 Jun 26,2018
DARAA, Syria — Syria's government ramped up its bombardment of the southern city of Daraa on Monday, forcing dozens of families to flee an e
Sep 07,2014
Syrian rebels have made fresh advances near the Israeli-occupied Golan Heights in Quneitra province, where 26 troops and 17 rebels were killed in a battle on Saturday, a monitoring group said.
Newsletter
Get top stories and blog posts emailed to you each day.