You are here
Amid ceasefire, rescuers clear unexploded bombs in Syria's Deraa
By Reuters - Jul 29,2017 - Last updated at Jul 29,2017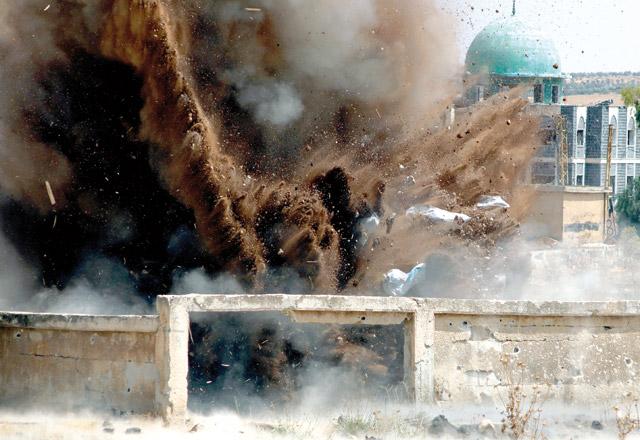 Civil defence members safely detonate cluster bombs in the rebel-held area in Daraa, Syria, on Wednesday (Reuters photo)
BEIRUT — With relative calm in southwest Syria since a ceasefire was reached in early July, civil defence services in rebel-held Daraa have shifted focus to clearing unexploded cluster bombs left by air strikes.
Men in light blue vests set up yellow tape around any of the small, silver winged cylinders found, alongside red signs marked with skeleton symbols reading, "Danger! Unexploded ammunition!"
A specialist civil defence team, trained last year in Jordan to clear mines, has dealt with about 100 cluster bombs in Daraa and nearby villages this week alone, a team member said.
After the tape and signs are set up, rescue service members pile bags of dirt around the cluster bomb and place their own blue-and-white explosive cylinder inside, a red wire trailing from it.
The team, in protective gear, hide behind mounds of soil or buildings. One man holding a trigger attached to the red wire warns his colleagues by radio. Then a shower of dirt and rubble erupts, leaving one fewer unexploded bomb on Daraa's streets.
"We faced a lot of difficulties from air strikes and bombs in open areas," Hasan Fashtaki, a member of the unexploded ordnance team, told Reuters by phone. "But now because of the ceasefire and calm in the area, we're working freely," he added.
Deraa is located in a "de-escalation zone" agreed by Jordan, the United States and Russia as part of Washington's first peacemaking effort in Syria under President Donald Trump after six years of civil war.
It has protected Deraa and surrounding areas from new bombardment, allowing the civil defence to focus on unexploded bombs, according to Fashtaki.
The team spent 20 days in Jordan in October training and learning to de-mine areas. Bombs have been concentrated in areas that suffered heaviest bombardment including front lines and the southwestern village of Horan, Fashtaki said.
He did not know how many more unexploded bombs there were in the area or how long it will take to clear them.
"It could be that in two or three or four months time, we still would not have finished our work."
Related Articles
Jul 08,2018
DARAA, Syria — Thousands of displaced Syrians were heading home on Saturday after rebels and the government reached a ceasefire deal in the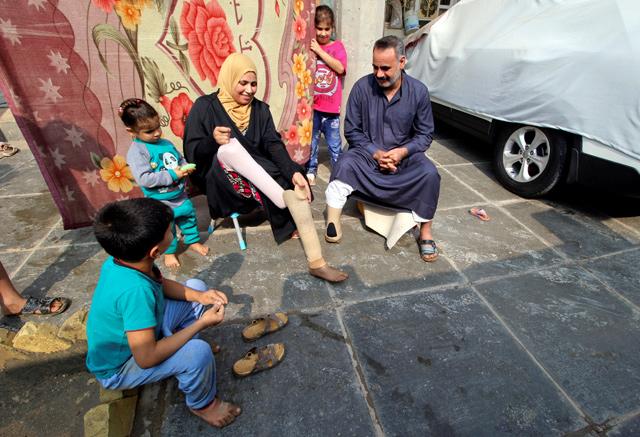 Apr 25,2018
BASRA, Iraq — The Iraqis who pick over their country's old battlefields for military scrap metal and wiring have few other ways to make a li
Jul 03,2018
AMMAN/BEIRUT — A major insurgent-held town in southwestern Syria has accepted the return of President Bashar Assad's rule, pro-government me
Newsletter
Get top stories and blog posts emailed to you each day.