You are here
Anti-Daesh forces seize more ground in Libya's Sirte
By AFP - Aug 22,2016 - Last updated at Aug 22,2016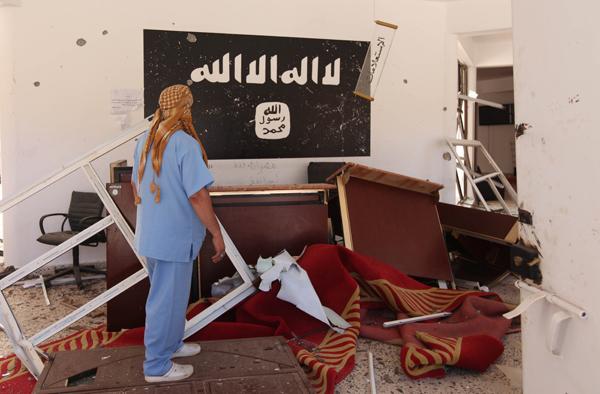 A Libyan man checks a building used by the Daesh militants after it was captured by Libyan forces allied with the UN-backed government, in Sirte Libya, on Monday (Reuters photo)
TRIPOLI — Fighters of Libya's unity government, backed by US air strikes, have recaptured more ground from extremists holed up in the centre of the coastal city of Sirte, loyalist forces said on Monday.
"Our forces have retaken the internal security building used as a prison by the Daesh terror group, as well as a courthouse, the Al Naga district and Dubai Street, the operations centre for fighters loyal to the Government of National Accord (GNA) said.
A statement said "the new victory" was achieved in clashes which raged throughout Sunday in the face of "desperate resistance by the militants".
Daesh sniper positions were "neutralised" in two US air strikes and "our forces destroyed two booby-trapped cars... without loss in our ranks", it said.
However, 12 fighters were killed and 85 wounded in Sunday's clashes, the hospital in Misrata, 200 kilometres east of Tripoli where the pro-GNA military command is based, said on its Facebook page.
Pro-GNA forces, backed since the start of August by US air strikes, began an assault in mid-May to expel Daesh from what had been its Sirte stronghold.
The militants seized control of the city, which had been the hometown of Libya's slain dictator Muammer Qadhafi, in June 2015.
They fought their way into Sirte on June 9 and have since faced a barrage of sniper fire, suicide bombings and booby traps, pinning down the militants in a downtown area near the sea.
More than 350 pro-GNA fighters have been killed and nearly 2,000 wounded in the battle, according to medical sources. Daesh casualties figures are unavailable.
Sirte itself has been emptied of its residents, apart from families of Daesh militants, according to the pro-GNA forces.
American warplanes had carried out 65 strikes on Daesh positions in Sirte up until August 19, according to US Africa Command.
Pentagon spokesman Gordon Trowbridge in mid-August estimated that militants in Sirte numbered fewer than 1,000.
Related Articles
Aug 20,2016
TRIPOLI — Air force units of Libya's unity government launched an operation Saturday to cut off potential escape routes for extremists holed
Aug 28,2016
SIRTE, Libya — Forces loyal to Libya's UN-backed unity government on Sunday pushed into the last areas of Sirte held by the Daesh terror gro
Aug 29,2016
SIRTE, Libya — Libya's pro-government forces on Monday cornered Daesh extremists in their last holdouts in the coastal city of Sirte, after
Newsletter
Get top stories and blog posts emailed to you each day.