You are here
Arab Israeli prisoners row endangers peace initiative
By AFP - Mar 23,2014 - Last updated at Mar 23,2014
OCCUPIED JERUSALEM — The Palestinians' demand for Arab Israelis to figure among 26 prisoners due for release under US-brokered peace efforts has stirred an outcry in Israel's coalition government that could wreck the initiative.
"My party and I shall oppose at any price the release of Arab Israeli terrorists," Internal Security Minister Yitzhak Aharonovitch, of the far-right Yisrael Beitenu Party, told public radio on Sunday.
"So far no [Cabinet] decision has been taken," said Aharonovitch, one of five ministers on a committee charged with approving each stage of the release of 104 long-term prisoners, 78 of whom have already been freed with the final batch due for release on March 29.
Deputy defence minister Danny Danon, a hawkish member of Prime Minister Benjamin Netanyahu's Likud Party, has already pledged to resign if Arab Israelis are included in the deal.
The hardline religious nationalist Jewish Home Party has also threatened to quit Netanyahu's coalition if imprisoned Arab Israelis or Palestinian residents of Jerusalem walk free.
Israel's Arab community has its roots in the 160,000 Palestinians who stayed on their land after the creation of Israel in 1948.
Today, they and their descendants number around 1.6 million out of a total Israeli population of eight million.
Those jailed for attacks are considered by Israel not only as "terrorists" but also as traitors.
In addition, Palestinians in annexed East Jerusalem have the status of Israeli residents, holding Israeli-issued ID documents and entitled to free movement around Israel, unlike Palestinians from the West Bank and the Gaza Strip.
Palestinian President Mahmoud Abbas is adamant that prisoners from both communities be eligible for the next release.
Israeli spy
With the US-brokered resumption of peace talks between Israel and the Palestinians in July, Israel agreed to release 104 prisoners with their identies to be vetted by the ministerial committee.
Candidates for the final tranche have not yet been named by Israeli authorities.
Commentators warn that the issue may sound the death knell for the already-sluggish talks which were scheduled to reach a conclusion on April 29, but show no signs of meeting the deadline.
Israeli wants the time frame extended and ministers have warned that should the Palestinians refuse, the remaining prisoners will not be freed.
Abbas warned Saturday of consequences if the release does not go through.
"We are awaiting the release of the fourth batch of prisoners, as agreed upon with the Israelis through the United States," he told members of the central committee of his Fateh movement.
"We are saying, if they are not released, this is a violation of the agreement and allows us to act however we see fit within the norms of international agreements."
Public radio said the United States was seeking a "creative solution" to save the talks.
US special envoy Martin Indyk met Saturday night in Jerusalem with Israeli Justice Minister Tzipi Livni, chief negotiator with the Palestinians and a moderate in the Netanyahu government.
Indyk also met chief Palestinian negotiator Saeb Erekat and was scheduled to hold talks on Sunday with Abbas in the West Bank city of Ramallah.
Citing Western diplomatic sources, the radio said Washington could free jailed Israeli spy Jonathan Pollard as an incentive for Israel in an effort to save the talks.
A former US navy analyst, he was arrested in 1985 for giving Israel thousands of secret documents about US espionage in the Arab world.
He was sentenced to life in a US prison and received Israeli nationality 10 years later.
Successive Israeli administrations have sought his release, which could provide an incentive for Netanyahu and help him placate his right-wing coalition partners.
But the radio report also said there was no indication the US administration would free the spy.
Related Articles
Mar 26,2014
Washington has offered to free jailed Israeli spy Jonathan Pollard as part of an arrangement that would secure an extension of the deadlocked peace talks, army radio said Wednesday.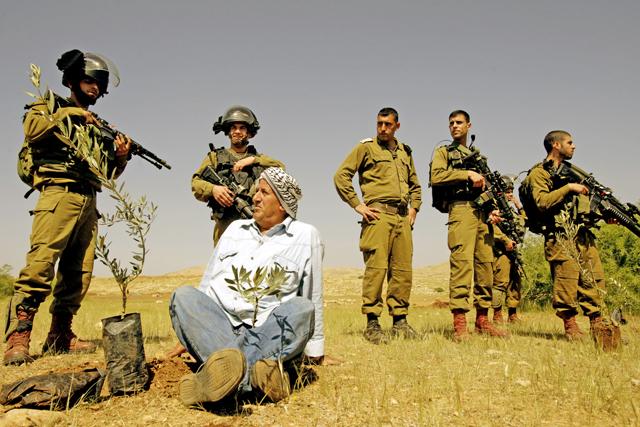 Apr 08,2014
Israeli and Palestinian negotiators ended another US-mediated session on Tuesday with no sign of a breakthrough in efforts to save peace talks from collapse, but an Israeli official said they had agreed to meet again.
May 11,2014
Israel took a step on Sunday towards enacting a law that could block any future release of Palestinian prisoners convicted of killing Israelis and impede any efforts to restart frozen peace talks.
Newsletter
Get top stories and blog posts emailed to you each day.