You are here
Backers of Yemen's ex-leader: US told him to leave
By AP - Nov 05,2014 - Last updated at Nov 05,2014
ADEN, Yemen — Backers of Yemen's deposed president on Wednesday accused the US ambassador of threatening him with international sanctions if he didn't leave the country by Friday, an allegation American officials later denied.
Ali Abdullah Saleh, believed by some to be orchestrating the Shiite Houthi rebel uprising now in control of the capital of this impoverished Arab nation, angrily rejected the purported demand. A post on his Facebook page read: "The man has not been created or given birth by his mother yet to tell Ali Abdullah Saleh to leave his country."
His General People's Congress political party said in a statement that US Ambassador Matthew H. Tueller told its officials through mediators that Saleh had to leave before 5:pm Friday, otherwise "sanctions will be imposed against him".
"This is a blatant intervention in Yemen's internal affairs," the party said. "It's rejected and unacceptable."
In Washington, US State Department spokeswoman Jen Psaki later called the allegation "false".
"There have been no meetings between the ambassador and GPC officials at which any such statements have been made," Psaki said.
On Tuesday, the US asked the UN Security Council to freeze the assets and impose a global travel ban on three figures it blamed for orchestrating Yemen's current unrest: Saleh and two Houthi leaders. All 15 members must approve the sanctions for them to take effect and the council set a Friday night deadline for objections, diplomats at the United Nations said, speaking on condition of anonymity because the consultations have been private.
Saleh fought the Houthis while president for six years until 2010. After Saleh's was toppled in 2012, Houthis expanded their territorial gains from their stronghold of northern Yemen. Since September, the Houthis have managed to take the capital, Sanaa, as well as other key towns and cities.
Houthis are widely suspected of having links to Shiite powerhouse Iran. Houthis follow the Shiite Zaydi faith, a branch of Shiite Islam that is almost exclusively found in Yemen. They represent about 30 per cent of Yemen's population.
On Wednesday, Houthis swept through the city of Adeen, 200 kilometres south of Sanaa, after repelling Al Qaeda militants following nearly two weeks of fighting, security officials said. The officials spoke on condition of anonymity because they were not authorised to speak to journalists.
Adeen is not the only place where Al Qaeda militants and Houthis fighters are engaged in direct confrontations. On Tuesday, clashes between the two sides killed at least 30 people in the central town of Radda.
Houthis accuse the country's embattled leadership of failing to take the lead in combatting its local Al Qaeda branch, deemed by Washington as the world's most dangerous offshoot of the terror network, and has vowed to send Houthi militias to combat the extremist group.
The Houthis also have an anti-American stance and accuse the West of meddling in Yemen's affairs. US drone strikes in the country target suspected militants in the country and civilian casualties from the strikes anger many here.
Related Articles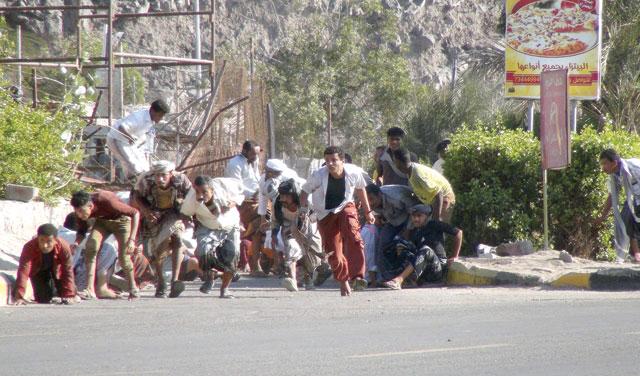 Mar 25,2015
Houthi militia forces in Yemen backed by allied army units seized an air base on Wednesday and appeared close to capturing the southern port of Aden from defenders loyal to President Abed Rabbo Mansour Hadi, residents said.
Dec 17,2014
Yemen's Houthi movement sacked top managers of the country's second largest port and the main oil company on Wednesday, staff said, in the latest move by the Shiite Muslim group to consolidate its hold on state institutions.
Nov 06,2014
Former Yemeni president Ali Abdullah Saleh's party on Thursday called for protests against UN sanctions expected to target the ousted strongman and Houthi rebel leaders for obstructing peace.
Newsletter
Get top stories and blog posts emailed to you each day.