You are here
Baghdad blasts mainly targeting Shiites kill 14
By AFP - Mar 06,2014 - Last updated at Mar 06,2014
BAGHDAD — Nine bombings mainly targeting Shiite-majority areas of Baghdad killed at least 14 people and wounded dozens more on Wednesday, officials said, as Iraq suffers its worst violence in years.
The country has been hit by a year-long surge in bloodshed that has reached levels not seen since 2008, driven by widespread discontent among its Sunni Arab minority and by the bloody civil war in neighbouring Syria.
The seven car bombs and two roadside bombs, which struck in six different areas of Baghdad, also wounded more than 70 people, the officials said.
One car bomb exploded near the University of Technology in the Karrada district of central Baghdad, killing three people and wounding at least 10.
"The terrorist was planning to blow up the car on the main road near the university," but instead left it on a side street as security forces do not allow cars to stop there, a police officer at the scene said.
While there was no immediate claim of responsibility for the attacks, Sunni jihadists often target members of Iraq's Shiite Muslim majority, whom they consider to be apostates.
The Baghdad blasts came a day after suicide bombers attacked the city council headquarters in Samarra, north of Baghdad, and took employees hostage.
Another bomber detonated an explosives-rigged vehicle after police and anti-Al Qaeda militiamen arrived at the scene, while the two inside the building also blew themselves up after exchanging fire with security forces.
The violence, which showcased the impunity with which militants can strike even targets that should be highly secure, killed six people and wounded 46.
Powerful militant group the Islamic State of Iraq and the Levant, which operates in both Iraq and Syria, claimed the attack in a statement posted on the Honein jihadist forum.
Related Articles
Sep 18,2015
BAGHDAD — Bomb attacks claimed by the Daesh terror group killed at least 14 people and wounded 55 others Thursday in the Iraqi capital, secu
Feb 07,2015
Ahead of Baghdad ending a decade-old nightly curfew, bombs exploded across the Iraqi capital Saturday, killing at least 40 people in a stark warning of the dangers still ahead in this country torn by the Islamic State (IS) group.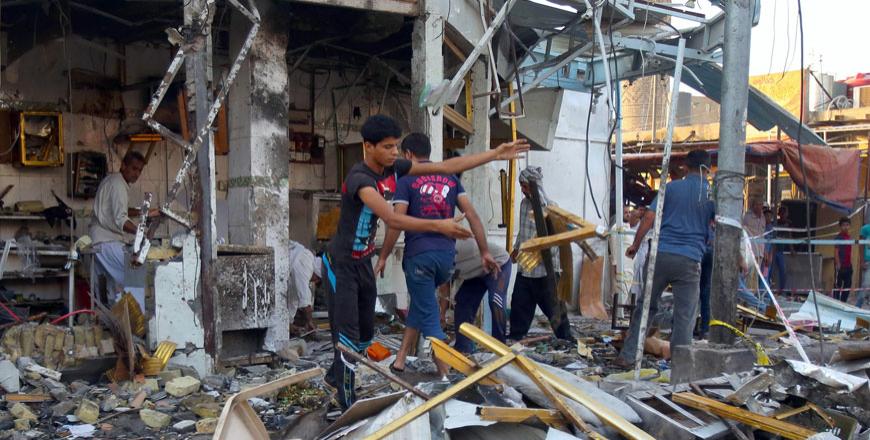 Oct 06,2015
BAGHDAD — The Daesh terror group claimed responsibility on Tuesday for a series of attacks that rocked different parts of Iraq and killed at
Newsletter
Get top stories and blog posts emailed to you each day.