You are here
Battle of Aleppo ends after years of bloodshed with rebel withdrawal
By Reuters - Dec 13,2016 - Last updated at Dec 13,2016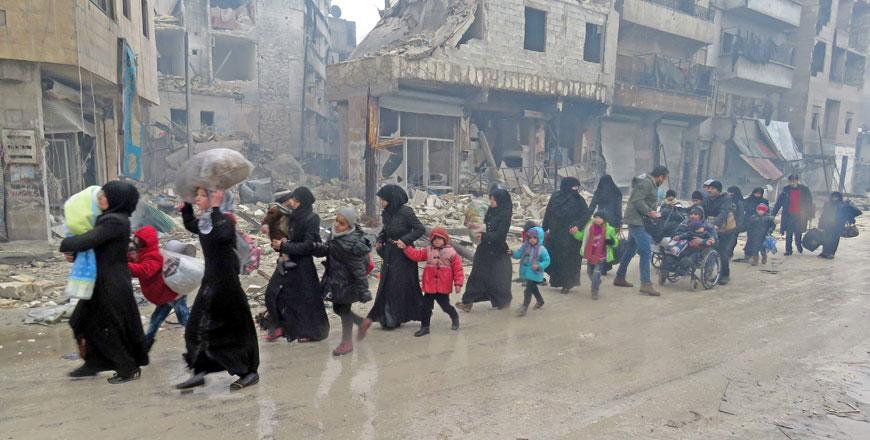 Syrian residents, fleeing violence in the restive Bustan Al Qasr neighbourhood, arrive in Aleppo's Fardos neighbourhood on Tuesday, after regime troops retook the area from rebel fighters (AFP photo)
ALEPPO/BEIRUT/GENEVA — Rebel resistance in the Syrian city of Aleppo ended on Tuesday after years of fighting and months of bitter siege and bombardment that culminated in a bloody retreat, as insurgents agreed to withdraw in a ceasefire.
The battle of Aleppo, one of the worst of a civil war that has drawn in global and regional powers, has ended with victory for Syrian President Bashar Al Assad and his military coalition of Russia, Iran and regional Shiite militias.
For rebels, their expected departure with light weapons starting on Wednesday morning for opposition-held regions west of the city is a crushing blow to their hopes of ousting Assad after revolting against him during the 2011 Arab uprisings.
However, the war will still be far from over, with insurgents retaining their rural stronghold of Idlib province to the southwest of Aleppo, and the Daesh terror group holding swathes of the east and recapturing Palmyra this week.
"The fighters are going to leave the city," Russian UN Ambassador Vitaly Churkin told reporters in New York.
Rebel officials said fighting would end on Tuesday evening and a source in the pro-Assad military alliance said the evacuation of fighters would begin at around dawn on Wednesday. A Reuters reporter in Aleppo said late on Tuesday that the booms of the bombardment could no longer be heard.
Fighters and their families, along with civilians who have thrown in their lot with the rebels, will have until Wednesday evening to quit the city, a Turkish government source said on Tuesday. The ceasefire was negotiated by Turkey and Russia.
A commander with the Jabha Shamiya rebel group said that Aleppo was a moral victory for the insurgents. "We were steadfast ... but unfortunately nobody stood with us at all", the commander, who declined to be identified, told Reuters.
The plight of civilians has caused global outrage in the wake of a sudden series of advances by the Syrian army and its allies across the rebel enclave over the past two weeks.
"We appear to be witnessing nothing less than an all-out effort by the Syrian government and its allies to end the country's internal conflict through a total uncompromising military victory," UN Secretary-General Ban Ki-moon told the Security Council on Tuesday.
The rout of rebels from their ever-shrinking territory in Aleppo sparked a mass flight of terrified civilians and insurgents in bitter weather, a crisis the United Nations said was a "complete meltdown of humanity". There were food and water shortages in rebel areas with all hospitals closed.
The United Nations earlier on Tuesday voiced deep concern about reports it had received of Syrian soldiers and allied Iraqi fighters summarily shooting dead 82 people in recaptured east Aleppo districts. It accused them of "slaughter".
"The reports we had are of people being shot in the street trying to flee and shot in their homes", said UN spokesman Rupert Colville. "There could be many more."
The Syrian army has denied carrying out killings or torture among those captured, and its main ally Russia said on Tuesday rebels had "kept over 100,000 people in east Aleppo as human shields".
An official with an Aleppo rebel group said the bulk of about 50,000 people were expected to be evacuated.
Fear stalked the city's streets. Some survivors trudged in the rain past dead bodies to the government-held west or the few districts still in rebel hands. Others stayed in their homes and awaited the Syrian army's arrival.
For all of them, fear of arrest, conscription or summary execution added to the daily terror of bombardment.
"People are saying the troops have lists of families of fighters and are asking them if they had sons with the terrorists. [They are] then either left or shot and left to die," said Abu Malek Al Shamali in Seif Al Dawla, one of the last rebel-held districts.
A Syrian military source said the evacuation of fighters would start at 5am (0300 GMT) on Wednesday. The source said fighters' families would also leave, but did not mention other civilian evacuations.
Behind those fleeing was a wasteland of flattened buildings, concrete rubble and bullet-pocked walls, where tens of thousands had lived until recent days under intense bombardment even after medical and rescue services had collapsed.
The once-flourishing economic centre with its renowned ancient sites has been pulverised during the war which has killed more than 300,000 people, created the world's worst refugee crisis and allowed for the rise of Daesh.
The UN's Colville said the rebel-held area had become "a hellish corner" of less than a square kilometre. Its capture was imminent, he added.
The Syrian army and its allies could declare victory at any moment, a Syrian military source had said earlier, predicting the final fall of the rebel enclave on Tuesday or Wednesday, after insurgent defences collapsed on Monday.
After days of intense bombardment of rebel-held areas, the rate of shelling and air strikes dropped considerably late on Monday and through the night as the weather deteriorated.
"Artillery shelling is continuing but because of the weather the aerial bombing has stopped. Many of the families and children have not left for areas under the control of the regime because their fathers are from the rebels," said Abu Ibrahim, a resident of Aleppo in a text message before the ceasefire.
Related Articles
Nov 26,2016
BEIRUT — Syrian government and allied forces seized large parts of an important district in rebel-held eastern Aleppo on Saturday, but fierc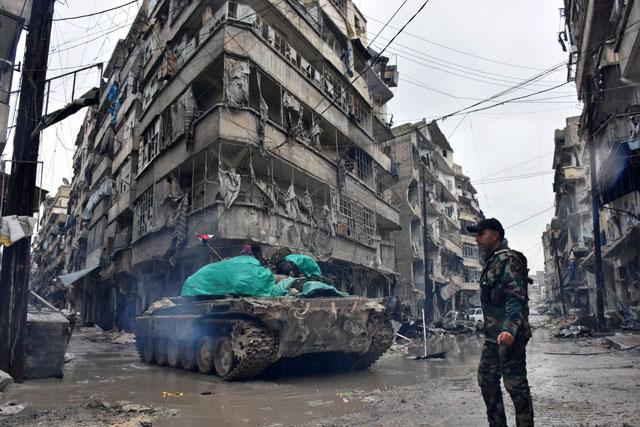 Dec 14,2016
ALEPPO/BEIRUT — Plans to evacuate besieged rebel districts of Aleppo were under threat on Wednesday as renewed air strikes and shelling rock
Dec 21,2016
BEIRUT — Buses carrying Syrian civilians and fighters began leaving the last rebel-held enclave of Aleppo on Wednesday after being stalled f
Newsletter
Get top stories and blog posts emailed to you each day.