You are here
Blast in Damascus suburb market kills 2
By AP - Jun 28,2014 - Last updated at Jun 28,2014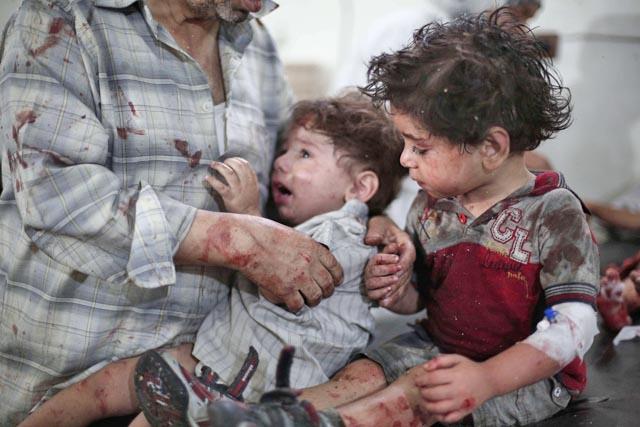 DAMASCUS — A car bomb exploded in a busy market in a rebel-held suburb of the Syrian capital Saturday, killing at least two people and wounding dozens as Muslims went shopping a day before the start of the holy month of Ramadan, activists said.
The blast in Douma came nearly two hours after Russia's deputy foreign minister called on the United States and Europe to take "serious" steps to combat terrorism during a visit to Damascus, warning that several Middle Eastern countries are threatened.
"Russia will not stand idle towards attempts by terrorist groups to spread terrorism in regional states," Sergei Ryabkov told reporters, apparently referring to the rapid advance of the extremist Islamic State of Iraq and the Levant across eastern Syria and northern Iraq.
Russia has been one of Syrian President Bashar Assad's main allies since the start of an uprising against him in March 2011. Moscow has used its veto power four times at the UN Security Council to prevent international sanctions on Syria.
Both Russia and Assad's government have portrayed the civil war in Syria as a struggle against foreign-backed "terrorists", the word Damascus applies to all rebels fighting to end the Assad family's four-decade reign.
The market blast in Damascus killed at least two people and wounded others who were rushed to nearby makeshift hospitals, according to the Britain-based Syrian Observatory for Human Rights and amateur videos released by activists in the area.
The activists said the market was crowded as many people went shopping a day before the holy month of Ramadan, when observant Muslims fast from dawn to dusk and feast in the evenings.
The observatory said the explosion caused extensive damage. The observatory and an activist in the nearby suburb of Saqba who goes by the name of Abu Yazan said the Islamic State is believed to be behind the blast, because of a rivalry with other rebel groups in the area.
"Hospitals are full of wounded people," Abu Yazan said via Skype.
Amateur videos posted by activists online showed the bloodied and burnt bodies of two dead boys on the floor of what appeared to be a makeshift hospital. Others, including children, were receiving treatment amid shrill cries of pain. Several other wounded people lay sprawled out on bloodstained white tiles.
The video appeared genuine and corresponded to other AP reporting of the events.
Douma, one of the most populous suburbs of Damascus, has been under rebel control for more than two years.
The Islamic State has been fighting against rival rebel factions, including Al Qaeda's official affiliate, the Nusra Front, since January in battles that have left more than 6,000 people dead, according to the observatory.
In Damascus, Russia's Ryabkov called for confronting terrorism by "taking integral measures against radicalism and by searching for a solution to prevent the influx of fighters from abroad," adding that terrorism will have "catastrophic repercussions" on the entire region.
Thousands of foreign fighters, including hundreds from the former Soviet Union, are fighting against Assad's forces in different parts of Syria, mainly on behalf of the Islamic State, which has carved out a sprawling enclave astride the Syrian-Iraqi border.
Ryabkov praised Damascus' "responsible" decision to give up its chemical weapons, saying that doing so has boosted Syria's security.
On Monday, Syria finished handing over to Western powers 1,300 tonnes of chemical weapons it acknowledged possessing, completing a deal reached last fall under threat of US air strikes.
Ryabkov held talks a day earlier with Syrian Foreign Minister Walid Al Mouallem and his deputy, Faisal Mekdad.
According to the state-run Syrian Arab News Agency, Ryabkov congratulated Mouallem on removing "all chemical material" from the country.
Also Saturday, the observatory reported heavy clashes between several rebel factions and the Islamic Front in the eastern town of Boukamal on the border with Iraq.
Earlier last week, beleaguered Nusra Front fighters surrounded by Islamic State forces in Boukamal defected and joined the Islamic State. That effectively handed the town over to the Islamic State, which controls the Iraqi side of the crossing.
Related Articles
Feb 05,2015
Syrian government forces and rebel forces traded salvos of rockets and mortar shells Thursday around Damascus, killing at least 21 people in tit-for-tat violence.
Jun 29,2016
BEIRUT — Syrian rebels aided by US-led air strikes launched an offensive against a Daesh stronghold near the Iraqi border on Tuesday, hoping
Feb 26,2014
Syrian army troops killed 175 rebels in an ambush Wednesday south of Damascus, state media reported, a major attack targeting mostly Al Qaeda-linked fighters as part of a government effort to secure the capital.
Newsletter
Get top stories and blog posts emailed to you each day.