You are here
Blasts tear through Yemen capital after air strikes
By AFP - Apr 20,2015 - Last updated at Apr 20,2015
SANAA — At least 15 people were dead and there were fears for dozens more Monday after air strikes by a Saudi-led coalition set off explosions that tore through Yemen's rebel-held capital.
The two strikes on a missile depot in the Fajj Attan area of Sanaa sparked explosions that flattened nearby houses, shook faraway neighbourhoods and sent clouds of thick smoke billowing over the capital.
Medics said at least 15 civilians were killed and dozens wounded and there were fears of a much higher death toll.
The hilltop base belongs to the missile brigade of the elite Republican Guard, which remained loyal to former president Ali Abdullah Saleh who has been accused of siding with Houthi rebels in their fight against the government.
Fires had broken out at the base and a nearby petrol station, witnesses said, and the scorching heat could be felt from a distance.
The Shiite rebels have seized control of large parts of the Arabian Peninsula nation, including Sanaa, and fought fierce battles with pro-government forces.
A coalition of Sunni Arab nations led by Saudi Arabia launched the air campaign against the rebels last month, vowing to restore the authority of President Abed Rabbo Mansour Hadi, who fled to Riyadh as the militiamen advanced on his southern stronghold of Aden.
Riyadh has accused Iran, the main Shiite power, of backing the rebels and fears a Tehran-friendly regime taking control of the country on its southern border.
The coalition says it has carried out more than 2,000 strikes since the start of the campaign, gaining complete control of Yemeni airspace and knocking out rebel infrastructure.
Iran mediation rejected
The United Nations says the fighting and air strikes have left hundreds dead and thousands wounded, and there has been increasing concern of a huge humanitarian crisis.
Calls have been growing for peace talks to end the conflict, but authorities on Monday rejected an Iranian offer to mediate talks.
"Any mediation effort coming from Iran is unacceptable because Iran is involved in the Yemen issue," Yemeni Foreign Minister Riyadh Yassin said on the sidelines of an economic meeting in Kuwait City.
"The Houthis and Saleh forces must withdraw from all cities and villages of Yemen, including Sanaa and Aden, return to [their northern stronghold of] Saada as civilians, and lay down their arms," Yassin said.
"After that we can talk about dialogue and a political solution. But now there is no room for negotiations," he said.
The exiled authorities were given a boost on Sunday when the commanders of a vast military district vowed their loyalty to Hadi's government.
The military command of 25,000 troops in Yemen's Hadramawt province, the country's largest and on the border with Saudi Arabia, expressed their support for Hadi and his "constitutional legitimacy".
'Will never give in'
But rebel leader Abdul Malik Al Houthi vowed his forces would never surrender.
"Our Yemeni people will never give in — it will resist in the face of the savage aggression," Houthi said in televised statement on Sunday.
He promised to fight back using "all means and options" and said Riyadh "has no right to interfere" in the country.
Houthi also slammed as "unfair" a UN Security Council resolution on Tuesday imposing an arms embargo on the rebels and demanding that they return to their highland stronghold.
But in what will be seen as another welcome sign for Hadi, Saleh — forced out after a 2011 Arab Spring-inspired uprising — on Sunday welcomed the Security Council resolution as a "positive" step, with his party backing calls for a ceasefire and UN-mediated talks.
Yemen has long struggled with deep tribal divisions and an insurgency by Al Qaeda in the Arabian Peninsula (AQAP), considered by Washington as the jihadist network's most dangerous branch.
Al Qaeda militants have taken advantage of the chaos to seize territory including an army camp in Hadramawt, an airport and provincial capital Mukalla.
Related Articles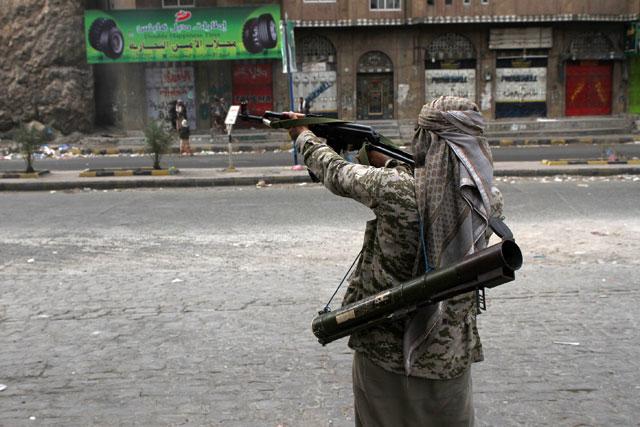 Apr 19,2015
Clashes between rebels and pro-government forces and Saudi-led air strikes killed at least 60 people in Yemen, medics and military sources said Sunday, after Riyadh pledged to fund a UN aid appeal.
Apr 14,2015
World powers imposed an arms embargo Tuesday on Yemeni rebels and demanded they relinquish territory seized in a sweeping offensive that forced UN-backed President Abed Rabbo Mansour Hadi to flee overseas.
Apr 16,2015
Al Qaeda seized control of a major airport, a sea port and an oil terminal in southern Yemen on Thursday, consolidating its hold on the country's largest province amid wider chaos pitting Shiite rebels against forces loyal to the exiled president and a Saudi-led air campaign.
Newsletter
Get top stories and blog posts emailed to you each day.