You are here
With capital 'secure', Syrians breathe sigh of relief
By AFP - May 22,2018 - Last updated at May 22,2018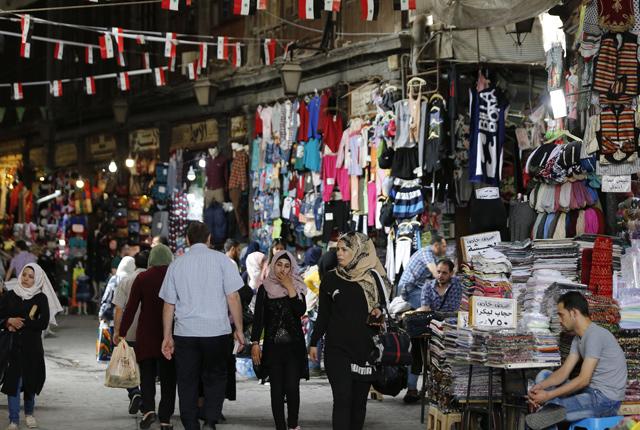 People walk through a shopping district in Old Damascus on Tuesday, one day after the government seized the Yarmouk Palestinian camp and adjacent neighbourhoods of Tadamun and Hajar Al Aswad, putting Damascus fully under its control for the first time since 2012 (AFP photo)
DAMASCUS, Syria — Outside Syria's famed Umayyad Mosque, Ibrahim Mehrez snapped a cellphone picture of his friends and posted it to Instagram, typing out an exultant caption: "Damascus is safe. Syria's alright."
The young Syrian man was strolling through the capital's bustling Old City on Monday night, hours after the army announced it was in full control of Damascus and its outskirts.
The declaration was met with relief across the capital, shaken by seven years of conflict.
"I am 21 years old. A third of my life has been war. My adolescence began just as everything else got difficult," says Mehrez.
"But now that the shelling and military operations have stopped, I feel like a new story has been written for me," he says. "It's a new life."
All along the main thoroughfares leading from central Damascus to its southern districts, posters of President Bashar Assad have been erected.
"And the lion triumphed," reads the caption in Arabic.
Damascus has been relatively spared the massive destruction wreaked on other Syrian cities.
Still, for years, rebels launched mortar rounds onto the capital's residential districts, forcing schools and restaurants to shutter their doors, and warplanes on bombing raids screeched overhead.
All of that is over now, Damascenes say with relief.
The army on Monday announced it was in full control of Damascus after ousting Daesh group militants from the capital's south, where they had clung on since 2015.
'Toast to victory'
It capped a string of regime successes in recent months, including in the suburb of Eastern Ghouta, towns of East Qalamun, and other villages south of Damascus.
Assad is now in control of the whole capital and its outskirts for the first time since 2012 and, already, the war feels further away.
At the ubiquitous checkpoints across Damascus, soldiers who once nervously examined identification papers were on Monday night flashing the two-finger victory sign and waving cars through.
Nawwar Dayyoub, 41, has begun preparations for a night of song and dance — "A toast to victory," he says — at his restaurant in the Old City later this week.
The rushed restaurateur is firing off electronic invitations to his customers for a celebratory evening to mark "the end of the military operations in the city".
"We have to finish preparing everything before Thursday. The party this week is going to be so special, and so many people are going to attend," he says.
For several months, customers were too afraid of rocket fire and mortar rounds from neighbouring rebel positions to venture into the Old City.
People slowly begun trickling back into Dayyoub's place after the government retook Eastern Ghouta in mid-April.
One of them, Ammar Khalil, opens an electronic map of Syria on his cellphone and begins pointing to the areas across the country recently secured by the government.
"You can now actually travel from Damascus, then to Homs, passing through Hama if you want, then head to [coastal] Tartus and reach Latakia to the west, without being afraid of terrorists," says the 23-year-old.
'One phase is over'
A television nearby begins blaring a musical tribute to the army, and Khalil raises his voice.
"Of course it's better to wake up to these nationalistic songs than the sound of shelling and explosions," he says with a grin.
For those visiting Damascus from other parts of Syria, the difference is dramatic.
Monday was Zein Mansour's second visit to the capital from his hometown of Jableh, in western Syria.
The last time he was here, about six weeks ago, the army's brutal operation against Ghouta was in its final stages.
"The situation was extremely dire, with so many shells, deaths, war," the 20-year-old recalls. "But now it's completely different. Now I can go anywhere I want."
Ghouta, he says, was a milestone.
"Everyone knew the biggest fight would be in Eastern Ghouta. Once it was recaptured, we knew the Syrian war was on the verge of ending," Mansour says.
Back near the Umayyad Mosque, a group of men was clustered close together at a coffee shop, exchanging news and political theories over a game of backgammon.
"One phase of the war is over," says 48-year-old Faraj Sfarjalani.
"But the reality of the situation is that there are more important chapters to this war linked to the economic and social situation," he says.
Related Articles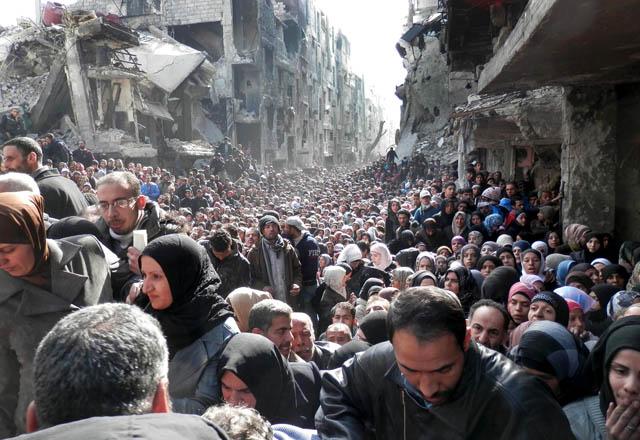 Feb 26,2014
Syrian army troops killed 175 rebels in an ambush Wednesday south of Damascus, state media reported, a major attack targeting mostly Al Qaeda-linked fighters as part of a government effort to secure the capital.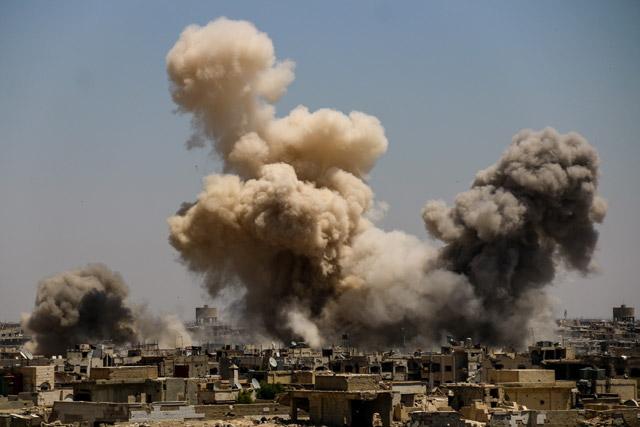 Aug 07,2017
AMMAN — The Syrian army stepped up shelling and air strikes on the last rebel-held enclaves in the Syrian capital on Monday, its heaviest bo
Apr 29,2018
JOBAR, SYRIA - Muhammad al-Masri spent the Syrian war in a house the 75-year-old described as being on the frontline with death.In his partl