You are here
Christmas cheer in Bethlehem as more tourists expected
By AFP - Dec 22,2016 - Last updated at Dec 22,2016
A Palestinian man walks past a Christmas tree at the Manger Square near the Church of the Nativity, revered as the site of Jesus Christ's birth, on Tuesday in the biblical West Bank town of Bethlehem (AFP photo)
BETHLEHEM — Preparations for Christmas are in full swing at the site of Jesus's birthplace, with Bethlehem shops, hotels and church officials planning for more visitors than 2015, when violence put a damper on celebrations.
At Manger Square next to the Church of the Nativity, built on the site where Christians believe Jesus was born, the annual giant Christmas tree covered in gold ornaments is in place.
Only a handful of Palestinians could be seen taking pictures near the tree on Wednesday, while a number of tourists were walking around the city, located a short drive from Jerusalem in the Israeli-occupied West Bank.
Crowds will however file into the Palestinian city on Saturday for Christmas Eve, when celebrations culminate with midnight mass at the Church of the Nativity — with the grotto where Jesus is believed to have been born underneath.
Some 2,500 tickets are usually given out for the mass and those wishing to attend must register in advance.
Beyond that, tens of thousands of tourists are expected to visit sites including Bethlehem, Jerusalem and Nazareth over the holidays, tourism officials say.
Israel's tourism ministry said some 120,000 visitors were expected in December, half of them Christians.
Christians make up less than 2 per cent of the populations of both Israel and the Palestinian territories, though they account for some 28 per cent of Bethlehem's 32,000 people.
Palestinian officials said they were expecting more visitors than last year, with major hotels in Bethlehem booked.
"There is more stability this year and the numbers coming out of the tourism ministry are showing that there will be growth between 2015 and 2016," said Sami Khoury, who runs the Visit Palestine online tourism portal.
"There are more bookings this year. A lot of people are coming this month and the hotels are booked."
Khoury was unable to provide specific figures.
There is more optimism this year in Israel and the West Bank after a wave of violence and protests that erupted in October 2015 sharply reduced visits for Christmas.
The violence has greatly subsided in recent months, though tourists will still have to cross Israel's West Bank separation barrier to reach Bethlehem.
Israel has occupied the West Bank for nearly 50 years.
For Wahid Al Laham, a Bethlehem shop owner selling Christmas memorabilia and decorations, shopping has been better than last year but still falls short in comparison to previous years.
Christmas shopping "was half the rate of previous years, but 80 per cent higher than compared to 2015," he said.
The 2014 Israeli aggression on the Gaza Strip also decreased tourism that year.
But while Israel and the West Bank have seen less violence, Christians across the wider Middle East were facing a "tragedy," a leading church figure said in Jerusalem on Monday.
Archbishop Pierbattista Pizzaballa, apostolic administrator of the Latin Patriarch of Jerusalem and who will celebrate Bethlehem's midnight mass, pointed specifically to Syria and Iraq.
The Latin Patriarchate of Jerusalem heads the Roman Catholic Church in the Holy Land.
Pizzaballa said up to two-thirds of Christians have left in Iraq and Syria.
Christians in the Gaza Strip, the Palestinian enclave separated geographically from the West Bank, also face another grim year.
The impoverished strip run by Islamist movement Hamas has seen three wars with Israel since 2008.
It has been under an Israeli blockade for around a decade, while Egypt's border has also remained largely closed.
The vast majority of the 2 million population are Muslim, though some 3,000 Christians live there.
Nasser and Renee Jildeh are planning to have a quiet Christmas at their house near the Saint Porphyrius Greek Orthodox church in Gaza City, with only a small tree as a decoration.
"We used to get a big Christmas tree decorated with beautiful things and put it near the entrance of the house," Renee Jildeh said.
"But now we don't buy anything because of the bad economic situation."
Related Articles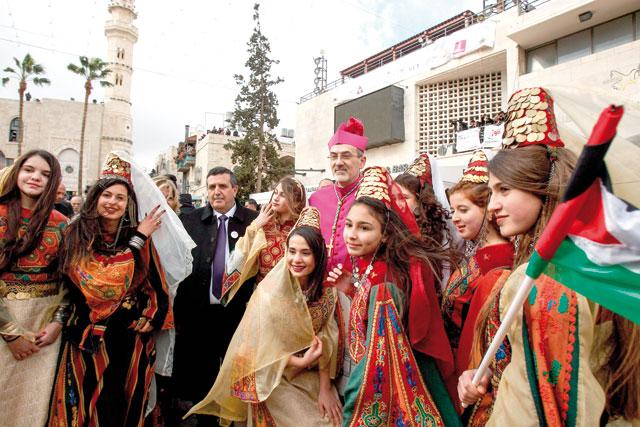 Dec 24,2017
BETHLEHEM, Palestinian Territories — Palestinian scouts played drums and bagpipes as Christmas celebrations began in Bethlehem on Sunday, bu
Dec 24,2016
BETHLEHEM, West Bank — Thousands of pilgrims and tourists from around the world together with locals began Christmas Eve celebrations in Jes
Apr 13,2017
BETHLEHEM, Palestinian Territories — Down a Bethlehem alleyway, sunlight illuminates a golden icon of the Virgin Mary and Jesus, signalling
Newsletter
Get top stories and blog posts emailed to you each day.