You are here
Classrooms in rebel-held Yemen shuttered on first day of school
By AFP - Oct 15,2017 - Last updated at Oct 15,2017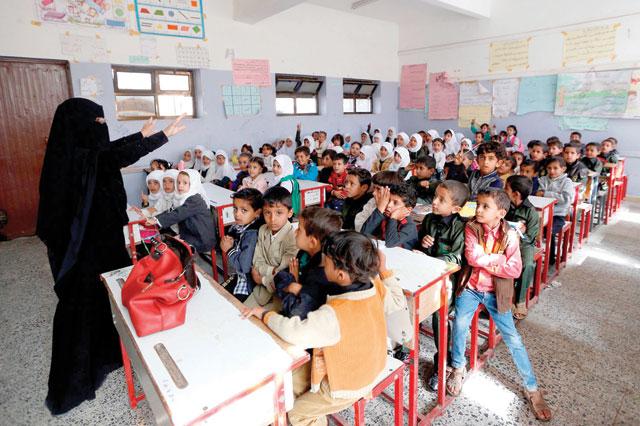 Yemeni students attend a class on the first day of the new school year in the capital Sanaa on Saturday (AFP photo)
SANAA — Classrooms in Yemen's capital and rebel-held north remained largely empty on the first official day of school Sunday, as war, hunger and an economic collapse leave millions struggling to survive.
"The future of 4.5 million students hangs in the balance," Rajat Madhok, spokesman of the UN Children's Fund (UNICEF) in Yemen, told AFP.
A union strike over the suspension of teachers' salaries has ground education in areas controlled by the Iran-backed Houthi rebels to a halt, three years into a war between the Iran-backed rebel alliance and a government backed by Saudi Arabia.
UNICEF estimates 13,146 schools, or 78 per cent of all of Yemen's schools, have been hit by the salary crunch, many of them unable to open for the first day of school.
Nearly 500 schools have been destroyed by the conflict, repurposed as shelters or commandeered by armed factions in a war that has killed thousands and pushed the country to the brink of famine.
Schools in the capital Sanaa and across northern Yemen were forced to delay the September 30 start of the scholastic year by two weeks after the rebels failed to pay teachers' salaries.
In government-held parts of Yemen, however, most schools this year opened as scheduled on October 1.
'Starving' teachers
In Sanaa, 13-year-old Bashar Al Zaraji went to his school to register for classes on Sunday, but found himself looking straight at a locked door.
"I asked the school guard where everybody was. He told me the teachers were still on strike. They want their salaries," Zaraji told AFP.
"So we're living in a country where we can't study and nothing works," he said in exasperation. "What are we supposed to do?"
AFP reporters in Sanaa said younger pupils were in tears after waiting hours for their teachers to arrive, only to be left disappointed.
A handful of schools did open their doors to allow students to register for the year.
Others have taken to replacing teachers on strike with administrators loyal to the Houthi rebel movement, a measure education experts say is far from sufficient to meet children's right to education.
"It is not only the issue of whether the schools open, but the quality of the teachers," said UNICEF's Madhok.
Nearly three quarters of Yemen's educators have not been paid for 12 months, according to UNICEF.
Teachers who struggled through a year with little to no pay say they will hold firm to their strike in the year to come.
"We're starving to death and they want us to teach?" said Abdel Hakim, a teacher in Sanaa.
"It's better to leave teaching and go look for work to feed my kids," he told AFP.
Others have been moonlighting in other professions or looking to shift vocations altogether.
"For the past two years, I've gotten paid just half my old salary every two months," said teacher Mohammed Abdelrabb.
Children at risk
A bleeding education sector poses a major threat to the well-being of children, who are at increased risk of being recruited into militias, forced into labour or married off young, Madhok said.
The Houthis had promised teachers would be back in the classroom this school year.
The Iran-backed Houthis in 2014 drove the government out of Sanaa and south into Aden, hometown of beleaguered President Abedrabbo Mansour Hadi.
The Hadi government last year pulled the central bank from rebel-held Sanaa to Aden, a move the UN said deprived more than one million civil servants — including teachers — of their salaries and pushed families towards starvation.
One principal in Sanaa said she decided to open her doors to her students on Sunday, regardless of whether any teachers actually showed up.
"If they stay home that won't stop us from receiving students," she said.
Related Articles
Sep 03,2015
AMMAN — More than 13 million children are being denied an education by Middle East conflicts, the UN said Thursday, warning "the hopes of a
Mar 27,2018
SANAA, Yemen — Close to half a million Yemeni children have dropped out of school since 2015, when Saudi Arabia and its allies intervened in
Sep 29,2014
Back to school for young Yemenis in Sanaa Monday was a stark reminder of why many missed classes in the first place — rebels were using it as an arms dump.
Newsletter
Get top stories and blog posts emailed to you each day.