You are here
Daesh fighters destroy priceless Iraq antiquities
By Reuters - Feb 26,2015 - Last updated at Feb 26,2015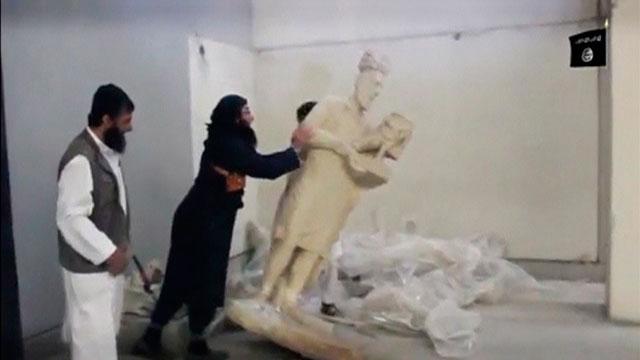 ERBIL/BAGHDAD — Daesh members in northern Iraq have destroyed a collection of priceless statues and sculptures dating to the ancient Assyrian era, according to a video published online.
A Daesh video showed men attacking the artefacts, some of them identified as antiquities from the 7th century BC, with sledgehammers or drills, saying they were symbols of idolatry.
"The Prophet ordered us to get rid of statues and relics, and his companions did the same when they conquered countries after him," an unidentified man said in the video.
The articles destroyed appeared to come from an antiquities museum in the northern city of Mosul, which was overrun by Daesh last June, a former employee at the museum told Reuters.
The militants shoved statues off their plinths, shattering them on the floor, and one man applied an electric drill to a large winged bull.
The video showed a large room strewn with dismembered statues, and Islamic songs played in the background.
Lamia Al Gailani, an Iraqi archaeologist and associate fellow at London-based Institute of Archaeology, said the militants had wreaked incalculable damage.
"It's not only Iraq's heritage: it's the whole world's. It's human heritage," she told Reuters.
"They are priceless, unique. It's unbelievable. I don't want to be Iraqi anymore," she said, comparing the damage to the dynamiting of the Bamiyan Buddhas by the Afghan Taliban in 2001.
As well as Assyrian statues of winged bulls from Nineveh and Nimrud, Gailani said Daesh hardliners appeared to destroy statues from Hatra, a Hellenistic-Parthian city in northern Iraq dating back around 2,000 years.
"Muslims, these relics you see behind me are idols that were worshiped other than God in the past centuries," the unidentified man in Daesh video said.
"What is known as Assyrians, Akkadians and others used to worship gods of rain, farming and war other than God and pay all sorts of tributes to them."
Related Articles
Mar 07,2015
Daesh militants have destroyed ancient remains of the 2,000-year-old city of Hatra in northern Iraq, the tourism and antiquities ministry said on Saturday.
Aug 07,2016
TAL AJAJA, Syria — When the Daesh terror group captured Tal Ajaja, one of Syria's most important Assyrian-era sites, they discovered previou
Nov 13,2016
BAGHDAD — The Assyrian city of Nimrud, located in an area Iraqi forces said was recaptured during the operation to retake extremist-held Mos
Newsletter
Get top stories and blog posts emailed to you each day.