You are here
Daesh holds off US-backed force in Syria's Tabqa — monitor
By AFP - May 07,2017 - Last updated at May 07,2017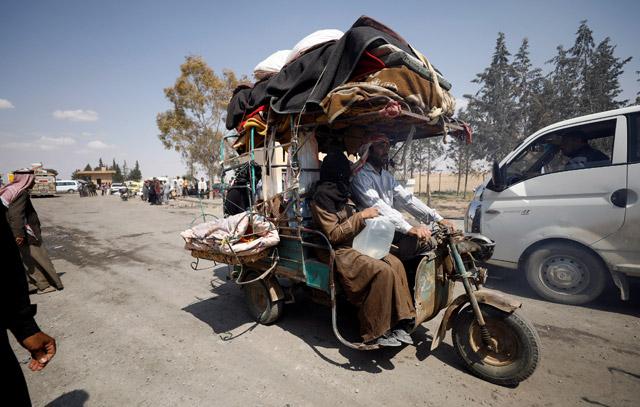 Internally displaced people who fled Raqqa city ride a tricycle with their belongings as they leave a camp in Ain Issa, Raqqa Governorate, Syria, on Thursday (Reuters photo)
BEIRUT — Dozens of Daesh terror group militants cornered in a northern part of Syria's Tabaqa are holding off US-backed forces that hold almost all of the city, a monitor said on Sunday.
Tabqa sits on the Euphrates River and on a strategic supply route about 55 kilometres west of Raqqa, the Syrian heart of Daesh's so-called "caliphate".
In their drive for Raqqa, the US-backed Syrian Democratic Forces (SDF) have captured more than 90 per cent of Tabqa, but have not been able to fully clear the extremists out of the city or the adjacent dam.
"The SDF hasn't been able to seize complete control of Tabqa because Daesh militants are still present in the neighbourhoods of Wahdah and Hurriyah," said Rami Abdel Rahman, who heads the Syrian Observatory for Human Rights.
The two districts are in the city's north near Tabaqa Dam, Syria's largest.
Abdel Rahman said "dozens" of Daesh militants were laying mines and engaging in small-scale skirmishes with the SDF, but had not deployed suicide bombers in recent days.
An SDF commander inside Tabqa told AFP on Sunday that his forces were locked in "violent clashes" in the northern part of the city.
"The operation is going slowly because of the presence of civilians being used as human shields by Daesh," the commander said, saying his forces were trying to advance "carefully and accurately".
"Soon we will be able to announce the city fully cleared of Daesh," he added.
The SDF first entered Tabaqa on April 24, but Daesh has put up fierce resistance including using snipers and weaponised drones, a tactic it perfected in neighbouring Iraq.
Overnight, Daesh's propaganda arm Amaq said extremists had clashed with SDF forces inside the city.
The assault on Raqqa, dubbed "Wrath of the Euphrates", was launched in November and has seen the SDF capture large swathes of countryside around the city.
More than 320,000 people have been killed in Syria since the country's war began with anti-government protests in March 2011.
Related Articles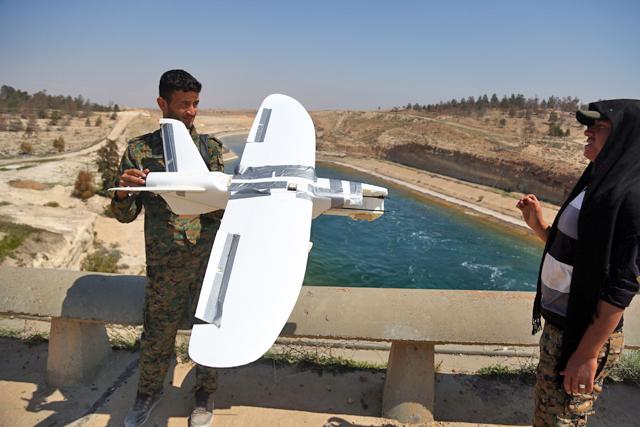 Mar 29,2017
Tabaqa DAM, Syria — Spillways at the Tabaqa Dam in Syria are working normally after engineers managed to carry out repairs, a local alliance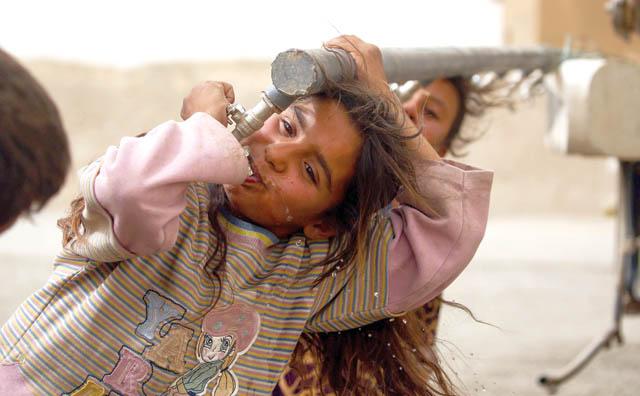 May 11,2017
TABAQA, Syria — US-backed fighters hunted for extremist holdouts in Syria's Tabaqa on Thursday after overrunning the city and nearby dam in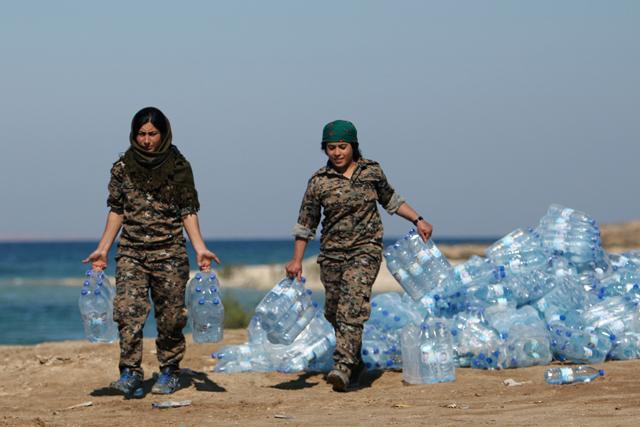 Apr 11,2017
BEIRUT — US-supported forces fighting the Daesh terror group in Syria advanced to within 2 km of a key stronghold near the terrorist group's
Newsletter
Get top stories and blog posts emailed to you each day.