You are here
As dead pile up in Syrian town, doctors face tough choices
By Reuters - Sep 07,2015 - Last updated at Sep 07,2015
A photo taken on Monday shows a general view of damaged buildings in the rebel-held area of Douma, east of the capital Damascus, as a sandstorm blows over the city (AFP photo)
BEIRUT — The hardest part of being a medic in the Syrian town of Douma during some of the most intense bombardment in four years of war is deciding who to treat first, knowing that those left for later could well die.
Medics in the town near Damascus say they have faced this dilemma all too often in recent weeks, struggling to save men, women and children wounded in a sharp escalation in government air strikes.
Even by the standards of a war that has killed a quarter of a million people, this has been a bloody time for Douma and the surrounding, rebel-held Eastern Ghouta, which was targeted with chemical weapons in 2013.
More than 520 people have been killed in air strikes since mid-August, more than a hundred of them on one day alone, according to a toll compiled by local rescue workers.
On that day, August 16, surgeon Anas watched as dozens of his wounded countrymen filled his hospital in Douma, some 15km northeast of Damascus.
While operating on an elderly man with shrapnel wounds to the chest, he was called to attend to a baby girl with a wound near her heart. He left a nurse to apply pressure to the elderly man's wounds, hoping he would survive while he treated the girl.
"I left her chest open right after getting the case under control," said Anas, using a pseudonym as he spoke to Reuters via an internet messaging service from Syria.
"I rushed back to the old man to find him passed away," he said. "I had a very strange feeling at that moment. I went back to the baby girl with tears in my eyes, praying all the way for her to be okay. Thankfully the child is in good condition now."
The air strikes in the Eastern Ghouta are part of a wider intensification of the conflict in recent weeks. The army has said it is targeting insurgent groups that launched attacks on nearby government-held areas.
The UN envoy for Syria condemned the August 16 attack on Douma, describing it as devastating while also saying it had followed "indiscriminate shelling of Damascus" by armed opposition groups. The Syrian Observatory for Human Rights says rebel attacks have killed 40 people in the capital recently.
Worse than gas?
UN investigators established that sarin gas was used in the Eastern Ghouta in the August 21, 2013 attack. The United States has accused Damascus of that attack, which it estimates killed 1,429 people, including at least 426 children.
Damascus denied responsibility, and blamed rebels.
Another doctor working in Douma who gave his name as Basel, said the lastest killings were, in some ways, worse. "Two years ago, we had clean and complete bodies without any missing parts to bury," he said, speaking via Skype.
The recent air strikes, including the August 16 attack that hit a market, have destroyed more than 200 homes in Douma, according to the civil defence of the Damascus Countryside, which operates in rebel-held areas. The latest air strike was last week, and killed two families.
The dead have been buried in mass graves.
Markets and shops have remained closed, and the roar of warplanes at night scare some into sleepless nights even when they do not bomb. Others are so accustomed to the jet noise that they no longer run for cover.
"Now what we ask for is to have a break between one strike and another so that we can at least search for the breath of life under the piles of rubble," said a spokesman for the civil defence who gave his name as Sirag Douma, speaking via Skype.
Seven members of the civil defence have been killed in the attacks. "Can you imagine the stage we have reached? This is what we ask for now," the spokesman said.
Residents in Douma have given up on the international community. Many have left, retreating to rural areas.
Appeals
Appeals have been directed to humans rights groups, the United Nations, and the Arab League. "We got nothing from them but a deaf ear, they didn't communicate with us or even inquire about what happened," the civil defence spokesman said.
As a protest and call for help, two dozen doctors working in Douma have called for an end to the violence by all sides.
"We want our voice to be heard. We want to say to all parties that are fighting ... 'Keep the civilians out of this'," said Basel, the doctor.
He recalls trying to treat 500 people at the same time, with a team of only five doctors.
Working for hours without a break, he found himself operating a 12-year-old who happened to be a relative. He amputated one of his legs, but saved the other.
Doctor Majed Aboali said Eastern Ghouta had witnessed the same scene for three years. "Only the dates are changing, maybe some details or numbers vary," he said, speaking via Facebook.
"How is it possible for a doctor to choose between one patient and another when both are at the same level of injury and risk? This is really the hardest thing to do — when the time and tools you have can save only one life."
Related Articles
Aug 25,2015
BEIRUT — Syrian government air strikes on areas east of Damascus have killed 247 people in the last 10 days, including 50 children and wound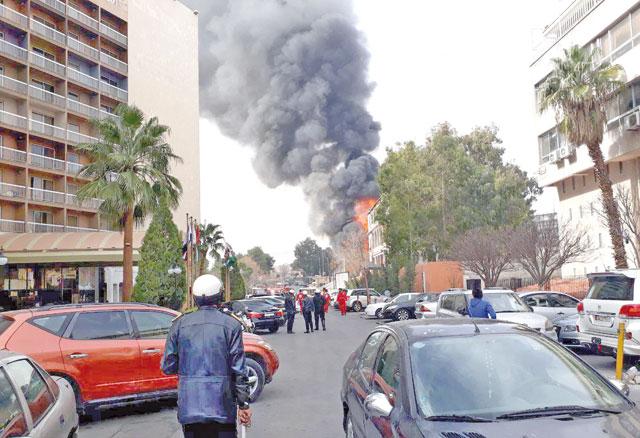 Feb 10,2018
DOUMA, Syria — Syrian regime air strikes on the rebel enclave of Eastern Ghouta eased on Saturday after five days of heavy bombardment that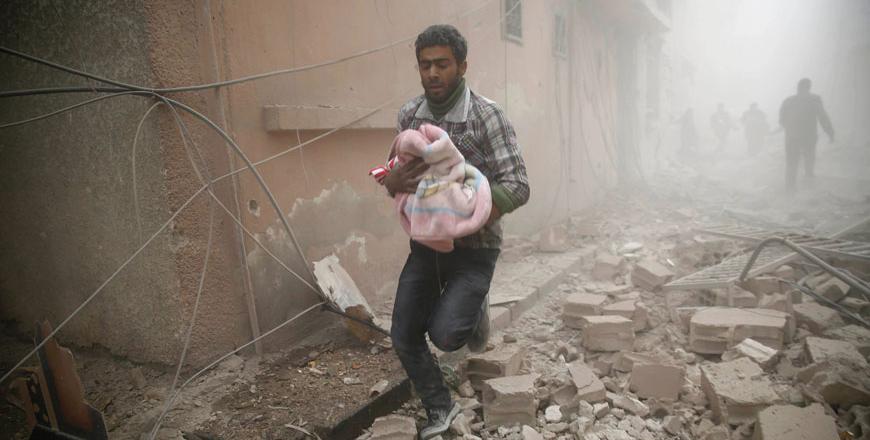 Dec 13,2015
BEIRUT — At least 31 civilians were killed Sunday in heavy bombardment of a besieged Syrian rebel stronghold east of Damascus that also stru
Newsletter
Get top stories and blog posts emailed to you each day.