You are here
Deadly Gaza conflict reignites as Egypt urges new truce
By AFP - Aug 09,2014 - Last updated at Aug 09,2014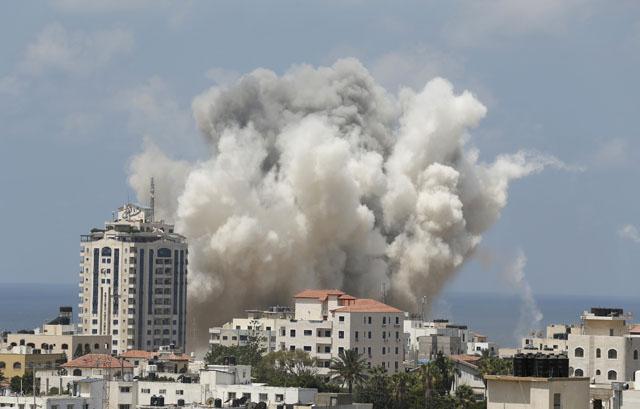 GAZA CITY — Israeli warplanes pounded targets in Gaza Saturday, a day after killing at least five Palestinians, and fighters fired dozens of rockets into Israel after attempts to extend a three-day truce stalled.
The month-long conflict flared once again after mediators tried but failed to extend a ceasefire that expired at 0500 GMT Friday as Palestinian fighters shattered the quiet with pre-dawn rocket attacks.
But the United States said it still hoped that a new ceasefire could be in place soon.
"Our hope is that the parties will agree to an extension of the ceasefire in the coming hours," State Department spokesperson Marie Harf told reporters.
Egypt, which is mediating between Israelis and Palestinians, insisted negotiations were making progress and urged a new truce but Israel recalled its delegation and warned it would not negotiate under fire.
Prime Minister Benjamin Netanyahu ordered the military to retaliate "forcefully" and blamed the Islamist movement Hamas for breaching the ceasefire.
Palestinian fighters fired 40 rockets into Israel, injuring one civilian and a soldier, the army said.
"In response, we struck 51 terror sites and targeted three terrorists in Gaza," a military statement said, without elaborating.
The violence ended the 72-hour lull in fighting.
Israel's aggression on Gaza has killed at least 1,898 Palestinians. The United Nations says at least 1,354 of the Palestinians killed since July 8 were civilians, including 447 children.
Israel says some 67 Israelis were killed, almost all soldiers.
In Gaza, fighting died down in the early hours of Saturday but Israel carried out a number of attacks, mainly on areas from which the population has fled, an AFP correspondent said.
Rocket fire on Israel stopped Friday at 1800 GMT, according to the Israeli army.
Five Palestinians were killed and at least 31 others wounded in Friday's air strikes, said Ashraf Al Qudra, Gaza's emergency services spokesperson. Among the dead was a 10-year-old boy.
Some Palestinian families who had returned home trickled back to shelter in UN-run schools when Israeli air strikes resumed.
In Al Tuffah district of Gaza City, hundreds of refugees were seen living in classrooms, laundry hanging off balconies and a scrum of people queuing for UN food handouts.
"Of course we're all scared, I'm scared, my children are scared, my wife is scared," Abdullah Abdullah, 33, told AFP at the school.
In southern Israel, the army banned gatherings larger than 500 people within 40 kilometres of Gaza and said kindergarten and summer camps could only operate if there was a bomb shelter nearby.
In Gaza, the interior ministry said Israeli warplanes struck targets in Jabaliya in the north, Gaza City and in the centre of the Palestinian enclave.
Israel said it was targeting "terror sites".
It first launched an air campaign on July 8, followed nine days later by a ground offensive designed to destroy Hamas' arsenal of rockets and its network of attack tunnels stretching into Israel.
"We will continue to strike Hamas, its infrastructure, its operatives and restore security for the state of Israel," said army spokesperson Lt. Col. Peter Lerner.
Meanwhile, violent protests against Israel's offensive erupted Friday across the occupied West Bank, where two Palestinians were killed and dozens wounded in clashes with Israeli forces, Palestinian medical officials told AFP.
They said troops shot dead Mohammed Qatri, 19, near the Israeli settlement of Psagot, between occupied Jerusalem and the West Bank city of Ramallah.
Nader Edriss, 22, died Saturday morning in a hospital from wounds sustained during a protest in Hebron which also left dozens of others wounded, one seriously, by rubber bullets and live fire.
The army claimed that Qatri was one of a group that hurled rocks at soldiers and approached the settlement fence, ignoring orders to halt.
Elsewhere, Egypt called for an immediate return of the ceasefire and said progress had been made in the negotiations.
The head of a Palestinian delegation in Cairo said they were committed to achieving a truce.
"We told the Egyptians [mediators] we are sitting here to achieve a final agreement that restores the rights" of Palestinians, Azzam Al Ahmed told reporters.
Hamas and the Islamic Jihad group had rejected another 72-hour truce, accusing Israel of stalling.
"There had been an agreement on the vast majority of matters that are important to the Palestinian people, but some limited points remained undecided, a matter that should have led to an acceptance to renew the ceasefire," the Egyptian foreign ministry said.
Hamas and Palestine Liberation Organisation officials laid out a number of demands, including the lifting of Israel's eight-year blockade and the building of a sea port.
They also want Israel to free 125 key prisoners.
Despite withdrawing all its troops from Gaza by the time the truce began on Tuesday, Israel has retained forces along the border.
Related Articles
Aug 09,2014
Cradling his baby daughter, Saeed Masri took flight Friday from renewed Israeli bombardment of Gaza with little faith that even a UN facility can protect his family.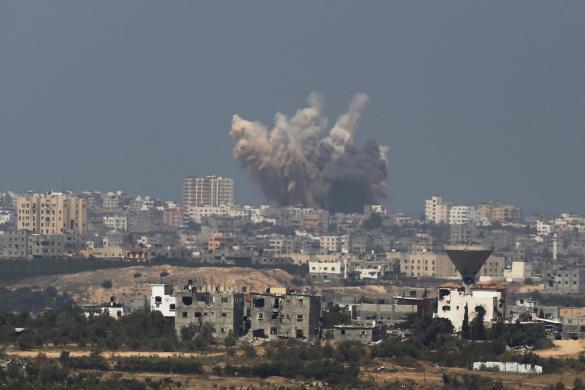 Aug 08,2014
Israel launched air strikes across the Gaza Strip on Friday in response to Palestinian rockets fired after Egyptian-mediated talks failed to extend a 72-hour truce in the month-long war.
Dec 20,2014
Israeli aircraft hit Gaza for the first time since an August truce ended 50 days of war after a rocket hit Israel, witnesses and the army said early Saturday.
Newsletter
Get top stories and blog posts emailed to you each day.