You are here
Displaced by war, Syrians seek safety in cars, shells of buildings
By AFP - Dec 29,2015 - Last updated at Dec 29,2015
Syrian man looks on from inside an unfinished building where he lives with his family in the Daf Al Sakhr neighbourhood of Jaramana on the outskirts of the Syrian capital Damascus on December 16 (AFP photo)
DAMASCUS — Since his house on the outskirts of Damascus was destroyed two years ago, Abu Ziad's dented, decades-old pickup truck has been not only his sole source of income but also his home.
Abu Ziad is one of more than 11 million Syrians, or half the population, who have been forced from their homes by the conflict that has been raging across the country since 2011.
On a cold winter's day in the capital's Marja Square, the 62-year-old leans back against his soot-streaked white Suzuki, parked next to a wooden crate filled with the packs of cigarettes that are his livelihood.
"My truck is my wife. I talk to her during the day and I seek refuge with her at night, but she is now very old and cannot move around," he tells AFP.
"I've owned this truck since 1978; we grew up together and we grew old together."
Abu Ziad moved to Damascus when his home in Sabeneh, south of Damascus, was destroyed in early 2012.
His wife died shortly afterwards, and one of his sons was killed in a mortar attack.
Abu Zia pulls his leather jacket and grey scarf tighter against the cold.
"I cannot return to my home because it has become a battlefield. I cannot rent a home because the prices are so high and I cannot afford transportation to my children's homes to sleep there," he says.
Abu Ziad's children rent tiny apartments in the Damascus suburbs of Jaramana and Kisweh.
"When work is good and I have a little extra cash, I rent a room inside a modest hotel that I share with three other people so I can rest a while, or I visit my children and relatives," he adds.
'Wiped off the map'
But mostly, Abu Ziad sleeps in the truck, from which he used to deliver refrigerators.
When he could no longer afford to repair the truck's frequent breakdowns, he decided to park in the city centre and sleep in it at night.
During the winter, he burns cardboard boxes in the truck bed to keep warm. In the summertime, he parks in a shaded area to escape the blistering heat.
According to economic analyst Ammar Yussef, more than 2.3 million homes have been rendered uninhabitable across the country, displacing nearly 7 million people by the end of 2015.
"Most of the areas where you will find damaged homes are the Damascus suburbs, where some areas have been wiped off the map," says Yussef, who is preparing a study on the destruction of Syria's infrastructure.
The next most-damaged area, Yussef says, is the central city of Homs, where more than 800,000 buildings, including schools and places of worship, have been destroyed.
Repairing the buildings and infrastructure that have been destroyed so far across Syria could cost more than $250 billion, he estimates.
Mass displacement has created a tenfold increase in rental prices, Yussef says, with the number of people in each home skyrocketing from five in 2011 to 20 people this year.
'This is wreckage'
"The essential measure for the purchasing or renting land is how safe the area is," Yussef says.
The search for safety has led many to seek refuge in buildings still under construction, often with no roof, doors or windows.
Umm Walid, 52, lives with her five children and their families in an unfinished building in the Daf Al Sakhr neighbourhood of Jaramana.
A teapot brews slowly on the ground, which is covered in large, multicoloured carpets, and the concrete walls are bare.
Large squares of tarp over the windows barely keep the cold air out of the room.
"Every one of my children had his own apartment. But today, we all live in a single apartment so that we can pay for rent after the events forced us to flee," Umm Walid tells AFP as her grandchildren giggle and play nearby.
"The cold comes in with the rodents and bugs; there's no water or power or heating," she sighs.
"And still, the cost of rent wears us down," even though by first world standards the 10,000 Syrian pounds a month, or about $25 (23 euros), is insignificant.
Wearing a long traditional robe and a coat to protect her from the cold, Umm Walid says: "I dream of returning to my home one day. I won't sleep in peace unless it's on my old pillow."
"I'm tired of the open air and of moving around. This is not a house that can be lived in. This is wreckage.
Related Articles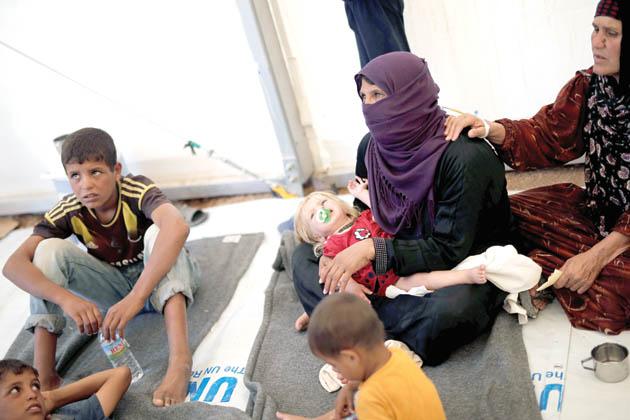 Jun 15,2017
MOSUL, Iraq — For Umm Mohammed and other residents of areas of war-battered west Mosul recaptured from the Daesh terror group militants, thi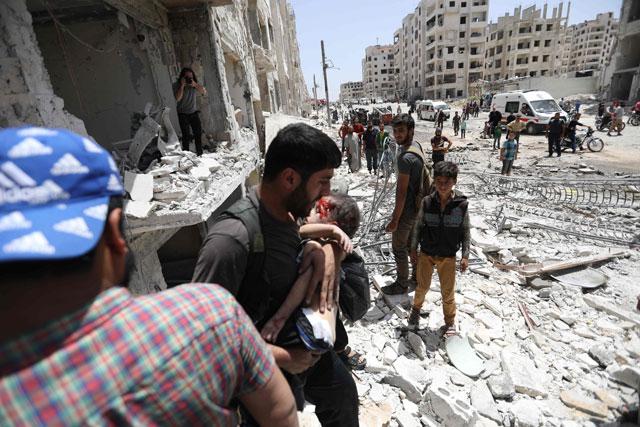 May 26,2018
BEIRUT, Lebanon — Seven years of war and massive displacement have redrawn Syria's demographic map, erecting borders between the country's e
Dec 27,2017
AIN ISSA, Syria — Khadija Alloush made it out alive from Syria's battle-ravaged Raqqa with her five children, but she lost her seven-year-ol
Newsletter
Get top stories and blog posts emailed to you each day.