You are here
Egypt court to determine fate of parliamentary elections
By AP - Feb 25,2015 - Last updated at Feb 25,2015
CAIRO — Egypt's highest court said Wednesday it will determine next week whether the laws regulating the country's parliamentary elections are constitutional — a decision that could further delay the vote scheduled for next month.
The elections are the last phase in Egypt's transitional plan, which was put into effect following the July 2013 military ouster of Islamist President Mohammed Morsi after mass protests against him.
Egypt has been without a parliament since 2012, when a court ordered the first democratically elected house dissolved, saying the law governing the balloting was unconstitutional and violated the principle of equality among candidates. At the time, dissolving the parliament was the first blow to Morsi's Islamists, the Muslim Brotherhood group that dominated the lower house.
The 2015 elections have already been mired in controversy. The Brotherhood has been declared a terrorist organisation following Morsi's ouster and is not taking part in the vote. Islamists in general have been reeling under a security crackdown with most of their leaders and many supporters behind bars.
Related Articles
Nov 11,2014
Egyptian President Abdel Fattah Al Sisi has told visiting US businessmen that a parliamentary election will be held by March, his spokesman said on Tuesday, trying to reassure them that the delayed poll would not be put off indefinitely.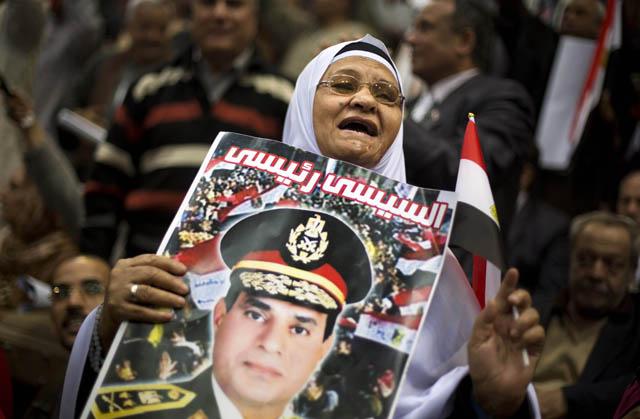 Jan 21,2014
Thousands of supporters of Egypt's powerful army chief rallied in a Cairo stadium on Tuesday, urging him to run for president and saying the third anniversary of the country's uprising should be used as an occasion to thank him and security forces for overthrowing the former Islamist president.
May 26,2014
Egyptians voted for a new president Monday in an election expected to sweep to power the ex-army chief who overthrew the country's first democratically elected leader and crushed his Islamist movement.