You are here
Egypt discovers three millennia-old tombs
By AFP - Aug 16,2017 - Last updated at Aug 16,2017
This handout photo released by the Egyptian Antiquities Ministry on Tuesday shows three ancient tombs containing sarcophagi which were discovered in a cemetery dating back about 2,000 years in Al Kamin Al Sahrawi area in Minya province, south of Cairo (AFP/Egyptian Antiquities Ministry photo)
CAIRO — Egypt archaeologists have discovered three ancient tombs containing sarcophagi in the south of the country in a cemetery dating back about 2,000 years, the antiquities ministry said on Tuesday.
The tombs excavated in Al Kamin Al Sahrawi area in Minya province south of Cairo were in burial grounds constructed some time between the 27th Dynasty and the Greco-Roman period, the ministry said in a statement.
The team found "a collection of sarcophagi of different shapes and sizes, as well as clay fragments", the statement quoted Ayman Ashmawy, head of the ministry's Ancient Egyptian Antiquities Sector, as saying.
One of the tombs, which was reached through a shaft carved in rock, contained four sarcophagi each sculpted to depict a human face.
Another tomb held the remains of two sarcophagi and six burial holes, including one for "the burial of a small child".
Clay fragments found at the site "date the tombs between the 27th Dynasty (founded in 525 BC) and the Greco-Roman era (between 332 BC and the fourth century)," the statement said.
The discovery "suggests that the area was a great cemetery for a long span of time," it quoted Ashmawy as saying.
In one of the three tombs, excavators found bones believed to be the remains of "men, women and children of different ages", Ali Al Bakry, head of the mission, was quoted as saying in the statement.
This shows that "these tombs were part of a large cemetery for a large city and not a military garrisons as some suggest," he said.
This work follows previous excavation at the site, which began in 2015.
"Works are underway in order to reveal more secrets," the statement said.
Egypt boasts an array of ancient sites including Pharaonic temples and the famed Giza pyramids that draw millions of tourists every year.
Related Articles
May 13,2017
TOUNA EL GABAL, Egypt — Egyptian archaeologists have discovered 17 mummies in desert catacombs in Minya province, an "unprecedented" find fo
Nov 14,2017
CAIRO — A Russian archaeological team has discovered a well-preserved mummy from the Greco-Roman period in a wooden coffin south of Cairo, E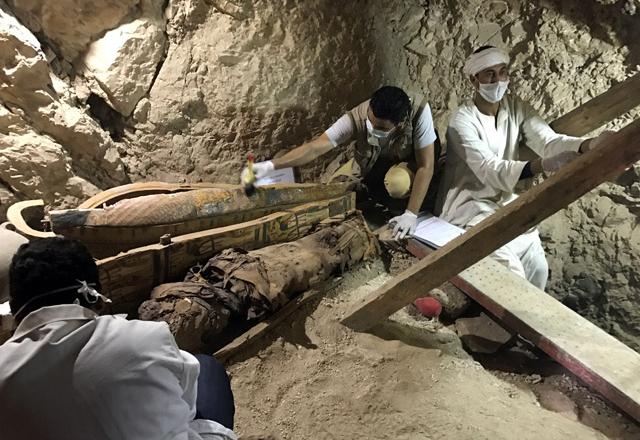 Apr 18,2017
LUXOR, Egypt — Egyptian archaeologists have unearthed several mummies, colourful wooden sarcophagi and more than 1,000 funerary statues in a
Newsletter
Get top stories and blog posts emailed to you each day.