You are here
Egypt militant group confirms chief's killing
By AFP - Apr 09,2015 - Last updated at Apr 09,2015
CAIRO — Egyptian jihadist group Ajnad Misr confirmed Thursday the death of its leader Hammam Mohamed Attiyah, who police said was shot dead in a gunfight in Cairo.
On Sunday, the interior ministry announced that Attiyah was killed in a Cairo apartment when security forces raided it, without saying when.
Police say Attiyah previously belonged to Ansar Beit Al Maqdis, the Egyptian branch of Daesh terror group, but broke away in 2013 to found Ajnad Misr (Soldiers of Egypt) — a small group operating mainly in Cairo.
"We are happy to announce to the Islamic nation and the mujahedeen the news of the martyrdom of the leader Hammam Attiyah," Ajnad Misr announced on Twitter.
It said Attiyah had been succeeded by Ezz Al Din Al Masry, without providing any details about him.
Ajnad Misr said Attiyah had previously fought in Iraq and in Sinai.
In January, Ajnad Misr had aired a video interview of Attiyah, showing his face blurred and explaining the group's vision and strategies.
It has claimed several bombings against security forces across the capital, including near important buildings such as presidential palaces and Cairo University.
Its attacks have not caused large numbers of casualties but killed several policemen.
The group says it deliberately uses low-yield bombs to avoid harming civilians, although several of its attacks have caused civilian casualties.
Ajnad Misr says its attacks are in retaliation for a brutal government crackdown targeting supporters of ousted president Mohamed Morsi.
Hundreds of Islamists have been killed and thousands jailed in the crackdown since the army ousted Morsi in 2013.
Related Articles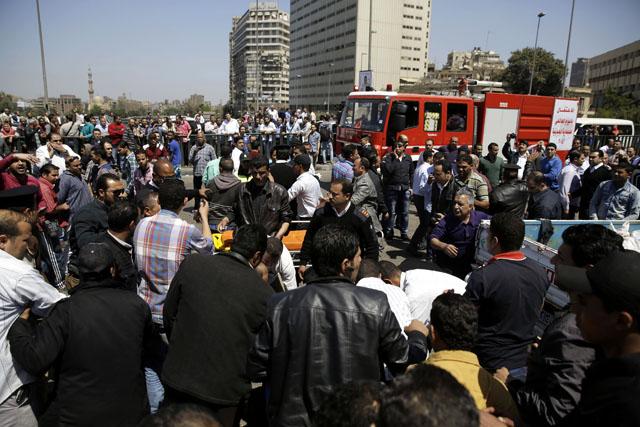 Apr 05,2015
A policeman was killed in a second straight day of bombings in Cairo and the leader of a militant group targeting police and soldiers around the capital died in a separate incident, security sources said on Sunday.
Oct 08,2017
CAIRO — Thirteen members of disbanded militant group Ajnad Misr were sentenced to death on Sunday by a Cairo criminal court after being conv
Nov 20,2014
A bomb wounded five policemen near a Cairo university Thursday, and four people were hurt in a panicked crush after an explosion at a train station in the Egyptian capital, security officials said.
Newsletter
Get top stories and blog posts emailed to you each day.