You are here
Egyptian police kill two men in shootout in Giza
By Reuters - Jul 08,2017 - Last updated at Jul 08,2017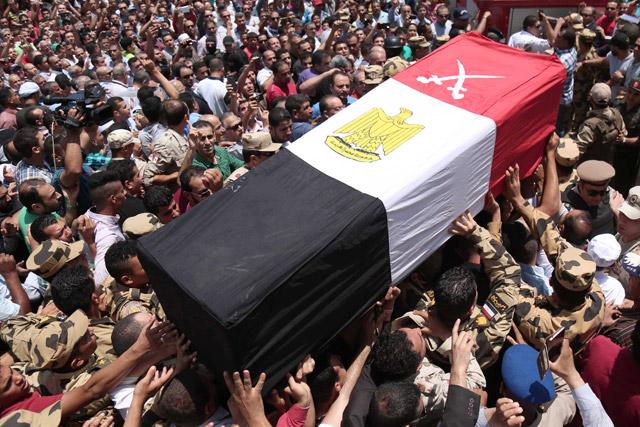 Egyptians carry the coffin of a soldier, who was killed a day earlier in the restive Sinai Peninsula in an attack by the Daesh terror group, during a funeral ceremony in the 10th of Ramadan city, about 60 km north of Cairo, on Saturday (AFP photo)
CAIRO — Security forces killed two men in an exchange of gunfire in Giza, a senior security official told Egypt's state news agency MENA on Saturday.
The official said the men, who were inside an apartment, were fugitive terrorists. They opened fire on security forces as soon as the officers approached to arrest them, he said. MENA did not specify when the shooting took place.
Egypt's state newspaper Al Ahram said the two men were members of a newly emerged militant group called Hasm, which claimed responsibility for the killing of a homeland security officer outside his home in Qalubiya, a province just north of Cairo, while on his way to prayers on Friday.
Hasm has claimed several attacks around Cairo targeting judges and policemen since last year.
Egypt faces an Islamist insurgency led by the Daesh terror group in the restive Sinai Peninsula, where hundreds of soldiers and police have been killed since 2013.
Also on Friday, at least 23 Egyptian soldiers were killed when suicide car bombs tore through two military checkpoints in North Sinai, an attack claimed by Daesh. It was one of the bloodiest assaults on security forces in years.
The group has also increasingly carried out attacks in the mainland on security forces and Coptic Christian civilians in recent months, killing around 100 Copts since December.
Other militant groups such as Hasm, which the government says are linked to the Muslim Brotherhood, are active in Cairo and other cities where they have targeted security forces, judges and pro-government figures.
The Brotherhood was outlawed in 2013 after the military ousted one of its leaders, Mohamed Morsi, from the presidency following mass protests. It maintains that it is a peaceful organisation.
up
5 users have voted, including you.
Related Articles
Dec 30,2017
CAIRO — Egyptian security forces killed three suspected militants in an exchange of gunfire at a farm they believed to be a militant hideout
Oct 01,2017
CAIRO — Egyptian militant group Hasm claimed responsibility on Sunday for a small explosion at Myanmar's embassy in Cairo, saying it was in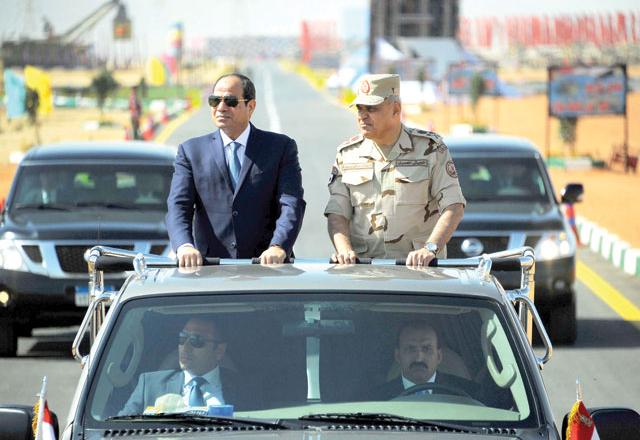 Oct 31,2017
CAIRO — Egypt's air force killed a large number of militants responsible for a deadly attack on a police convoy 10 days ago, the military sa
Newsletter
Get top stories and blog posts emailed to you each day.