You are here
Erdogan pours cold water on hopes of progress on EU deal
By Reuters - May 07,2016 - Last updated at May 07,2016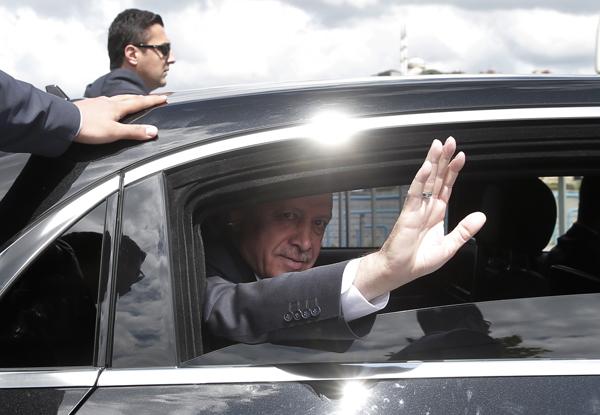 Turkey's President Recep Tayyip Erdogan waves to supporters as he leaves a mosque in Istanbul following Friday prayers, Friday (AP photo)
ISTANBUL — Turkish President Recep Tayyip Erdogan on Saturday poured more cold water on hopes for progress with Europe on a deal to curb migration, suggesting Ankara would not change its anti-terrorism laws just to meet European Union requirements.
The EU has asked member states to grant visa-free travel to Turks in return for Ankara stopping migrants from reaching Europe, but said Turkey still had to change some legislation, including bringing its terrorism laws in line with EU standards.
The migrant deal between Brussels and Ankara was negotiated by Prime Minister Ahmet Davutoglu, who last week announced his decision to step down as premier, capping weeks of public tension with Erdogan.
"Those who ask Turkey to change its laws on terror should first remove the terrorists' tents that were erected outside the EU parliament," Erdogan said in a speech to supporters in the eastern Anatolian city of Matalya.
He was referring to Belgian authorities allowing supporters of the outlawed Kurdistan Workers' Party (PKK) to set up a protest site outside an EU-Turkey summit in March.
Visa-free travel is for many Turks the biggest benefit of Ankara's deal with the EU. Europe, meanwhile, is counting on Turkey to maintain an agreement that has helped stem the flow of refugees and migrants via Turkish shores.
Davutoglu's departure consolidates the power of Erdogan, who has been highly critical of the EU in the past and is seen in Brussels as a far tougher negotiating partner less closely wedded in recent years to Turkey's ambition of joining the EU.
To win visa-free travel for its citizens, Turkey must still meet five of 72 criteria the EU imposes on all states exempt from visas, one of which is narrowing its legal definition of terrorism.
Rights groups say Turkey has used broad anti-terrorism laws to silence dissent, including detaining journalists and academics critical of the government. But Ankara insists the laws are essential as it battles Kurdish militants at home and the threat from Daesh in neighbouring Syria and Iraq.
Erdogan has frequently accused the West of not giving enough support to Turkey for sheltering more than 2.5 million refugees since the start of the Syrian civil war. He has also been infuriated by Western support for Syrian Kurdish militants in the fight against Daesh.
Turkey, a NATO member and part of the US-led coalition against the extremist group, regards the Washington-backed Syrian Kurdish fighters as an extension of the PKK, which has waged an armed struggle against the Turkish state that left more than 40,000 dead since 1984.
Related Articles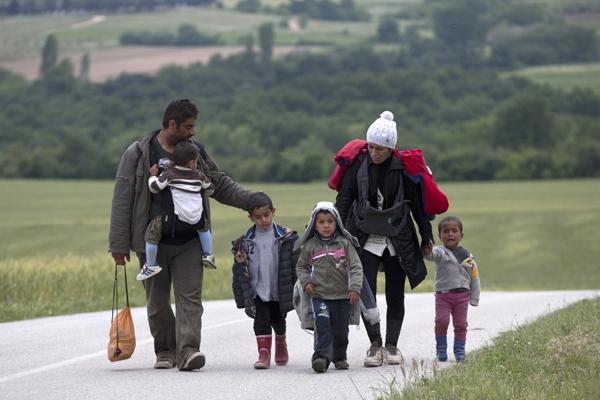 May 12,2016
ANKARA — A deal to grant Turks visa-free travel to most of the European Union was hanging by a thread Thursday after President Recep Tayyip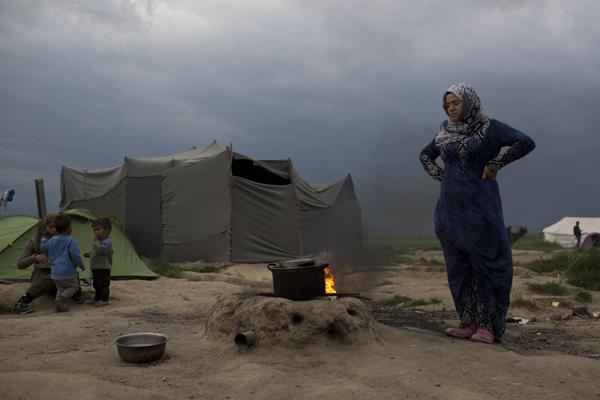 May 11,2016
ANKARA/STRASBOURG — Turkey refused again on Wednesday to make changes to its anti-terrorism laws demanded by Brussels in a hardening of its
May 24,2016
ISTANBUL — President Recep Tayyip Erdogan on Tuesday warned the European Union that the Turkish parliament would block laws related to the l
Newsletter
Get top stories and blog posts emailed to you each day.