You are here
EU border agency sees 2017 migrant arrivals via Libya same as last year
By Reuters - Feb 15,2017 - Last updated at Feb 15,2017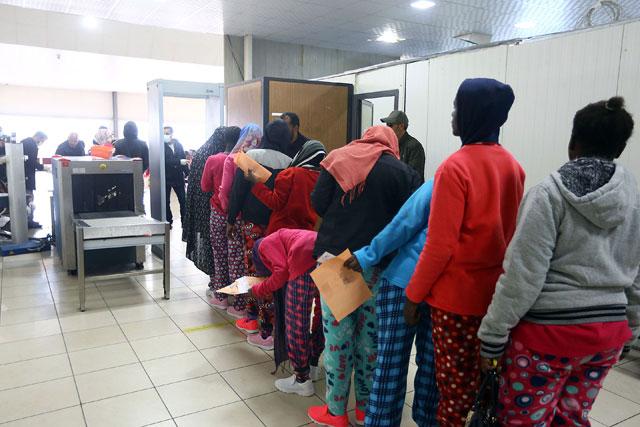 A group of deportee illegal immigrants wait before boarding to a plane, heading to Nigeria during their deportation at Mitiga International Airport in Tripoli, Libya, on Tuesday (Anadolu Agency photo)
BRUSSELS — The European Union should expect as many migrants crossing from Libya this year as last, when a record number disembarked in Italy, the head of the bloc's border agency said on Wednesday.
Some 1.6 million refugees and migrants reached the bloc by crossing the Mediterranean in 2014-2016, and the main route now leads from the shores of the lawless Libya to Italy.
"There was an increase by 17 per cent last year so we had approximately 181,000 irregular border crossings coming from Libya... We have to be ready to face the same number," said Fabrice Leggeri, the head of the EU's border agency Frontex.
The bloc, overwhelmed by the arrivals and waging bitter internal battles on how respond, has increased its efforts to cut the number of people who make the perilous voyage.
This includes support for the UN-backed Libyan government in Tripoli, efforts to boost deportations of people with no case for asylum, and working with African states along the migration trails to ensure they let fewer people pass.
But these would only bear fruit in time, Leggeri said, adding that for now the EU had to ensure Italy had enough support and capacity to handle high arrivals.
Frontex said fewer than a half of migrants disembark in official sites in Italy that ensure security screening and basic identification.
The bloc has been critical of several non-governmental organisations that have moved much closer to the Libyan shores to pull people from the water, saying it has only helped the smugglers make more money and complicated attempts by EU's police and coast guards to control the situation.
About a fifth of the search and rescue operations between Italy and Libya are now carried out by NGOs.
"A year or two ago, they were taking place half way between Libya and Italy. Now its in Libyan waters, very close to the Libyan shore," Leggeri said.
The EU says some 60-70 per cent of people coming via Libya from impoverished African nations are not fleeing violence or persecution and hence are unlikely to win asylum. They are economic migrants and the EU wants to deport them.
Deportations
Frontex said the whole bloc deported some 176,000 people last year, roughly as many as in 2015. But a majority of these returns are of nationals from the the Western Balkans.
The more complicated deportations to the Middle East are often held up by asylum procedures, including appeals.
That is the case for Syrians and other prospefctive refugees who arrived in masses to Greece from Turkey in 2015, an influx that has now largely stopped after Brussels sealed a deal with Turkey under which Ankara prevents them from leaving its shores.
The deal helped cut the number of total sea arrivals in to EU to below 400,000 last year from more than a million in 2015, but Italy remains under pressure, and EU states are wary of security risks.
Related Articles
Oct 06,2016
KAPITAN ANDREEVO, Bulgaria — The EU launched its beefed-up border force Thursday in a rare show of unity by the squabbling bloc as it
Feb 04,2017
VALLETTA — European Union leaders placed a bet on Libya's fragile government to help them prevent a new wave of African migrants this spring
Jan 18,2017
BRUSSELS — The European Union needs to reach a deal with Libya to curb the flow of migrants trying to sail on smugglers' boats to Italy, Mal
Newsletter
Get top stories and blog posts emailed to you each day.