You are here
EU eyes new Libya approach to block feared migrant wave
By Reuters - Jan 12,2017 - Last updated at Jan 12,2017
A woman cries as migrants from Somalia and Ethiopia are detained in Omdourman, on the western outskirts of the capital Khartoum, after Sudanese forces caught them travelling illegally on the Libya-Sudan border on Sunday (AFP photo)
VALLETTA — The European Union plans new measures to deter migrants crossing the Mediterranean from Libya, officials said, as Malta urged the bloc to act on Thursday to head off a surge in arrivals from a country where Russia is taking a new interest.
With options limited by the weakness of the UN-recognised government and by divisions among EU states, it is unclear just what the EU may agree. But officials believe a consensus can be found within weeks in support of national steps taken by Italy.
Rome once effectively paid Libyan strongman Muammar Qadhafi to block migrants. Since he was overthrown with Western backing in 2011, it has struggled to cope with large numbers of new arrivals. Italy is now working with UN-backed Prime Minister Fayez Seraj on a new agreement under which Rome will help guard Libya's southern desert borders against smugglers.
Malta's Prime Minister Joseph Muscat, who hosted the executive European Commission in Valletta on Wednesday and will host an EU summit discussing migration on February 3, said new Russian contacts with a Libyan rebel commander and intelligence indicating a sharp increase in crossings once the weather improves made urgent EU action imperative.
"Come next spring, we will have a crisis," he told a news conference, forecasting "unprecedented" numbers following the record 180,000 sea arrivals in Italy last year.
"The choice is trying to do something now... or meeting urgently in April, May, saying there are tens of thousands of people crossing the Mediterranean, drowning... and then trying to do a deal then."
"I would beg that we try... to do a deal now," added Muscat, whose government will chair EU councils until June.
The Commission visit to Malta included senior Libya experts, said officials who foresee new EU policy proposals within weeks.
Turkey model
After all but halting migrant flows to Greece through a deal last year with Turkey to hold back Syrian refugees, the EU wants to cut flows from Libya. It wants to step up deportations of failed asylum seekers and is using aid budgets to pressure African states to cooperate in taking back their citizens.
Some EU states are looking at greater military involvement to disrupt migrant smuggling gangs which have thrived in the absence of effective authority in Libya.
The EU is training the Libyan coastguard in international waters but has not been able to agree for many months on whether to move into Libya's territorial waters.
But Muscat said he saw an emerging consensus on a new approach, including from a hitherto sceptical Germany, adding Italy's deal with Libya should be emulated by the EU.
Muscat said the EU should seek Libyan agreement to expand the bloc's mission — currently involved in search and rescue operations, trying to obstruct traffickers and uphold a UN arms embargo — into Libyan waters.
He said the EU should revive an agreement drafted with Gaddafi, which offered funding to Libya in exchange for more checks on migration.
Asked whether he foresaw EU forces patrolling Libyan borders or the EU setting up camps in Libya to process asylum claims, Muscat did not go into detail on how an EU plan would work beyond saying that, as with the Turkey deal, the key element was "scuttling the business model" of smuggling gangs.
After talks on Thursday, Italian Interior Minister Marco Minniti and EU migration commissioner Dimitris Avramopoulos said in a joint statement that the EU backed engagement with Libya. They said: "The Commission is ready to further support Italy in this engagement politically, financially and operationally."
Related Articles
Feb 04,2017
VALLETTA — European Union leaders placed a bet on Libya's fragile government to help them prevent a new wave of African migrants this spring
Jan 18,2017
BRUSSELS — The European Union needs to reach a deal with Libya to curb the flow of migrants trying to sail on smugglers' boats to Italy, Mal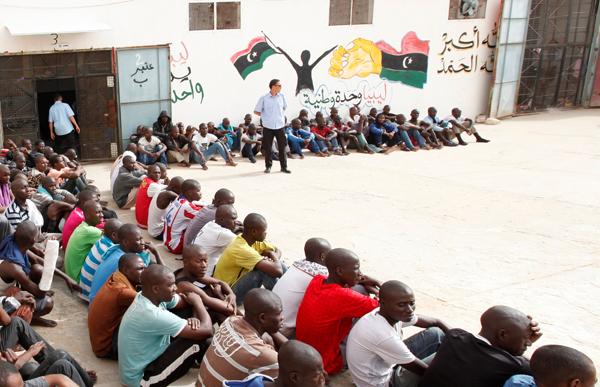 Jun 02,2016
TRIPOLI — After a flurry of boat departures that sent hundreds of migrants to their deaths in the Mediterranean, survivors told police they
Newsletter
Get top stories and blog posts emailed to you each day.