You are here
EU says Israeli land seizure threatens peace process
By Reuters - Mar 18,2016 - Last updated at Mar 18,2016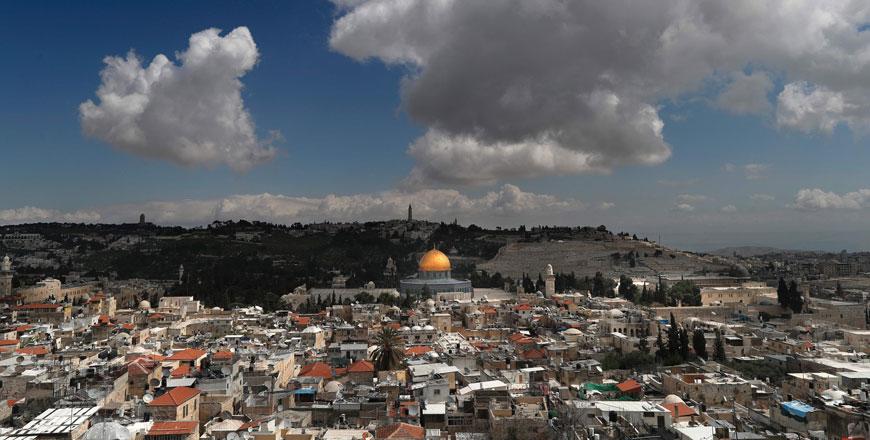 The Dome of the Rock is seen surrounded by houses in Jerusalem's Old City (foreground) with the Mount of Olives in the background on Thursday (AFP photo)
BRUSSELS — A seizure of land by Israel in the West Bank raises questions about its commitment to a two-state solution to end the conflict with the Palestinians, the European Union said in a statement on Thursday.
Echoing remarks this week by Germany and France, the EU's foreign policy service issued a rare statement directly criticising Israel for its appropriation of 234 hectares near Jericho.
"Israel's decision... is a further step that risks undermining the viability of a future Palestinian state and therefore calls into question Israel's commitment to a two-state solution," the EU said in a statement.
"Any decision that could enable further settlement expansion, which is illegal under international law and an obstacle to peace, will only drive the parties to the conflict even further apart," the EU said.
"The European Union remains firmly opposed to Israel's settlement policy and actions taken in this context, including demolitions and confiscations, evictions, forced transfers or restrictions on movement and access."
Israel's Peace Now movement, which tracks and opposes Israeli settlement in territory occupied in a 1967 war, said the latest seizure represented the largest land confiscation in the West Bank in recent years.
Israel says it intends to keep large settlement blocs in any future peace agreement with the Palestinians. Palestinians, who seek to establish a state in the West Bank and Gaza Strip, fear settlement expansion will deny them a viable country.
Late last year, the EU published guidelines that products from Israel settlements must be clearly labelled as such in Europe. That policy was branded discriminatory by Israel.
Related Articles
Mar 15,2016
OCCUPIED JERUSALEM — Israel has appropriated large tracts of land in the occupied West Bank near the Dead Sea and the Palestinian city of Je
Feb 07,2017
AMMAN — Jordan on Tuesday condemned the Israeli Knesset's decision earlier in the day that allowed confiscating privately owned Palestinian
Oct 09,2016
BRUSSELS — Israel's decision to build new settlements far inside the West Bank weakens prospects for peace with the Palestinians, the Europe
Newsletter
Get top stories and blog posts emailed to you each day.