You are here
Families broken by the carnage of Ghouta's bombs
Strikes in enclave kill 300 since Sunday
By Reuters - Feb 21,2018 - Last updated at Feb 21,2018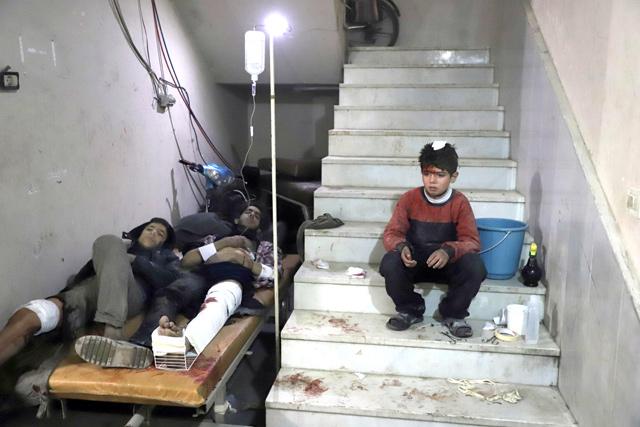 Wounded Syrians wait to receive treatment at a makeshift hospital in Kafr Batna in the besieged Eastern Ghouta region, on the outskirts of the capital Damascus, following Syrian government bombardments on Wednesday (AFP photo)
BEIRUT — The air strike hit Syria's Eastern Ghouta on Wednesday, three days into a massive bombardment. Soon afterwards, rescuers pulled four children from the building, but their father was killed and they were now orphans.
A neighbour, Mohammed Abu Anas, helped to dig through the rubble and then ran for medical aid through battered alleyways with one of the children bleeding in his arms.
"There is fear and anguish among people here, there are hundreds of martyrs and injured," he said.
Syria's President Bashar Assad wants to take back Eastern Ghouta, an area of farmland and towns just outside Damascus that represents the opposition's biggest remaining enclave near the capital.
His government and its ally Russia say they try to avoid civilian casualties in their air and artillery strikes on the district, which they say are needed to prevent rebel mortar fire on Damascus.
But the shellfire, rockets, air strikes and barrel bombs that have hit eastern Ghouta since Sunday night constitute one of the most intense bombardments in seven years of war and have killed more than 300 people so far.
The little boy dug from the rubble, blood trickling from cuts on his face, survived the attack. His sister, also alive, was slung over the shoulder of a rescue worker, her face and head scarf white from dust. Two other siblings also survived.
Their Santiha family had already been torn apart by bombing. Two years ago, the children's mother was killed in their home in Jobar, a district where Eastern Ghouta meets Damascus.
Wednesday's air strike killed their father, Majid Santiha, and his body was carried away on a stretcher. Their uncle came to the medical centre where they and the body of their father were taken. He will now raise them.
Basement shelter
Nearly 400,000 people live under siege in Eastern Ghouta according to the United Nations, the danger from bombs compounded by shortages of food and medicine.
"We've barely eaten since yesterday. I ate rotten food. There are no goods left in the shops. We bought two small tins of cheese and we got seven flat rounds of bread today," said Bilal Issa, 25.
The food is shared with his mother, his wife and his three siblings.
When the rockets started to fall right outside his home, Issa and his neighbours started to dig through the basement of their building to create a shelter.
They lifted the floor tiles to excavate a hole with spades in which grown men can now stand upright, pulling out the earth with buckets.
The air strikes cause massive plumes of smoke that hang over the neighbourhood. The sound of warplanes fills the sky.
"Whoever leaves his house or leaves the shelter can be considered dead," said Issa.
Death is not always immediate. Omran Madani was injured by a barrel bomb that fell outside the family home in the village of Madira on Tuesday, said his father, who identified himself only as Abu Omran.
Assad has repeatedly denied that his military use barrel bombs, improvised munitions made by stuffing explosive material and shrapnel into larger containers that are dropped from helicopters.
But investigations by rights groups have found repeated use of the weapon by the Syrian military in warfare across Syria. The Syrian Observatory for Human Rights, a Britain-based war monitor, said barrel bombs have been a feature of this week's escalation.
Omran died on Wednesday. His small body lay on a hospital bed wrapped neatly in a white shroud from neck to feet, and his father cradled the boy's motionless face in his hands.
He railed against Assad, the rebel groups who control Eastern Ghouta and the leaders of foreign countries involved in the war. "May they find their children dead and taste oppression," he said. "May God take our revenge."
Related Articles
Nov 20,2017
DOUMA, Syria — Entire families have been buried under the rubble in a rebel-held enclave near Syria's capital, as government forces pursue a
Dec 20,2017
KAFR BATNA, Syria — The heartrending photograph of a Syrian baby who lost an eye in an air strike has set off a viral social media campaign,
Feb 22,2018
BEIRUT — Residents of Syria's Eastern Ghouta district said they were waiting their "turn to die" on Wednesday, amid one of the most intense
Newsletter
Get top stories and blog posts emailed to you each day.