You are here
Fighters in Syria's Raqqa prepare for civilian handover
Official handover is expected to come as early as Friday
By AFP - Oct 19,2017 - Last updated at Oct 19,2017
Female fighters of the Syrian Democratic Forces gather during a celebration at the iconic Al Naim Square in Raqqa on Thursday, after retaking the city from Daesh group fighters (AFP photo)
RAQQA, Syria — US-backed forces who captured Raqqa from the Daesh extremist group prepared Thursday to hand the Syrian city over to a civilian authority, with some of their fighters already headed to the next battle.
Inside the city, positions that had long been manned by fighters of the Kurdish-Arab Syrian Democratic Forces (SDF) were abandoned, though some remained in the central Al Naim square, dancing and ululating as they celebrated their victory.
The SDF battled for more than four months, with US-led coalition support, to capture the city that was once the de facto Syrian capital of Daesh's self-styled "caliphate".
They announced the end of combat on Tuesday, though operations to clear explosives and seek out sleeper cells were ongoing.
Raqqa's capture leaves the extremists with little remaining territory in Syria, most of it in neighbouring Deir Ezzor province, where some SDF fighters were already headed to carry on the campaign.
"Some of the forces withdrew, others will remain in the city until we finish the minor combing operations, then the city will be handed over to the civil council," said SDF commander Rojda Felat.
"After the end of military operations, a large part of the forces have moved out of Raqqa to other areas, including Deir Ezzor," added Mustefa Bali, spokesman for the Kurdish People's Protection Units (YPG), the main component of the SDF.
SDF spokesman Talal Sello said two days of mopping-up operations had so far uncovered no additional Daesh fighters, but that interrogations of those who were captured or surrendered during the battle were ongoing.
"SDF intelligence is investigating them, including a number of foreigners," he told AFP.
The city's capture Tuesday came after the SDF seized Daesh's last two main positions, the municipal stadium and national hospital, in quick succession.
Both sites have been heavily mined and remain to be cleared, SDF commanders said.
"There are bodies inside the hospital itself that we haven't yet removed because of the mines," said commander Clara Raqqa.
Responsibility for the city, which lies in ruins and empty of civilians, will be assumed by the Raqqa Civil Council, a body of local officials formed six months ago.
The official handover is expected to come as early as Friday, but the body has already spent months working on reconstruction plans.
They will inherit responsibility for a ghost town that lacks basic services and infrastructure.
On the city's streets on Thursday, blankets that had been hung in front of windows to shield residents from the view of snipers fluttered in the wind, but there was no movement otherwise.
A few scrawny cats and dogs picked their way over the rubble that is strewn across the city, up to 80 per cent of which was described as uninhabitable by the UN last month.
Raqqa 'liberated
by free women'
In Al Naim Square, fighters of the Kurdish Women's Protection Units (YPJ), the female branch of the YPG, gathered to hold a press conference celebrating their contribution to the city's capture.
Some of the battle's commanders were female, a point of pride for Kurdish forces, particularly given IS's infamous oppression of women.
"Raqqa was liberated by the will of free women," the YPJ said in a statement.
SDF flags now cover Al Naim, where the extremists once displayed the severed heads of their enemies.
In the centre of the square, a large yellow flag has been raised, featuring a photograph of jailed Kurdish leader Abdullah Ocalan.
Ocalan heads the Kurdistan Workers Party (PKK), which has waged a decades-long insurgency in Turkey, where it is considered a "terrorist" group.
He is idolised by many in the YPG, which Ankara says is the Syrian branch of the PKK.
Daesh captured mostly Sunni Arab Raqqa in 2014, and under its rule the city became infamous for gruesome abuses and as a planning centre for attacks abroad.
Its loss deals a major blow to the extremists' dreams of statehood, and comes after their July defeat in Iraq's second city Mosul, their other major urban stronghold.
In Syria, they are now confined largely to Deir Ezzor province, where they are under attack by both the SDF and Russian-backed government forces.
In neighbouring Iraq, they hold only a small stretch of the Euphrates valley adjoining the Syrian border, a far cry from their peak in 2014, when their "caliphate" was approximately the size of Britain.
Related Articles
Oct 19,2017
BEIRUT — A viral photo shows her celebrating the capture of Raqqa, but Rojda Felat is more than a poster girl: she commanded thousands of fi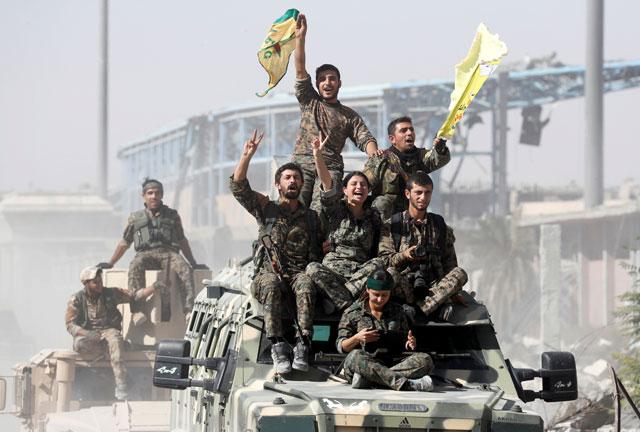 Oct 17,2017
RAQQA, Syria — US-backed militias in Syria declared victory over the Daesh extremist group in its capital Raqqa on Tuesday, raising flags ov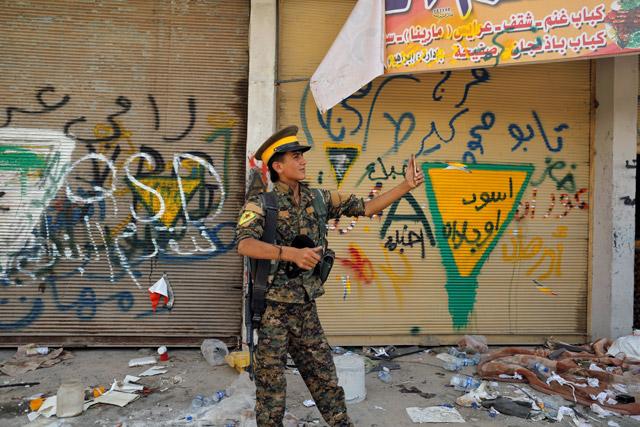 Aug 10,2017
HASAKA, Syria — Women fighters danced to Kurdish songs in a village in northern Syria on Wednesday after completing their military training
Newsletter
Get top stories and blog posts emailed to you each day.