You are here
France's Macron seeks warmer ties in Algeria
By AFP - Dec 07,2017 - Last updated at Dec 07,2017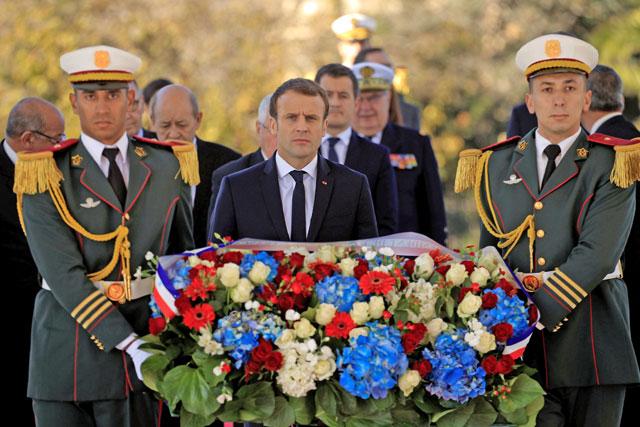 French President Emmanuel Macron walks behind Republican guard carrying a wreath during a wreath-laying ceremony at the Martyrs Monument in Algiers, Algeria, on Wednesday (Reuters photo)
ALGIERS — French President Emmanuel Macron on Wednesday made his first official visit to Algeria, announcing that he came as a "friend" despite France's historically prickly relationship with its former colony.
Ties between Paris and Algiers have defrosted in recent years, a half-century after French forces brutally cracked down on independence fighters in a 1954-1962 war that left some 1.5 million Algerians dead.
Macron, the first French president to be born after the war, told news website Tout sur l'Algerie that he was "ready" to see his country hand back the skulls of Algerian resistance fighters killed in the 1850s, which are held at the Musee de l'Homme in Paris.
Algerian and French academics have long campaigned for the return of the 37 skulls, a symbolic hangover from France's 130-year occupation of Algeria.
Macron arrived in Algiers under bright sunshine on Wednesday after stressing that he came as "a friend of Algeria, a constructive partner who wants to strengthen our links".
"I know the history, but I am not a hostage of the past," he told Algerian newspapers El Watan and El Khabar by phone ahead of his visit.
"But from now on, I hope... that we will turn together towards the future."
Macron was welcomed at Algiers airport by Senate speaker Abdelkader Bensalah, Prime Minister Ahmed Ouyahia and Foreign Minister Abdelkader Messahel.
He later laid a wreath at a monument in central Algiers to those killed in the war, and walked through the centre of the capital, talking with passers-by.
Macron was scheduled to visit Algeria's ageing President Abdelaziz Bouteflika, who has rarely appeared in public since suffering a stroke in 2013 that has affected his speech and mobility.
During his election campaign in May, the French leader called his country's colonial history a "crime against humanity", prompting criticism from some in France and praise from Bouteflika.
But on a recent trip to west Africa, Macon called for "neither denial nor repentance", stressing that "we cannot remain trapped in the past".
Security cooperation
Paris is keen to build ties with Algeria, a key player in the fight against armed groups in the Sahel, and the region's crises are likely to figure in meetings with officials.
The Sahel, which stretches from Senegal to Sudan, has sunk into lawlessness since chaos engulfed Libya in 2011, Islamists overran northern Mali in 2012, and Boko Haram rose up in northern Nigeria.
France has praised Algeria's "experience in the fight against terrorism and radicalisation", a reference to its decade-long civil war in the 1990s.
Macron is due to host talks in Paris on December 13 on "speeding up deployment" of a five-nation anti-terrorism force in the region.
He touched a nerve in Algiers by choosing its regional arch-rival, neighbouring Morocco, for his first visit to the Maghreb.
But accompanied by artists and business executives on his Algiers mission, he hopes to boost economic ties.
In his interview with Algerian newspapers, he said: "Algeria must open up more, there are still many obstacles to investment." But he also pointed to "promising fields of cooperation" between the two countries.
France remains the largest foreign employer in Algeria although it is losing market share to other European countries and China.
On a visit to Algiers in November, French economy minister Bruno Le Maire said it was "time to raise the bar".
Macron is set to leave Algeria for Qatar on Wednesday evening.
Related Articles
Jun 14,2015
PARIS — French President Francois Hollande heads to Algeria on Monday as the two nations, once bitter foes, work ever closer to resolve the
Dec 14,2017
ALGIERS — Algerians are facing the eventual departure of their long-serving president, the ailing Abdelaziz Bouteflika, in the knowledge tha
Dec 04,2017
PARIS/ALGIERS — French President Emmanuel Macron is likely to use a visit to Algeria on Wednesday to look to the future and turn the page on
Newsletter
Get top stories and blog posts emailed to you each day.