You are here
French extremist wives 'should face trial in Syria'
Some 30 French extremists are currently in custody of Kurdish and Iraqi forces — sources
By AFP - Jan 04,2018 - Last updated at Jan 04,2018
A Syrian woman who fled from the outskirts of southern Idlib due to conflict between government forces and opposition fighters puts up a shelter at the makeshift camp of Kalbeed near the Bab Al Hawa crossing on the Syria-Turkey border on Thursday (AFP photo)
PARIS — Female French extremists arrested in Kurdish-held parts of Syria should face justice there so long as they can be guaranteed a fair trial, the French government said on Thursday.
Debate has been swirling in France over the fate of women who went to Syria to marry extremist fighters and now find themselves in custody, not least following heavy defeats for the Daesh terror group.
This week Emilie Konig, a 33-year-old Muslim convert from Brittany who became a notorious extremist recruiter, became the latest of a string of European women to plead publicly for repatriation.
But French government spokesman Benjamin Griveaux indicated there are no plans to bring her home.
If "there are legal institutions capable of guaranteeing a fair trial assuring their right to a defence", women arrested in Kurdish-held Syria should be "judged there", Griveaux told RMC radio.
"Whatever crime may have been committed — even the most despicable — French citizens abroad must have a guaranteed right to a defence," he added. "We must have confirmation of that."
Konig, who features on UN and US blacklists of dangerous militants, was arrested last month and is being held in a Kurdish camp with her three young children along with several other French women.
"They have been arrested, and as far as we know they did not surrender of their own accord," Griveaux said. "They were arrested in combat."
Konig's lawyer Bruno Vinay argued Wednesday that France must repatriate her under its "international commitments".
A policeman's daughter who converted after meeting her first husband, Konig set off for Syria in 2012, leaving her first two children in France to join her new partner, who was later killed.
She frequently appeared in propaganda videos and French intelligence intercepted messages to her contacts at home urging them to attack French institutions or the wives of soldiers.
Some 30 French extremists, both men and women, are currently in the custody of Kurdish and Iraqi forces, according to a source close to the investigation.
'Must face justice
for crimes'
Of some 5,000 EU extremists believed to have gone to fight, around a third have returned home, according to the Soufan Centre, a US-based NGO that conducts research on global security.
So far, France, Germany and Britain have tackled returnees on a case-by-case basis.
The Syrian Kurds' representative in France told AFP that authorities in their territory, covering swathes of north and northeast Syria, were ready to either take the women to court or send them home with their children.
"With France, an allied country, we can come to an agreement that works out well, bearing in mind that the priority is that these terrorists are held accountable for their crimes," Issa said.
No foreign national has yet appeared in court in Kurdish-held areas, Issa added, adding that their forces on the ground have some 1,300 "terrorists" in custody including foreigners.
Kurds currently hold just under a third of Syrian territory — including the Raqqa region, Daesh's former "capital" — while the regime holds around a half, following the multisided civil war which has raged since 2011.
France is part of the US-led international military coalition that has been carrying out air strikes against Daesh.
Related Articles
May 24,2018
QAMISHLI, Syria — Kurdish-led forces in northern Syria on Thursday announced the capture of French extremist Adrien Guihal, known as the voi
Sep 10,2017
SOUTH OF MOSUL, Iraq — Iraqi authorities are holding 1,400 foreign wives and children of suspected Daesh militants in a camp after governmen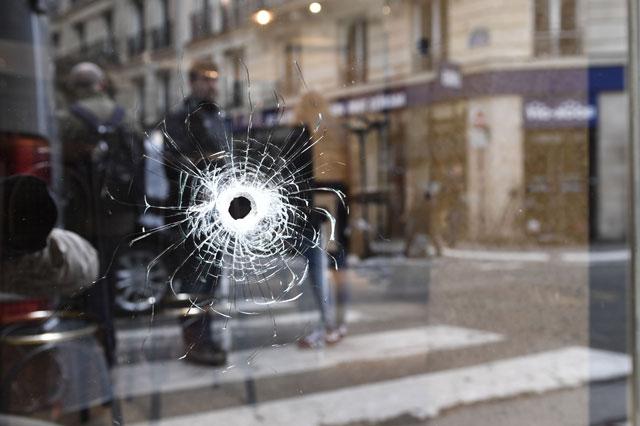 May 13,2018
PARIS — Police on Sunday scoured the background of a Chechnya-born Frenchman who killed a man in a knife attack in Paris, questioning the pa
Newsletter
Get top stories and blog posts emailed to you each day.