You are here
Growing up in Lebanon
Nov 24,2020 - Last updated at Nov 24,2020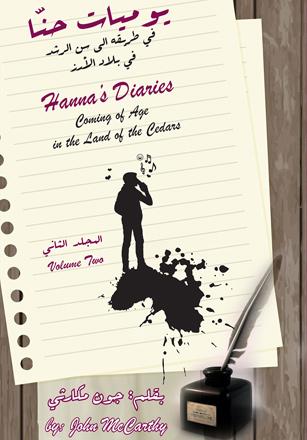 Reviewed by Riad Al Khouri
AMMAN — Recent events show Lebanon as dangerously unstable, but it was — and is still — also much more than that, including a lot of the cool stuff mentioned in "Hanna's Diaries". Subtitled "Coming of Age in the Land of the Cedars", this book, in both the English language and Arabic, is by an American lifelong student of the latter whose career focused on the Middle East. Author John McCarthy grew up in New York City and Paris, reading in English and French. In 1964, as a young man he expanded his linguistic breadth by starting to study Arabic in summer school at the American University of Beirut (AUB). Afterwards, as a college student at Princeton University in the United States, McCarthy concentrated on the Modern Standard version of the language (also used in the bilingual "Hanna's Diaries / Yawmiyat Hanna"), which he continued studying when he came back to Lebanon in the late 60s, thereafter living in Beirut till the mid-70s.
Like many foreigners during the decade from 1964 or otherwise, McCarthy fell in love with Lebanon, as seen in this fun book, which however ultimately came out of a later chapter in his life. In 2015 the author once more took up studying Arabic, this time at a language school in Switzerland, and began authoring short stories in Modern Standard about a fictitious Lebanese- American boy called Hanna, who is around 14 years old. A name common in the Arab world among Christians (in Lebanon and otherwise), Hanna is "John" in the Syriac language of the Levant. (It also being McCarthy's name rightly suggests a semi-autobiographical element in all this.) The result was coming-of-age tales set in Lebanon; and when the series of over thirty episodes became a hit online, the success inspired McCarthy to start his own publishing company in 2017, collecting Hanna's adventures into books.
In them, the eponym is attending an international school in Beirut, where he aspires to become an accomplished writer of Arabic prose and romantic poetry (shades of the great Lebanese American author Gibran Kahlil Gibran). Recently arrived in Lebanon from the US with his parents, Hanna is curious about his new homeland, including among other topics its history and culture, these, and more forming bases for his Volume 1 adventures. In the present tome he goes deeper, delving into such typically Lebanese themes as the songs of Lebanon's diva Fairuz, the writings of Gibran(who published in English and Arabic), legends of the ancient Phoenicians (among the precursors of today's Lebanese)skiing in the popular mountain resort of Faraya ( a short drive from Beirut), and learning to make tasty Levantinemujadara.These and other things Lebanese are covered in Hanna's chronicled boyhood adventures, yet the book is not just a bunch of amusing stories. Handsomely produced in Arabic and English simultaneously (the book opens to one language on the right-hand page, and the other on the left), "Hanna's Diaries" is also a linguistic learning tool, helping English-speakers master Modern Standard.
While McCarthy's nostalgia for Lebanon in the pre-Civil War period (before 1975) clearly comes through, the stories are set in 2016 or 2017.Yet, the author's weltanschauung(view of life) is affected by 1960s Lebanon, the time when he first arrived there.John McCarthy was lucky to have been at AUB in the peaceful mid-1960s. Though set later, "Hanna's Diaries" indirectly chronicle McCarthy's feelings for those good times. Yet, the books, and this volume, are not just fluffily shaded with nostalgia. Apart from the strong pedagogical element, the Diaries when read at a deeper level hold echoes of Gibran, Mark Twain, and others. Time will tell if Hanna's stories stand up and survive as literature in the tradition of such writers, just as we must wait to see how and when Beirut and the rest of Lebanon return to their once-thriving state. Meanwhile, McCarthy has promised a third volume, which should be awaited eagerly by fans of the country and students of Modern Standardalike.Will it be as cheerful as the first two, or could the sorrowful side of Lebanon soak in? Either way, it should be an enjoyable read – and a great tool for learning Arabic.
Riad Al Khouri, an AUB graduate who had turned down Princeton, is principal of Discover Studies,www.discoverstudies.info (under construction) https://www.facebook.com/DiscovS
Newsletter
Get top stories and blog posts emailed to you each day.