You are here
Gulf states appeal to US on Israeli minister's Palestinian comments
By AFP - Mar 27,2023 - Last updated at Mar 26,2023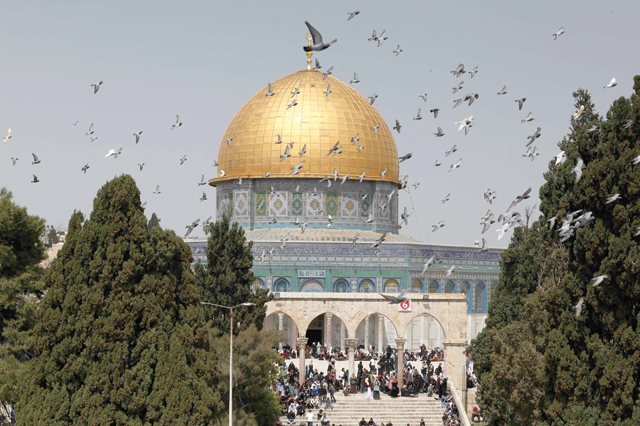 Birds fly in front of the Dome of the Rock shrine at Al Aqsa Mosque compound in Jerusalem, as people gather before the start of the first Friday noon prayer of the fasting month of Ramadan, on March 24 (AFP photo)
RIYADH — The Gulf Cooperation Council (GCC) said on Sunday it had written to Washington's top diplomat condemning controversial comments from Israel's finance minister in which he denied the existence of a Palestinian people.
The GCC, in a letter to US Secretary of State Antony Blinken, called on Washington "to assume its responsibilities in responding to all measures and statements that target the Palestinian people".
The letter from the six-member GCC's foreign ministers also called on the United States "to play its role in reaching a just, comprehensive and lasting solution" to the Israeli-Palestinian conflict.
Israel's far-right Finance Minister Bezalel Smotrich, speaking earlier this month, said that the Palestinians did not exist as a people, comments that sparked outrage among Arab nations.
The US State Department said they had found Smotrich's comments "to not only be inaccurate but also deeply concerning and dangerous".
Smotrich is part of veteran Israeli leader Benjamin Netanyahu's hard-right government that took office in December.
The GCC ministers also denounced earlier remarks by Smotrich, calling for the Palestinian town of Huwara in the West Bank to be "wiped out" after two Israelis were shot dead there by an alleged Hamas militant in February, remarks he later walked back.
The GCC, whose foreign ministers met in Riyadh last week, includes the United Arab Emirates and Bahrain, which normalised relations with Israel under the US-crafted 2020 Abraham Accords, as well as Saudi Arabia, which has not.
On Tuesday, the State Department criticised a move by Israel's parliament to annul part of a law banning Israelis from living in areas of the West Bank evacuated in 2005, calling it "provocative" and in direct contradiction of promises made to Washington at the time.
Blinken, appearing before a Senate committee, also reiterated previous US pushback on Smotrich's comments about Palestinians, saying they do not reflect US values.
Newsletter
Get top stories and blog posts emailed to you each day.